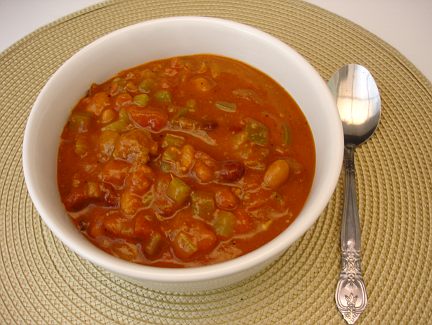 I love chili. Specifically a version of "chili con carne" I grew up eating. My folks made it fairly often when I was growing up. I always loved it when they made it. I paid close attention to how they made it, because I wanted to be able to make it myself when I got older. I made it for myself and my roommates and friends when I was off at college. It was a big hit with starving students who subsisted mostly on Ramen noodles and boxed Mac&Cheese. I still make it several times a year, especially during the winter. There is nothing better than a hot bowl of chili on a cold winter day. I've taken this chili to work when we've had potluck lunches, and it is always a big hit. I like to make a big batch, then freeze individual servings that I can take to work for lunch when I don't have dinner leftovers, or pull out of the freezer and nuke it on nights I'm too tired to cook.

This recipe is pretty faithful to the way my parents made it. I have only made a few minor alterations in the recipe, and most of them are optional. I make it a little spicier than my parents usually did, though it is still fairly mild.

There are as many different ways of making chili as there are cooks who like to make it. Now I know people can be really passionate about their chili. It's like a religion in some places. But please don't write me and tell me that I am using the wrong meat, or that I am using the wrong beans, or shouldn't be using beans at all, or that I shouldn't be using canned tomatoes or that I shouldn't be using tomatoes at all, or that I don't make it nearly spicy enough, or that I am doing something else wrong in your opinion. This is the way chili was made in my family. I grew up eating this chili, and I really like it. give it a try. You might like it too.

This recipe will make about 2 gallons of chili. Hope you're hungry.
| | |
| --- | --- |
| 1 1/2 Lbs Lean Ground Beef | 8 Stalks of Celery Diced |
| 2 Medium Sweet Onions Diced | 3 Medium Green Bell Peppers Diced |
| 3 28oz Cans Crushed/Diced Tomatoes | 2 27oz Cans Bush's Mild Chili Beans |
| 2 16oz Cans Dark Red Kidney Beans | 1 10oz Can Mild Rotel (Optional) |
| 1 Tablespoon Paprika | 2 teaspoons salt (Kosher is best) |
| 1 Tablespoon Chili Powder | 1 1/2 Teaspoons Crushed Red Pepper |
| 1/2 Teaspoon Black Pepper | 1 4oz Can Diced Green Chiles (Optional) |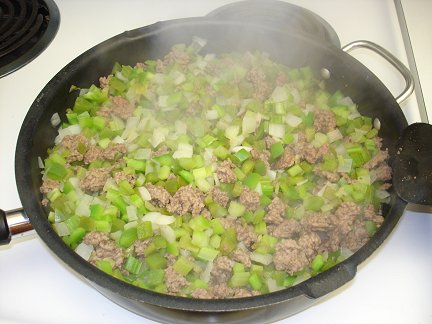 I start by crumbling the ground beef into a large skillet. I then dice up the celery, green bell peppers and onions and put them all in the skillet too. Sprinkle 1 teaspoon of salt over the contents of the skillet. Cover and cook on medium or medium high heat. Stir every 10 minutes or so. Break up any larger lumps of beef. You want to cook until the meat is all browned, and the vegetables just start to turn transparent. Do not brown the vegetables. Reduce heat as necessary to prevent the vegetables from browning.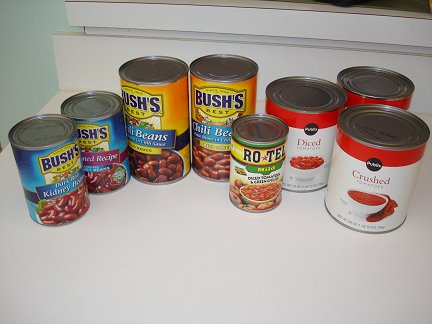 While the beef and vegetables are cooking, open and empty the contents of all the cans into a large stock pot. I like to use a combination of crushed and diced tomatoes. When I am in the mood for a spicier chili, I'll go for the hot Rotel or add a 4oz can of diced green chiles, or up the amount of crushed red pepper, or do a combination of these. If you like your chili really spicy, you can add your own seasonings of choice at this point. Put the pot over medium heat. Add all the spices and the rest of the salt into the stock pot. Stir well.

I like a thick chili, so I don't add any extra liquids, beyond the liquids present in the canned ingredients. If you want your chili to have thinner consistency, you could add some tomato juice or V8 juice to water it down a little. Just remember, this is chili, not soup. You don't want it too watery.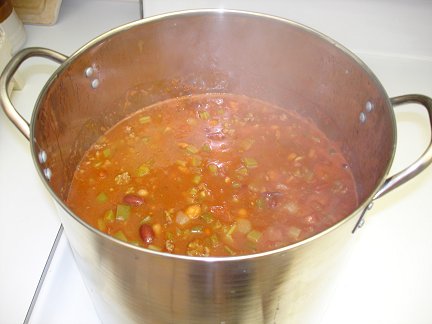 Once the beef and vegetables are done cooking, dump the contents of the skillet into the stock pot. Stir well. Cover the stock pot. Once the chili comes to a boil, reduce heat to a low simmer. Cook the chili for at least 2 hours, stirring every 10 to 15 minutes or so.

After it has cooked for 2 hours, taste the chili and add more salt and or spices, if desired. Then the chili should be ready to serve.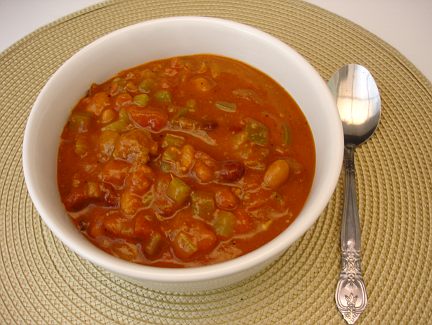 There are lots of ways to serve chili. You could serve it over white rice. You could serve it with a selection of condiments like diced onion, shredded cheese and sour cream, and let your guests doctor it up any way they like. You could serve it like soup with saltines or oyster crackers on the side. You could float a piece of cornbread in a bowl of the chili. You could also serve it with tortilla chips and scoop the chili out of the bowel with the chips. Or you could just serve it straight up as a main course or a side dish. There almost as many ways to serve chili as there are ways to make it.


I hope you enjoy this chili recipe as much as I do.

Enjoy!



See Also: My recipe for cornbread.