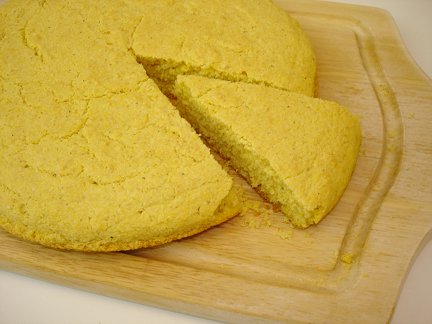 Every now and then, I get the irresistible craving for cornbread. It is a recently acquired craving, since corn bread was not one of the staple foods I grew up on. It is something I didn't encounter until relatively late in life. It appeared regularly in pot-luck lunches we'd have at work. Some of my co-workers made really great cornbread. I learned from them the trick of floating a wedge of cornbread in a bowl of chili or soup. Yum! It's also great hot from the oven and slathered with butter as a side dish to accompany just about any conceivable meal. Some people even eat it for breakfast, drenched in maple syrup. It is quick and easy to make. Let's make some.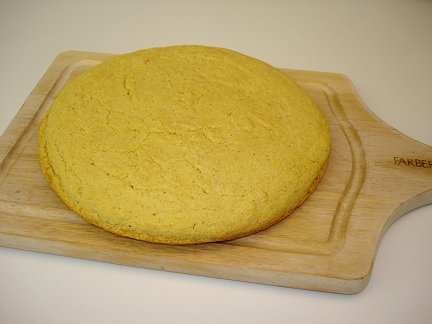 This recipe will make 1 10 inch round of cornbread. Here are the necessary ingredients:


| | |
| --- | --- |
| 1 1/4 cups yellow corn meal | 1/2 cup all purpose flour |
| 1 teaspoon salt (Kosher is best) | 1 large egg |
| 1 teaspoon baking powder | 1/4 teaspoon baking soda |
| 1/2 cup buttermilk | 1/2 cup milk |
| 2 tablespoons melted butter | 1 tablespoon vegetable oil |


You can double this recipe if you want a thicker round of cornbread or have a lot of people to feed. Just add an extra 10-15 minutes to the cooking time.

Start by putting about 1 tablespoon of vegetable oil in your 10 inch cast iron skillet and putting the skillet in your oven. Set the oven to 400 degrees. While that is pre-heating mix up the rest of the ingredients.


Measure out the cornmeal, flour, baking soda, baking powder and salt into a large mixing bowl. Mix well and set aside. In another bowl, whisk together the buttermilk, milk, egg and melted butter. A whisk works well enough. No need to get out the mixer. Fold the liquid ingredients into the dry ingredients. Mix using a wooden spoon or silicone spatula. Don't over mix. You don't want to form a lot of gluten by over working the flour. Just mix until everything is well incorporated and the batter is smooth.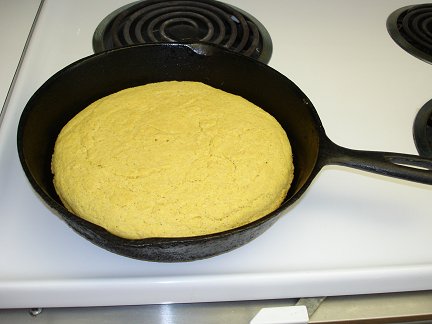 With a good oven mitt, or heavy potholder, pull the skillet out of the oven. Swirl the oil in the skillet around so that it coats the bottom and sides. Be careful! It is really hot. Set the skillet down on one of your stove burners. Pour the batter into the skillet and smooth it out a little. There will be sizzling and popping. Return the skillet to the oven. Reduce the heat to 350 and bake for about 30 minutes. The cornbread is done when it has pulled away from the sides of the skillet and started browning a little on top. Ovens vary, so you may need to leave it in a little longer, or even pull it out sooner. If you aren't sure if it is done, you can always do the old toothpick trick and make sure a toothpick stuck into the middle of the cornbread comes out clean.

When done, remove the skillet from the oven and carefully turn out the cornbread onto a cutting board or plate. It should fall right out of the skillet. Slice into wedges or squares.

Enjoy!