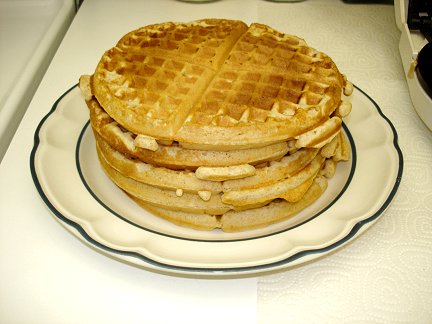 I like to cook. I like to travel too. When I'm on the road, one of my favorite places to get a good, substantial breakfast is the Waffle House. Everything is good there, but I especially like their waffles. You know they must be good since they named the whole restaurant chain after them.

I've always wanted to be able to make waffles as good as at the Waffle House at home. A quick Google search will turn up dozens (at least) of recipes for Waffle House Waffles. Most don't agree on the ingredients or the method. So which one to choose? The only option you have is to try a few and see which is most like the Waffle House.

The first one I tried was terrible. Nothing like the Waffle House. The second one was very close. Close enough to live with, but the recipe seemed overly complex. I thought I could simplify it without sacrificing flavor. So here is my take on Waffle House Waffles.

This recipe will make about 5 large round waffles. Here are the necessary ingredients:
| | |
| --- | --- |
| 1 1/2 cups all-purpose flour | 1 teaspoon salt (Kosher is best) |
| 1/2 teaspoon baking soda | 1 large egg |
| 1/2 cup plus 1 tablespoon sugar | 2 tablespoons unsalted butter softened |
| 2 tablespoons vegetable shortening | 3/4 cup half & half |
| 1/4 cup buttermilk | 1/4 cup water |
| 1/4 teaspoon vanilla extract | |
Measure out the flour, baking soda and salt into a large mixing bowl and set aside. In a 2-cup or larger measuring cup add the buttermilk, half & half, water, and vanilla extract. Into the bowl of your mixer add the egg, sugar, shortening, and butter. Beat until well combined. I use a Kitchenaid stand mixer, but even a hand mixer should work well here. Pour the contents of the measuring cup into the bowl of the mixer and continue to mix until all ingredients are well combined.
Pour the liquid from the mixer bowl over the dry ingredients. Mix using a wooden spoon or silicone spatula. Don't over mix. You don't want to form a lot of gluten by over working the flour. Just mix until everything is well incorporated and the batter is smooth. A few lumps are ok.
This recipe is way better if the ingredients have a chance to meld together for at least 12 hours before cooking. So make the batter the night before and cover the bowl with foil or cling-wrap and let it sit in the refrigerator overnight.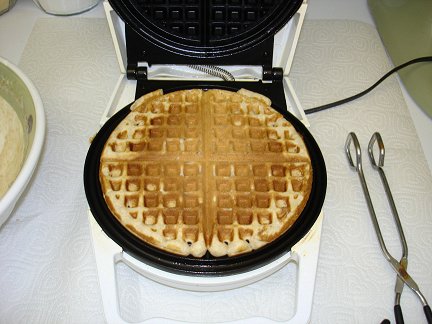 Now you are ready to make waffles. Start your waffle iron pre-heating and spritz it with a light coat of cooking spray. I got my waffle iron at a garage sale for $2. It works great, and makes big, round waffles, just like the Waffle House.

Give your batter a quick stir. Then use a small ladle to ladle out the correct amount of batter into the waffle iron. The manual will tell you how much to use. If, like me, your waffle iron didn't come with a manual, trial and error will be your guide. For me, 2 1/2 ounces of batter make a perfect waffle. It takes my waffle iron about 5 minutes to cook a waffle. Watch it closely at the end so it doesn't get over done. This recipe makes 5 big waffles with my waffle iron. Your mileage may vary.

I like to make up a batch of waffles on Sunday morning and have myself a real Waffle House style breakfast with scrambled eggs and bacon on the side. What a way to start the day. I store the left-over waffles in a zip-lock bag in the fridge. Nuke one in the microwave for a minute and you've got a quick, easy and delicious breakfast on a busy workday morning. They should keep for at least a week in the fridge, though they are so good they aren't likely to hang around that long. Freeze them for long-term storage.
Now all I need to do to complete the Waffle House breakfast experience at home is figure out how to make their hashbrowns. I like mine scattered, smothered, covered and diced...

Enjoy!