I often get requests from people to use one of my vacation photos for some project or other. They have been published in three books, used as the cover photo on a book, used in calendars, and published in pamphlets and brochures. I am usually ok with this as long as people ask permission first. These photos have been cropped and resized, and may not be ideal for use in print projects. Given a couple of days, I can usually locate the original high-resolution image file for you.
Photos from my September 2012 Vacation to Arizona, Utah and Colorado
I got a lot of things done on this vacation that I had been wanting to do for a very long time. It was a very productive, and yet, very relaxing and satisfying trip.

I started by driving straight to my property, with none of the usual dilly-dallying in New Mexico. I was on a mission to get a cabin put on my property during the short time available to me. I went to the Weather King office in Snowflake, AZ and was fortunate enough that they had the exact cabin I wanted on their lot, and it was on sale too! I bought it and they were able to arrange delivery within only a few days. So the cabin was delivered and I still had several days to spend outfitting it and enjoying it before moving on to do other things.

After leaving my property, I drove North into Utah and spent a couple of days exploring the area around Moab. It is really beautiful country, with amazing rock formations and wonderful mountains. I also finally made it to Arches National Park. I have wanted to see Arches ever since I read Desert Solitaire by Edward Abbey when I was young. I only got to see part of the park on this trip. I definitely need to go back again in the future. In fact, I want to see a lot more of the whole Moab area on future vacation trips. It is going to be high on my list of things to do from now on.

After Utah, I turned East and drove across Colorado. I did a little exploring around the Aspen area. I saw the Maroon Bells and the John Denver Sanctuary. Then I headed further East, up and over Independence Pass and down to Twin Lakes. Twin Lakes is probably may favorite area of Colorado. The vistas are amazing. I arrived at just the right time. The aspen trees were turning gold. I love aspens in their Fall colors. The weather turned cool and rainy, but I still had a good time exploring. I spent some time out in the wilderness just shooting time-lapse movies of the rain clouds rolling over the mountains. I also did a little gold prospecting. I set up my sluice box in a mountain stream and spent an afternoon shoveling dirt through it. I ignored the rain, since sluicing is wet work anyway. I only got a little gold, but it was great to be gold prospecting in colorado again. It had been way too long since last time. My last day in Colorado dawned clear and bright. The rain was gone, but it left a pleasant surprise. all the higher peaks of the Rocky Mountains were now covered with snow. I spent my last day exploring, high up above the tree line, near Alma, and got to see Kite Lake, tundra, and some Bristlecone Pine Trees.

Then it was time to drive home. It was a fantastic vacation. I can't wait to get back out to my cabin.

Click on the photos to see larger versions.
I finally have a cabin on my remote Arizona property. I love it! No more living in a tent when I am out here. No more hauling camping equipment all the way across the country. I've spent my first few nights in it and I simply love it. The cabin is totally prefabricated. It is on skids. They slid it off the back of the delivery truck, attached wheels on one side of it, picked up the other side with a mini forklift with big fat tires that could roll through the sand, and moved it into place. They put it within inches of the flags I had used to mark out the position of the cabin on an earlier vacation. Once in place they leveled it up and blocked it in place. The whole process took less than two hours. Not counting the time it took me to make an 18 foot wide opening in the fence to allow the truck through and then fix the fence again after the truck left, and before any cows could wander onto my property. I am very happy. Next comes an observatory.

Click the photo for a larger view.
Here is a view of the inside of the cabin. It is unfinished on the inside. Insulating it and finishing the inside will keep me busy on future vacations. Rough as it is though, it is so much better than sleeping in a tent. It was starting to get cold at night before I left. Even uninsulated, the cabin kept me much warmer than my winter tent.

Click the photo for a larger view.
| | |
| --- | --- |
| | As usual, the hummingbirds came to visit me as soon as I arrived on my property. Once I put out the feeder, I was mobbed with them. There were a lot of them this year. Here is a short video of some humming birds at my feeder on my remote Arizona Property. |
After leaving my property, I drove North into Utah. This is Wilson Arch near Moab, Utah. I spent extra time on my property this year to deal with setting up the cabin, so the rest of the vacation got cut a few days short. I breezed through some things I originally wanted to spend a lot of time exploring, especially Utah. It got short shrift this year. I'll make it up another time. The Moab area is spectacular. I definitely need to return and explore it some more. It is only about 6 hours due North of my property on Highway 191.

Click the photo for a larger view.
I spent a little bit of time four-wheeling in the mountains near Moab. Here I am high up on the side of a mountain, with the beautiful La Sal Mountains in the distance, across a valley. I love taking my truck off-road in such scenic areas. My original plan was to explore some old, abandoned Uranium mines in the area. I found the mines, but was having so much fun four-wheeling, that I drove right past them and kept on going. I can see why Moab is such a Mecca for outdoor enthusiasts. I had a great time in the mountains.

Click the photo for a larger view.
Here I am in Arches National Park just outside Moab. This particular area is called Park Avenue. I have always wanted to see Arches, but never made it there in all my travels across the West. I read Edward Abbey's book Desert Solitaire when I was young, and have always wanted to see Arches ever since. Unfortunately I only had about half a day to explore the park. I will go back when I have more time.

Click the photo for a larger view.
This particular formation is called Double Arch. You can see the two separate arches left of center. I was particularly intrigued by the erosion going on in the rest of the formation. There are definitely new arches in the making here. Maybe someday it will be Triple Arch.

Click the photo for a larger view.
Here is a not very good photo of iconic Delicate Arch taken from very far away, (click it for a better large version). The hike to the arch was around 2 miles, but it was late afternoon and the temperature was over 100F. So I decided that this was the best photo of Delicate Arch I was going to get on this trip. I will have to return to Arches on a cooler day when I have more time to explore.

Click the photo for a larger view.
After only a little over a day in Utah, it was time to move on. I drove East into Colorado. I spent some time exploring the Aspen area. This Photo is of the Maroon Bells. They say that this is the most photographed spot in Colorado. Naturally I had to take a bunch of my own photos. The lighting was poor due to overcast, so you can't really see the lovely maroon color of the mountains very well. Other, less photogenic formations nearby that were better lit were stunningly maroon in color. I'd like to see this spot on a clear day with a favorable sun angle. Maybe I'll be back someday.

Click the photo for a larger view.
I have always been a big fan of John Denver's music. So I had to stop by the John Denver Santuary in Aspen. It is in the middle of a large park in the center of town. Large white granite boulders have been arranged next to the trail, beside the river, and the lyrics from many of his songs are engraved on them. At the entrance is this dedication stone. It's hard to tell in the photo, but this boulder is huge, much taller than me.

Click the photo for a larger view.
Here are just a few of the big boulders with song lyrics engraved on them. There is also sort of an amphitheatre built into the hillside out of concentric rings of smaller white boulders, surrounding the big boulders at the bottom, where people can sit and look down on sort of a stage made of rocks. I don't know if they hold concerts here, or if it is used as sort of a "free speech corner" or what. My photos don't do the Sanctuary justice. There were quite a few people there, meditating, relaxing, contemplating, reading, etc. I tried to respect their privacy by not photographing them. So I don't have a lot of good shots showing the overall layout of the Sanctuary. It was worth the stop. The entire park is amazing. The sanctuary is just one small part of it. If you are in Aspen, I highly recommend checking it out.

Click the photo for a larger view.
Heading East out of Aspen I went up and over Independence Pass. My lungs have spent most of their life at sea level. So at an elevation of 12,095 everything was strenuous. I got seriously winded just walking up a gently inclined path to try and get some photos of the tundra at this elevation, That's tundra behind the sign. Because of the cold at high elevation, the only plants that grow here are low ground cover similar to those in the Arctic. It took a couple of days of acclimatization before I could exert myself at all at these altitudes. It never became easy, but at least it eventually became doable. By a couple days later I could hike around with a pack on my back and carrying my sluice box and a shovel so I could get in some prospecting. I was also at a slightly lower elevation than this, which helped.

Click the photo for a larger view.
This photo is looking East from near Independence Pass. It is a long way down to the valley bottom. At the far end of this valley is one of my favorite spots in Colorado. Twin Lakes.

Click the photo for a larger view.
Here I am in the mountains above Twin Lakes. This is probably my favorite spot in Colorado. Here I am surrounded by 14,000 foot peaks. The views are amazing in every direction. The forests are lush, and smell great. But best of all, the aspens are changing color. I love aspens in their Fall colors. This is just an amazingly great spot. I stopped and had a picnic lunch. Got it in just before it started raining.

Click the photo for a larger view.
Here is a photo from down at the shore of East Twin Lake. I just love this area of Colorado, even if it did rain on and off the whole time I was there. I'd love to move my cabin from Arizona to here. But then I think about what the winters would be like here. Maybe Arizona is the right place after all.

Click the photo for a larger view.
Since it was so cloudy and rainy most of the time I was in Colorado, I decided to take some time-lapse movies of the clouds and the mountains. This is one of the movies. It was shot at Cache Creek Park, and compresses 33 minutes of weather into 50 seconds (40x real time). It shows clouds and fog forming and boiling over green mountains veined with golden aspen.

Later in the day, I did some sluicing and panning on Cache Creek near here. I only found a little bit of gold, but I had a lot of fun.
On a calm early morning, the mountains were mirrored in the glassy calm reservoir above Twin Lakes. Very Pretty.

Click the photo for a larger view.
A beaver lodge in a pond near Buena Vista Colorado. There were signs of beavers everywhere I went in central Colorado. I saw lodges, dams, ponds and lots of beaver chewed trees everywhere. Never saw even one actual beaver though.

Click the photo for a larger view.
Here is a beaver dam on Cache Creek, a good distance downstream from where I was sluicing. The pond behind this dam was immense. Beavers are amazing engineers.

Click the photo for a larger view.
My last day in Colorado dawned clear and cold. The rain clouds were gone, but they left a dusting of snow on the high peaks. I drove up high, (up as high as I could) into the mountains above Alma to Kite Lake. Kite Lake is above the tree line in the tundra region over 12,000 feet up. More interesting than the lake though, (at least to me), were the Bristlecone Pine trees growing at the tree line. I'd never seen bristlecones before, but I'd read about them. They are very slow growing and long lived trees. Some bristlecones are known to be nearly 5000 years old. The bristlecones here are the last trees before the tree line. Higher up the mountains there is nothing but tundra. Living in the harsh conditions at the tree line, most of the bristlecones were twisted and sculpted by the wind and elements into strange shapes, like a natural bonsai garden. Some of the most exposed trees looked dead except for a thin line of living bark and a few branches with green needles. That's just the way they grow. Other trees, more sheltered, were more fully green and alive looking.

Click the photo for a larger view.
Here is a close-up of a cone from a bristlecone pine tree. You can see the bristles that give the tree its name. Another unique feature is that the needles grow in custers of five. The best thing of all about bristlecones though, is the smell of their resin. I had cut a couple of pinon pine boughs and put them in the truck as a natural air freshener, and thought they were the best smelling things in the world, until I smelled a bristlecone pine tree. When I gripped the branch of the tree and bent it down to get this close-up photo of the cone, I got resin all over my hand. The smell was amazing. I can't even begin to describe it. If there is a heaven though, it must smell like bristlecone pine trees. I was sorely tempted to cut some bristlecone boughs and ditch the pinon. Out of respect for the rare and slow growing trees, I resisted the urge, and did not damage any of them.

Click the photo for a larger view.
My vacation time had run out. It was time to start driving South and East toward home. In North Texas I caught up again with the rain that had dampened my stay in Colorado. It was an unusually cold and gloomy drive through the Lone Star State. I stopped at a highway rest stop and was greeted by this sign. I took my camera with me just in case. No luck though. The cold rain must have been keeping the rattlesnakes under rocks and in their burrows at this highway rest stop. On a warm day here, I guess you need to weigh how badly you have to go vs the chances of meeting up with a rattler. I wonder how many people see this sign then cross their legs and keep on driving?

Click the photo for a larger view.
Photos from my May 2012 Vacation Trip to Arizona and New Mexico
I got cheated out of my usual Fall vacation last year because of work issues. So I really needed a vacation by the time Spring came along. I needed to get away in the worst way. This vacation was timed so I could view and photograph the May 20th Annular Eclipse. The path of the eclipse crossed Northeast Arizona. So it wouldn't be too much of a drive from my remote Arizona property where I would be staying anyway. I planned to view it from Canyon De Chelly National Monument. The centerline of the eclipse passed right over the monument. I had never been to Canyon De Chelly, so this was a great opportunity to see some amazing landscape that was new to me, and witness a fantastic eclipse too.

I also planned a lot of my usual recreational activities. I was going to camp, observe the night sky with my telescope, explore the mountains, do some gold and uranium prospecting, hike, take lots of photos, and just plain relax and enjoy myself. I wound up doing a lot more relaxing and skipped some of the other activities. That's ok though, I needed the relaxation after the year I had had. It was a great vacation. I feel recharged.

The drive across the country and back seems to get longer every time. It must just be me, because it is the same number of miles and always takes about 2 1/2 days each way. The drive this time was quite pleasant, in spite of seeming so long. I like driving across the country in the Spring time. Everything is so green and alive and beautiful. The long, pleasant drive gives me lots of time to think. I came back this time with a bunch of new projects that I planned up on the drive. Stay tuned for those to appear on the web site in the next few months.

Click on the photos to see larger versions.
This trip, I went straight to my remote Arizona property and set up camp. It was great to be home. I unwound from the long drive and unloaded stuff from the truck that wouldn't be needed on my upcoming travels around the state. The humming birds came to visit me within hours of arriving, so I put up their feeder to keep them happy. Unfortunately they flitted around too quickly for me to get any good photos of them this year. This photo shows the view looking East from near the middle of my 40 acre property in the late afternoon light. North Mountain is on the left and South Mountain is on the right, the entrance gate to the property is in the middle distance. The weather was great and the skies were clear the whole time I was there this trip.

Click the photo for a larger view.
After spending some time on my property, I headed West to Prescott. I had wanted to do some gold prospecting in the Bradshaw Mountains. I arrived at one of my favorite gold panning streams (don't even think of asking me where this is). I planed to get right to work digging and panning. I hiked up and down the stream looking for likely places to dig. However, in the end, I decided I didn't really feel like doing heavy physical labor today. I was just mentally and physically run down from the last year at work. So instead, I set up my folding chair in the shade of a big pine tree and just enjoyed the morning by the stream. There was nobody else around. The weather was great. The only sounds were the wind in the trees, birdsong, and the burbling of the stream. I pulled out an Agatha Christie mystery novel and spent a very enjoyable morning reading, instead of working. I spent the rest of my time in the Prescott area sight-seeing, exploring old mines, and hiking. It took me a few days of relaxation before I felt like engaging in some of the more physical activities I had planned.

Click the photo for a larger view.
This is a photo of a moth on a blade of grass beside the stream. I noticed it when I looked up from reading my book. I had to take a photo.

Click the photo for a larger view.
Fires have dogged me on my last couple of trips out West. Spring is fire season though. It is warm and dry in Spring. The summer rainy season hasn't started yet. So fires are to be expected, but the mega-fires of the last couple of years have been terrible. This was the scene which greeted me when I rolled into Prescott. The Gladiator fire near Crown King in the Bradshaw Mountains was putting up a plume of smoke that looked like a mushroom cloud from a nuclear bomb. When the smoke blew towards town it was terrible. It was hard to breathe and my eyes burned. Fortunately, the wind was blowing away from town most of the time. A century of mis-management of the national forests has left them primed to go up in mega-fires every spring. The people of the West are really fed up with the federal government's handling of the forests. I can't really say I blame them. Another mega-fire in Southern New Mexico erupted shortly after I arrived in Arizona. Smoke from that fire was polluting all of Northern New Mexico later in my trip.

Click the photo for a larger view.
After spending some time in Prescott, I returned to my property. Blissfully, there was no smoke and no nearby fires. Here is a photo of me back on my Arizona property with three of my creations. My home-built solar panel, my Cookie Jar telescope, and my home-made wind turbine in the background. I had a great time staying on my remote property. I spent six days and nights there this time. The weather was great. Not too hot during the day or too cold at night. It was very windy a couple of days. I had plenty of power for all my toys thanks to the wind turbine and solar panel. I had 100% clear nights for star gazing with my "little" Cookie Jar telescope. I brought it this time, rather than the big 17.5 inch DOB, just to travel a little lighter on this trip. This 8in f/4.5 scope provides amazing, wide-field views under my pristine sky. I stayed up late observing nearly every night. What a great vacation.

Click the photo for a larger view.
Eventually it was time to drive north to view the eclipse. While waiting for the eclipse to start, I toured Canyon De Chelly National Monument. Here is a photo of Spider Rock. It is hard to grasp the scale of it from the photo. Spider Rock towers 750 feet above the canyon floor. If you look closely you can see the river bed and a jeep trail on the floor of the canyon. That helps add scale to the photo. The canyon is huge! This photo only covers a small section of it.

Believe it or not, I have never been to Canyon De Chelly before. I have always wanted to see it, but never managed to get there in all my trips to Arizona. With the centerline of the 2012 Annular Eclipse passing right over Canyon De Chelly, I made sure I got there this year. I have hundreds more photos of the area, and the nearby Chuska Mountains.

Click the photo for a larger view.
Here is a view of the Mummy Cave pueblo ruin. It was built by the ancient Anazazi people, and abandoned around the year 1300 AD. It was named for the well preserved mummified bodies found there by early archaeologists excavating the site. There are a lot of ancient Anasazi ruins in Canyon De Chelly National Monument. As I stood here photographing the ruin, I felt like I was crossing paths with Everett Ruess, who traipsed through here 80 odd years earlier in search of Anasazi ruins to explore.

Click the photo for a larger view.
Late in the afternoon the Eclipse finally began. I set up my camera in the Spider Rock overlook parking area at Canyon De Chelly. The moon began moving in front of the sun and blocking its light. If you look closely you can see sunspots on the sun. The camera was a Nikon D5100 with an 800mm lens and an Astrozap solar filter. The altitude was about 7000 feet and the sky was perfectly clear. So I got good photos and some video of every part of the eclipse up until the sun set.

Click the photo for a larger view.
I was right on the exact centerline of the eclipse and had about 4 minutes of the "Ring of Fire" effect at mid eclipse. The ring of fire is caused by the fact that the moon was about as far away from the Earth as it ever gets during this eclipse. Since it is so far away, it is smaller than normal from our perspective, and doesn't quite cover the whole sun at maximum eclipse. A ring of sun shows around the edge of the moon. It got twilight dark and much cooler at maximum eclipse. Deer came wondering out of the woods thinking it was dusk already. The little ring of sun was still much too bright to look directly at. The whole event was surreal.

Click the photo for a larger view.
Eventually the moon began moving out from in front of the sun and the landscape began brightening up again. The sun was now quite low though, and shortly after this photo was taken, it began to set behind the far rim of Canyon De Chelly, still partly eclipsed.

Click the photo for a larger view.
Here is a contact sheet of the photos I took of the 2012 annular eclipse. They were taken at Canyon De Chelly National Monument in Northeastern Arizona. The full size photos are 15 megapixels, so I'm not going to post all of them here. The contact sheet gives you an idea of what the eclipse looked like at all stages. I have video too. I may post a few installments of that too.

Click the photo for a larger view.
The day after the eclipse I spent some time exploring Northeast Arizona before returning to my property. Here I have gone into the heights of the Chuska Mountains. Ship Rock is visible through the haze of distance and smoke some 23 miles away (as the crow flies) in New Mexico. Mitten Rock is in the middle distance. After exploring Northeastern AZ, I returned to my property to spend a few more days there.

Click the photo for a larger view.
After I packed up and left my property, and began heading back East, I took another side trip to Window Rock. I had never been there before. The town of Window Rock gets its name from this formation. Window Rock is the capital of the Navajo Nation. The Window Rock Tribal Park is actually quite small, and located more or less in the center of town, with tribal administration buildings pressing close all around it. I found some nice angles to shoot the rock so that it looks like it is in the wilderness, rather than in the middle of a town, and hemmed in by buildings.

Click the photo for a larger view.
I moved on into New Mexico. Each stop now was a little further East, so the eventual drive back home would be a little shorter. I engaged in a little Uranium prospecting. I wanted to collect some Uranium ore samples. I visited several old mining sites. Here I am visiting an old Uranium mine in the wilderness North of Grants New Mexico. The mine looked terribly dangerous with many tons of fractured rock in the roof looking like it could come crashing down at any moment, and only a few rotting boards holding the whole mess up. So I did not even think about going inside the mine. Besides, it is probably full of Radon gas and toxic bat guano too. I found plenty of good Uranium ore specimens on the ground just outside the mine entrance, in the wall next to the mine portal, and on waste rock piles outside. Remember what they say about old mines. Stay Out And Stay Alive.

Click the photo for a larger view.
Here is a collection of nice Uranium ore samples I got on this trip, and I didn't even have to go inside the dangerous mine to get them. The yellow staining on the rocks is the Uranium mineralization. Too bad you can't hear my Geiger Counter clicking away furiously in the photo. It was a very successful collecting trip. I have lots of ore samples to sell to rockhounds and mineral collectors, but none for those shifty Iranians.

Click the photo for a larger view.
I moved further East into New Mexico. I spent a couple of days in Santa Fe and visited Los Alamos. Unfortunately, smoke from the massive fire in Southern New Mexico was blowing North into the area. It was particularly thick in Los Alamos, so I got no good photos of that very pretty area, but I've seen it before in good conditions. By the way, I highly recommend the Hilltop Diner in Los Alamos. I went there for lunch after rummaging around The Black Hole all morning. Great food! Get there early though. It is very popular with the locals and packed around lunch time. If you are late, the wait for a table will be long.

Santa Fe was also very smoky. By my last day there, the smoke was really starting to get irritating. I decided to head up into the high mountains above town in hopes of getting above the smoke and into clean, clear air. It worked. Here I am at over 10,000 feet above Santa Fe in the cool, clean mountain air, among the aspens and fir trees. I spent the afternoon at altitude, soaking up the atmosphere, before starting the long drive back East in the evening. So I ended my vacation on a high note.

Click the photo for a larger view.
Photos from my August 2011 Business Trip to Santa Barbara and Carpinteria California
Once again, the company I work for sent me on a business trip to Santa Barbara and Carpinteria California. This time though, I had plenty of notice that I had to go. So there was no mad scramble to get ready. Also, this time, I arranged to arrive on Saturday, but the business didn't start until Monday. So I had most of a weekend play, explore and goof-off before getting down to business. Another plus this time was that I was going to be there for an entire week. So (in theory) I would have plenty of opportunities to go exploring when I wasn't stuck working. Best of all, I was alone this time for most of the trip. So I could make my own schedule, and go do things that interested me.

The first two days of the trip were spent in a really nice hotel, right on the beach, in Santa Barbara. Very Swanky. I'm glad the company was paying, because the bill was heart-stopping. The annual Fiesta Days were going on the weekend I was there. Santa Barbara, particularly near the beach, was an absolute zoo. There were tens of thousands of people on the beach, and hundreds of vendor booths set up along the road. The crowds and traffic were insane. I spent much of the weekend in the mountains above town exploring, just to get away from the crazy crowds in town. One of the places I went is the Carrizo Plain. I have always wanted to see it. I got to spend some time exploring the area and really getting my geology geek on. I took some great photos of the San Andreas Fault. Santa Barbara wasn't a total bust. I did go down to the beach late Sunday afternoon, once the crowds began thinning out, and spent a pleasant evening walking along the waterfront.

The rest of the trip was spent in a modest hotel in Carpinteria. Unfortunately, work generally went on longer than I would have liked, and by the time we called it a day, my jet-lagged body was ready for dinner and bed. So opportunities for exploring and recreating, other than sampling the (limited number of) local eateries, were limited until the last day of the trip.

One interesting side-trip happened in the middle of the week when I had to drive from Carpinteria to LAX to pick up a colleague of mine who was flying in to join me. He was originally scheduled to fly into Santa Barbara, which is just a few miles away from Carpinteria. His original flight got cancelled, and he wound up flying into LAX instead. So I finally got to see LA. It is the one of the few major cities in California that I had never been to, in spite of my extensive travel history. Unfortunately, I did most of my sight-seeing while stuck in slow-moving traffic on the 101 and 405 freeways. There was no time for side trips to any iconic LA spots like Sunset Boulevard, or The Walk of Fame, or The Hollywood Sign. Sigh. Maybe next time. I did decide there was no way we were going back the way I came. So I took us back to Carpinteria along The Pacific Coast Highway. I had always wanted to cruise the PCH. It was even more scenic and beautiful than I had expected it to be. And in spite of being stop and go the whole way, was probably at least as fast as the snarled freeways. Unfortunately, being the driver, I didn't get any good photos of the trip.

The Saturday we flew home was spent sight-seeing until it was time to catch our flight home. The trip home was a nightmare of late flights, missed connections, waiting in long lines, marathon running through airports, and lost luggage. I will never, EVER fly US Air again!

I returned home exhausted, frustrated, jet-lagged, angry, and without my checked bag. Business trips, even if they have occasional bright spots and fun bits are really no substitute for a proper vacation.

Click on the photos to see larger versions.
My hotel room in Santa Barbara was a "non-view" room. I guess the view rooms were all on the beach side of the hotel. Well, I live near a beach, so I can get that view anytime. Mountains though are pretty rare in florida. The view of the mountains North of town from my non-view, 3rd floor, balcony was wonderful. There were also no noisy traffic or huge crowds on this side of the hotel, so I think I got a great room. There was a table and some nice, comfey chairs on the balcony. I spent a lot of time out there. The weather was great. Cool, foggy mornings, and sunny afternoons with high temps in the upper 70s. The hotel didn't even have air conditioning. It wasn't needed.

The room was really nice. Not the sort of place I would normally stay on my own (way too expensive). I was lucky that with the Fiesta days going on, all the cheap hotels up and down the coast were full up. The company had to put me up in one of the nicest and most expensive places in Santa Barbara.

Click the photo for a larger view.
After the crowds died down in the late afternoon, I went down to the beach for a long walk in the pleasant weather. There were still a lot of people on the beach, but nobody was in the water. It was beyond frigid. I saw a couple of young girls arrive on the beach and head laughing into the water, only to turn around and run right back out shocked and shivering.

There were a lot of sailboats anchored just offshore all up and down the beach. I wondered how the people got to shore and back? There were no dinghies on the beach. There must be some sort of water taxi service.

Click the photo for a larger view.
This photo shows the long shadows of palm trees on the beach in the very late afternoon. Stearns Wharf is on the right, and lots more sailboats can be seen at anchor out in the channel. The few people left on the beach are heading home as sunset nears.

Click the photo for a larger view.
I set out to do some serious exploring in the time I had before I had to go to work on Monday. So I headed up into the mountains North of Santa Barbara to do some sight-seeing. I took a very pleasant drive on twisty mountain roads through truly lovely country. I love a good drive through the mountains. The weather was great. I drove with the windows down and wind in my face. The smell of the forests and sagebrush was wonderful.

Click the photo for a larger view.
My ultimate destination on this drive was The Carrizo Plain National Monument. As a geology geek, I knew that the Carrizo Plain is one of the few places where the San Andreas Fault is very visible. Since The monument was only 60 miles as the crow flies from Santa Barbara, (more than twice as far on twisty mountain roads though), I just couldn't pass up the opportunity to go take a look at it.

I pretty much had the place to myself. I spent about three hours exploring the monument, and only saw one other car the whole time. I was a little bit timid about getting too far off road in my exploring. The low-slung rental car I had was getting beat up on the rocky roads. There was nobody else around, and I had no cell phone signal. So I didn't want to disable the car and get stuck. I was really missing my 4X4 pickup truck. I am used to being able to go wherever the whim takes me on my vacations. Still, I managed to get some good photos of the fault, and managed to see some other wonderful sights in the Monument.
Pardon me while I geek out a little bit over the next few photos about this amazing geological phenomenon.

This photo shows a long view across the plain. The San Andreas Fault Line is just in front of the line of low hills in the middle distance, between where I am standing and the distant Temblor Range. The line of hills is called the Elkhorn Scarp. The Scarp is a pressure ridge created by fault movements.

Click the photo for a larger view.
Here I am much closer to the fault scarp. The scarp runs from horizon to horizon, from the Northwest to the Southeast, across the Carrizo Plain in an unbroken line of hills. There are many famous aerial photos of the faultline crossing the plain. I wanted to see it at ground level. The fault itself is generally on the Southwest side of the scarp. From this vantage point, it just looks like some hills.

Click the photo for a larger view.
Here is a Google Maps view of where the above photo was taken. The green lines show the field of view of my camera. The red line is the approximate location of the fault line.

Click the photo for a larger view.
Here I am standing on the fault line. The North American Plate is on the left, and the Pacific Plate is on the right. Interestingly, I am roughly 60 miles inland here, but still standing on the Pacific Plate. All the material seaward of the fault line is material that had been riding on the Pacific Plate and has been accreted onto North America as the Pacific plate grinds past and subducts under the North American Plate. The material is mainly marine sediments that are folded and raised high above sea level by the collision.

Click the photo for a larger view.
Here is another Google Maps view of where the above photo was taken. Again, the green lines show the field of view of my camera. The red line is the approximate location of the fault line.

Click the photo for a larger view.
Here is a view of one of several dry soda lakes that fill depressions along the faultline. I walked out onto the dry lake and tasted the salt crust. It was salty of course, but also had a gypsum-like flavor and consistency to it. Don't worry, I spit it out and rinsed my mouth.

Click the photo for a larger view.
Here is another Google Maps view of where the above photo was taken. Again, the green lines show the field of view of my camera. The red line is the approximate location of the fault line.

Click the photo for a larger view.
All too soon it was time to head down the coast to Carpinteria and start work. Work took up almost all day, every day. So there was little time left for sight-seeing or exploring. About the only exploration I did was checking out the different eateries in town. Carpinteria is a small town though, so I was repeating myself before the end of the week.

I did manage to hike down to the seal rookerie a couple of times in the evening. It is a nice little walk that helped unwind me after a long, hard day. They were still there. One evening when I arrived there wasn't a single seal on the beach. They were all just offshore feeding. I could just see their heads bobbing in the waves and an occasional tail pop up as they dove. This time I arrived a little later in the evening and there were a few hauling out onto the beach so I could get a photo of them.

Click the photo for a larger view.
Here is a photo of a colorful sunset as seen from the bluff above the Carpinteria Seal Rookerie. The Santa Barbara area is really a beautiful place. I'm glad I got to spend a little longer here this time.

Click the photo for a larger view.
Photos from my May/June 2011 Vacation to Arizona, New Mexico and Colorado
I went on another epic, cross-country vacation again this spring. The weather was pretty nice most of the time. High winds and dust storm conditions caused me to cut short camping on my Arizona property by one day, and the threat of thunderstorms made me decide to stay in a motel rather than camping at Hopewell Lake again. Otherwise the weather was very nice for the whole trip. It was cool at night, but not frigid, and warm during the day, but not too hot. The only real problem I had was severe smoke from wildfires in Arizona following me into New Mexico and Colorado near the end of the trip. More about the fires below.

I really needed this vacation. I was working a lot of long hours and getting badly burned out. I really needed to spend a couple of weeks having fun and recharging my batteries. I had been looking forward to it and planning it for months. It turned out to be a great trip. I came back rested, relaxed, and feeling like a new man. Click on the photos to see larger versions.
| | |
| --- | --- |
| | A Cliff Swallow nest under a ramada at the Louisiana welcome center. I saw hundreds of these nests all through Louisiana, Texas and New Mexico. |
| | |
| --- | --- |
| | The nest was just low enough that I could aim my camera inside on tip-toes. While the parents were away from the nest, I got a shot of the clutch of eggs inside. |
| | |
| --- | --- |
| | A pronghorn antelope in Valley of Fires State Park in New Mexico. This antelope seemed quite tame and came very close to me, which is how I got this great shot. Normally the pronghorns run off as soon as they see me. |
One project I wanted to complete while camping on my remote arizona property this time was finalizing the place to put a cabin. I found a nice, flat spot, roughly in the center of the heavily treed area of the property, and marked it out with little orange flags. The trees will block the wind and provide some shade. I am saving my money, and hopefully in a year or two, I will have a cabin on this spot.

Click the photo for a larger version that shows the little flags better.
While I was camping on my remote Arizona property, I got to test out modifications I have made to my home-built wind turbine. I have installed new blades that I bought on the internet. These blades are sold as replacements for the Air-X series commercially made wind turbines. They are more efficient than my home-made blades, and start up in lower wind speeds. I have also increased the tail area of the turbine since these new blades are both heavier and have more surface area than than my home-made blades. Check out the video for more information on the modifications.

The new and improved wind turbine really works great. It is now producing much more power, and working in lighter winds than before.
| | |
| --- | --- |
| | Piles of tumbleweeds blown against a fence by the wind near Concho, Arizona. A very common sight in the Southwest. |
| | |
| --- | --- |
| | The Little Colorado River flowing through Greer, Arizona. I was there a couple of days before the massive Wallow wildfire started. The fire has since swept through Greer blackening the forest and burning down many cabins and out-buildings in the little village. I was planning on staying in Greer in the fall. Now I don't know what is left of the place. I guess I will find out on my next trip to Arizona. |
| | |
| --- | --- |
| | Smoke from the Arizona fires followed me into New Mexico and Colorado. The skies were sometimes bright gray, instead of the usual deep blue of the mountain West. Areas of Northern New Mexico and Southern Colorado were quite smoky and the air quality was very bad for a few days. |
| | |
| --- | --- |
| | An alpine meadow with fir, aspens and dandelions, high in the mountains of Northern New Mexico near Hopewell Lake. |
| | |
| --- | --- |
| | Eventually, a front came through and blew the smoke away. The usual blue skies of Colorado began returning and the mountain vistas took on their usual beauty. This is a photo of Chimney Rocks on the Southern Ute Indian Reservation in Southwest Colorado. |
| | |
| --- | --- |
| | Snow capped peaks of the Rocky Mountains reflected in a lake in Pagosa Springs, Colorado. |
| | |
| --- | --- |
| | Looking down towards Pagosa Springs from high up at Wolf Creek Pass in the Colorado Rocky Mountains. |
| | |
| --- | --- |
| | There was still a pretty deep snow pack under the fir trees at the top of Wolf Creek Pass on June 2nd. |
| | |
| --- | --- |
| | Here is one neat place I went on the way back home. It is a true geek Mecca. It is The Black Hole in Los Alamos, NM. I've wanted to go there for years. They sell surplus material from the Los Alamos National Laboratory where the nuclear bomb was developed. They have acres of fascinating material from 60+ years of nuclear weapons development. I could spend days exploring this place. Unfortunately, I only had a few hours there. I bought some neat stuff and had a great time. I'll have to get back there again someday and explore it in depth. |
Photos from my March 2011 Business Trip to Santa Barbara and Carpinteria California
Once again, the company I work for sent me, and three of my co-workers out to Carpinteria California. Once again, it was with very little notice. There was the usual mad scramble to get ready, then two whole days of unpleasant travel to get there and back. Then dealing with the joys of jet-lag and the changeover to daylight savings time on returning. On the whole, not a great experience. This time though, we at least had a little bit of time to do some sight-seeing while we were there.

Due to our early start, and the three hour time difference, we had a few hours to explore and sight-see before sunset on the day we arrived. We also had some exploring time in the evening after our meetings were over, and half a day before our flight left on our last day. This time, we also had our own rental car, and weren't being just chauffeured around by the rep of the company we were visiting. So we headed for the hills, literally, and did some serious exploring every minute we weren't working.

As an aside, I actually enjoyed the flights to get out to Santa Barbara. We flew Frontier Airlines. I had never flown Frontier before. The seats were very comfortable. Six hours in airplane seats would usually destroy my lower back. This time though, I arrived feeling great. The cabin crews were also very friendly, and the whole trip out had a laid-back and fun atmosphere about it. I had almost forgotten why I hate flying. The trip back on US Airways though, was the usual nightmare of lower back pain and feeling treated like baggage. Now I remember.

Click on the photos to see larger versions.
| | |
| --- | --- |
| | After landing in Santa Barbara, getting a rental car, and driving down the coast to Carpinteria, we decided to go exploring. We headed up into the mountains for a spot on the map called Lake Casitas Recreation Area, just to see what it was like. The drive through the mountains to get there was very pretty and relaxing after the long day cooped up in airplanes. The scenery was great. Everything was green and blooming in the warm, early Spring weather. There was no traffic at all. We had the twisty mountain road all to ourselves. It was a great drive. The lake was very pretty, with the mountains in the background. |
| | |
| --- | --- |
| | There were an amazing number of birds at the lake. There were lots of ducks, geese, egrets, gulls, black birds, and all sorts of songbirds in the trees. We had a very pleasant time at the lake. It gave us a chance walk around, stretch our legs and enjoy the views and fresh, mountain air. |
| | |
| --- | --- |
| | The rumbling of our stomachs eventually forced us to (reluctantly) drive down out of the mountains, back to Carpinteria, and find a place to eat dinner. Then we wondered over to Carpinteria Beach in time to watch the sunset with the Channel Islands in the background. Very pretty, but cold. It had been a warm day away from the coast, but as usual, there was a frigid wind blowing in off the Pacific Ocean. The beach was like Siberia. We bundled on as much warm clothing as we brought with us to keep from freezing until sunset, then we retreated to the warmth of our hotel. |
| | |
| --- | --- |
| | The next day was mostly spent cooped up in meetings. We finally broke free about 4:30 pm. We decided to go check out the seal rookery I had seen on my last trip to Carpinteria. It was a long walk along the bluff above the water. As we went, we saw several paragliders riding the updraft caused when the breeze blowing in off the Pacific hit the bluff. They could hang almost motionless for the longest time, or swoop up and down the coast. It looked like a lot of fun. |
| | |
| --- | --- |
| | Finally, we got to the seal rookery. It was a longer walk than I remembered. The seals were still there. They hadn't moved a foot up or down the beach since I last saw them three years earlier. This time though, there were a lot of baby seal pups among the adults on the beach. The colony seems to be thriving. |
| | |
| --- | --- |
| | There was still some daylight left after seeing the seals, so we decided to go exploring again. We drove down the coast past Mussel Shoals to Ventura. We commented about being on the Ventura Highway mentioned in the song by America. Then we took Highway 33 inland, through Ojai, and once again, up into the mountains. Though this route was chosen more or less at random, with no idea where we were going, or what we would see, it turned out to be another great drive. The scenery was amazing. Once we got through Ojai and up into the mountains, we once again left all the traffic behind. We just headed up the road to see how high into the mountains it went. At a pass at about 3200 feet above sea level, the road looked to be all downhill into the middle of nowhere, so with the daylight fading, we turned around and headed back the way we came. It was a great drive though. The scenery was amazing. We stopped several times along the way to take pictures and admire the views. |
| | |
| --- | --- |
| | Here is an odd double tunnel through a mountain on Highway 33. There is a bridge between the tunnels over a steep chasm carved by a creek. We stopped in the middle of the road between the tunnels for the longest time and took pictures and admired the view. We saw no other vehicles the whole time we were there. |
| | |
| --- | --- |
| | Our last day before flying out of Santa Barbara, we had a few hours to kill before our flight, So naturally we went exploring again. We spent some time cruising through the ritzier neighborhoods of Santa Barbara admiring the mansions and the views. Then we found ourselves at the waterfront. We walked out on the big pier downtown. That's where I got this photo of two seagulls. Who knew seagulls could be so cute? They are mostly just a noisy, messy nuisance here in Florida. |
| | |
| --- | --- |
| | After the pier, we still had some time to kill. I spotted a speck on our map in the mountains above town called Chumash Painted Cave. None of us had any idea what it was, but we decided to go see. It turned out to be another really great scenic drive to get there. The cave itself is really a small, shallow alcove in the side of a mountain. There is an iron gate to keep people out, but there are convenient openings in the gate where it is possible to stick a camera through and take pictures. The roof of the little cave is covered with pictograms. |
| | |
| --- | --- |
| | A close-up of some of the pictograms on the roof of the cave. One member of the group commented that it looked something hippies could have scrawled on the roof during the 60s. I have seen similar imagery on pictograms and petroglyphs all over the southwest though. It didn't look like modern graffiti to me. |
| | |
| --- | --- |
| | Another close-up of some of the pictograms on the roof of the cave. I was amazed at how well preserved they are. Probably thanks to the gate. |
| | |
| --- | --- |
| | Here is a view, looking down on Santa Barbara and the Pacific from high in the mountains near the cave. The Channel Islands are just visible through the morning fog. It was time to head down into town and to the airport to fly home. All in all, a nicer visit than last time, but still a working trip, and not a vacation. I'd still like to spend some real leasure time in this area someday. |
Photos from our October 2010 vacation in Dahlonega and Tifton Georgia
This year we decided to take an autumn vacation to North Georgia. I knew Dahlonega was a pretty place. I'd been there several times before. My girlfriend never had though. After I described it to here, she relly wanted to go. We rented a cabin on Yahoola Creek for a week. The cabin was far outside town and well off the road. It was very peaceful and quiet.

It was a really great time. We spent a lot of quiet time at the cabin, relaxing, away from everything, but also got out and did a little exploring and sight-seeing. I even got to do my favorite acivity, gold prospecting, right on Yahoola Creek just below our cabin.

We decided we wanted to break up the drive from central Florida to North Georgia, rather than do it all in one shot. So we stayed at The Three Graces Bed & Breakfast in Tifton, Ga both coming and going. It is a great place. The rooms are fantastic and the food is beyond description. Highly recommended.

It was a really great trip. It was nice to get out of the heat, humidity and traffic of Florida and spend some quality time in the cool, scenic, un-crowded mountains of North Georgia.I suspect we may be back again.

Click on the photos to see larger versions.
This is the cabin we rented for a week on Yahoola Creek, just outside of Dahlonega, GA. The cabin is huge. It has a full kitchen, dining room, living room with fireplace, a downstairs bedroom, an upstairs bedroom, vaulted ceilings, 2 full bathrooms and huge front and back decks. Considering the size, the price was very reasonable. It had central heat and air as well as the fireplace. It was very nicely furnished and even included a washer and dryer.

The cabin is at the end of a long, twisting, scary and barely there road. There are no nearby neighbors. It was total peace and quiet and isolation. The only sounds were birdsong and the wind in the trees. It was only a short walk down to the creek. We even saw a flock of wild turkeys walk through the yard, but I was too slow to get a picture. We loved every minute we spent in the cabin and had a hard time leaving at the end of the week.
| | |
| --- | --- |
| | Here is a view of the living room of the cabin. Very comfey. It rained, and even downright stormed, the first few days we were at the cabin, but it was such a cozy place, that we didn't really mind being stuck inside for the most part. It was a great place to decompress and relax. We mostly ate out during the week were were there, sampling a lot of the interesting eateries around Dahlonega. However, I did get a chance to cook on the gill on the back deck a couple of times once the weather dried up. You know me, I love to cook. |
| | |
| --- | --- |
| | Here is a view of Yahoola Creek just below the cabin. The rain the first few days turned it into a raging torrent. Here, after a couple of dry days, the water has gone way down and gotten a lot calmer. Perfect for gold prospecting. I spent a whole day on the creek shoveling, sluicing and panning. In the end, all I had to show for it was a sore back and wet feet. I didn't find the first bit of gold. That's the first time I've ever been totally skunked at prospecting. I usually find at least a flake or two. Oh well, I still had fun, and now I know where not to dig next time. |
| | |
| --- | --- |
| | One of our outings, once the weather cleared up, was to Helton Creek Falls. This is a view looking up from the base of the falls. I'm standing on a dry shelf of rock and the water of the falls is flowing around me. The rain had the falls flowing hard. It was strangest thing. The falling water pulled air down the falls with it. A cold, water-chilled, gale-force wind was blowing down the falls and buffeting me where I was standing to take this picture. It was dead calm everywhere else though. |
| | |
| --- | --- |
| | We also took a tour of the old Consolidated Gold Mine. The mine closed in the early 1900s. Most of the mine is flooded and abandoned. A couple of levels are dry enough to take visitors on tours. We spent an hour or so hiking through cold, dark, damp, drippy tunnels, while our guide pointed out hibernating bats, and explained what it was like to work in a gold mine at the turn of the last century. I would not have liked to be a miner then. This is one of the air-powered drills they used to drill holes for dynamite. Our guide turned it on for a few seconds. Even though it was running at only 1/3 of its designed air pressure, it was deafening. The echoes of it rang through the tunnels for several seconds after he turned it off. Imagine what it was like back in the day, with a dozen of these things running full blast, no ear protection and no protection from the dust (silicosis anyone?). I really would not have liked to be a miner back then. |
| | |
| --- | --- |
| | Here is a view of the fall colors on the trees in the Dahlonega town square. The old courthouse is in the background. It was really a pretty time of year. The relentless stormy wind and rain of the first few days we were there stripped a lot of the trees of their leaves, but there was still plenty of fall color to see in places. |
| | |
| --- | --- |
| | Here is a view of the mountains as seen from the Appalachian Trail at Neels Gap. We are both fascinated by the Appalachian Trail. We've both read books about the history of the trail, and biographies of through-hikers. We'd love to hike it ourselves, but neither of us has the time, and we aren't really in good enough shape to go far. Still, it is nice to see the trail. We can now honestly say we have hiked the entire width of the Appalachian Trail (and a little more too). |
| | |
| --- | --- |
| | Another place we did a little hiking is at Dockery lake. It was a really pretty day. The hike down to the lake was great and the scenery was spectacular. I tried to get a good photo of the fall colors reflected in the lake. This is the best I could do. It doesn't really do the scene justice. Also missing are the wonderful smells of the damp loam of the forest floor and the wood smoke from campfires across the lake, and of course the sound of birdsong. It was a great place to visit. The next time I want to do a camping vacation in this area, I may stay here. |
| | |
| --- | --- |
| | Here is a view looking down on the mountains from atop Brasstown Bald, the highest point in Georgia. From up there we could really see the fall colors on the slopes of the mountains. We could see for miles and miles in every direction. One guy claimed he could see the Atlanta skyline. I couldn't, and it seemed too hazy to me for any hope of that. Still, the views from the top were spectacular. |
| | |
| --- | --- |
| | Here is another view from atop Brasstown Bald. It is just one mountain range after another, after another, until everything is lost in the haze of distance. And it looked like this in every direction. It is a great view. |
| | |
| --- | --- |
| | This is the Three Graces Bed & Breakfast in Tifton, Georgia. We stayed here on our way to Dahlonega. We liked it so much that we decided to stay there again on our way back home a week later. It is on a street lined with old beautifully restored Victorian manor houses, just few blocks from the historic old downtown. It is a very pretty house in a very pretty neighborhood. The Three Graces itelf is also a beautifully restored, huge Victorian manor house called Lankford Manor. As much as we loved the house and our room, the real treasure of The Three Graces is the food. The meals we ate there were some of the best I've had in a long, long time. After our first dinner there we knew we had to come back again. Breakfast was fantastic too. The dining is really top knotch. I highly recommed The Three graces. Even if you are just passing through Tifton and can't spend the night, stop in and have breakfast, lunch or dinner. You'll be glad you did. |
| | |
| --- | --- |
| | This is the room we stayed in at the Three Graces. It is called The Suite of Dreams. The room was nicely decorated and the bed was very comfey. There were wonderful big 2nd floor porches at either end of the hallway our room was on. It was great to sit on the porches and watch the world go by down below. |
Photos from my May/June 2010 vacation in New Mexico, and Arizona
Once again I made the long, cross-country drive to my property in rural Arizona. As usual, I stopped in lots of places along the way there and back, to see he sights and spend time in new and interesting places.

My vacation started a little later than usual this year. I wanted to go in mid May, but a conflict arose with someone else at work. Basically, we couldn't both be off at the same time. So I moved my vacation into the last week of May and the first week of June. That actually worked out well. I got an extra day of vacation because of the Memorial Day Holiday. Plus I took another extra day off on top of that and had myself a long 2 1/2 week vacation this time.

The weather this time was perfect for camping. There was no rain at all for the whole trip. I only got rained on once I got back into Florida at the end of the trip, but that just washed all the bugs and dust off the truck, so it was a good thing. I camped in several places, including on my property for nearly a week. Due to going later in the year than I had planned, it was a lot warmer. I had originally planned to spend a lot of time out in the Southern desert areas of Arizona on this trip, but the temperatures were getting pretty hot during the day, so I mostly stayed up in the cooler mountains instead.

It was a really great trip. I did lots of hiking, exploring, off-road driving, camping, prospecting, and had a wonderful time. I wish all my vacations could be this great. Here are some photos and videos.

Click on the photos to see larger versions.
| | |
| --- | --- |
| | I don't consider my vacations to really have started until I cross the border into New Mexico. I may be technically in the west long before that, but until I enter New Mexico, the driving is pretty much just a chore. Once I enter the Land of Enchantment tough, things start getting interesting. I slow down and take in the scenery. I like to explore and take the long way to whatever destination I have in mind. The end of my second day out found me in the Pinos Altos Range, North of Silver City, New Mexico at sunset. I had planned on camping near here, but the campground was full. So I stayed in a motel. |
| | |
| --- | --- |
| | My third Day I spent prospecting and exploring in the Mountains of New Mexico. Here I am 4-wheeling up Gold Gulch in the Big Burro Mountains. I had a great time. I'd been here before when I owned a van. I had been stopped by deep loose sand in the wash, and been unable to get where I wanted to go. This time though, my 4X4 Tacoma was unstoppable. It was a fun ride. |
| | |
| --- | --- |
| | While 4-wheeling in the mountains, I found some great spots for primitive camping. Quiet and secluded, away from the crowds. I may choose that option the next time I come this way. |
| | |
| --- | --- |
| | I moved on into Southern Arizona. I did some prospecting in Miller Canyon in the Huachuca Mountains. It's a very pretty place. Again, I had planned on camping here, but it didn't look like a good idea. The area is very close to the Mexican border. There were signs warning of human traffickers and drug and weapons smugglers working in the area after dark. There were border patrol trucks tearing up and down the roads constantly. I decided to move on. I got this shot of the moon over the mountain before I left. Maybe if they ever get the border under control, I'll go back. |
| | |
| --- | --- |
| | I moved North. Here I am camping at Lynx Lake, near Prescott Arizona. This was a good central location for exploring the Bradshaw Mountains. It's a nice campground. They do have great, well-maintained campsites. It is fairly primitive though, considering what they charge per night. No power, flush toilets or showers. Still, it was a fun time. |
| | |
| --- | --- |
| | Here is a nice view of Lynx Lake, as seen from the general store and cafe. Great food at the cafe. Friendly staff and colorful local folks hang out there. |
| | |
| --- | --- |
| | This is one of the little birds that always seemed to be hanging out at my campsite. They were very friendly. I was tempted to put out some food for them, but didn't want to attract unwanted visitors to my camp, like skunks. They are some kind of Junco. Black-eyed, red back, gray-head, I'm not sure which. They were fun to watch, and had a pretty song. |
| | |
| --- | --- |
| | Here is a view of the Bradshaw Mountains of Arizona near the beginning of the road to Crown King. The nearly 30 miles of rough dirt road winds up through those mountains to the old mining camp of Crown King. I've always wanted to go. This vacation I had the right vehicle and plenty of time. |
| | |
| --- | --- |
| | Here is a view along the road to Crown King. I am about half way there, getting up in the mountains. |
| | |
| --- | --- |
| | I made it! Here I am parked in front of the Crown King general store. As a friend of mine said, "The staples of life: cold beer, gas and ice." For an old prospector like me, the essentials of life include gold pans and metal detectors. They sell those too. Crown King is an old gold mining camp, after all. Crown King is high up in the mountains, in the cool pines. It's baking in the desert below. What a great place. |
| | |
| --- | --- |
| | Here is a t-shirt I bought at the general store to commemorate my trip to Crown King. |
| | |
| --- | --- |
| | Here is the Crown King Saloon. A neat place. Lots of fascinating historic photos on the walls inside. I had lunch here before heading back down to the low lands. Good food and friendly people. All the locals seem to drive either quads, or really ancient and beat-up pickups. It's easy to spot the tourists in newer cars and trucks. I headed back down out of the mountains behind a local on his quad who had perhaps had a few too many at the saloon. His driving was "interesting." |
| | |
| --- | --- |
| | I spent the next few days prospecting on various streams and creeks in the area. Here is a video I shot while panning and sluicing. |
| | |
| --- | --- |
| | Here is another creek I prospected. There was a good flow of water in the creek even this late in the spring. Usually is dry long before now. I was able to use my sluice and pan. This is a really pretty spot. Hard to get to though. The road in is possibly the scariest road I have ever driven. Very steep, narrow and rocky with sheer drop-offs. I crawled along dead slow. I was real glad I got the skid plates on my truck. I could have easily taken out the oil pan or something else vital several times on that road. I was planning on spending the entire day here, since it is so hard to get to. There was plenty of shade under the Cottonwoods on the edge of the stream. It is a real oasis in the desert. It was a cooler than usual day, and it was just a beautiful spot. But then, I spotted a huge hive of bees in a hollow tree down stream about 50 yards from where this photo was taken. I gave them a wide berth and they ignored me for a few hours. Then I guess the wind changed direction or I got too close or something, because they began coming after me. They were very aggressive. Possibly Africanized. Africanized (killer) bees are a big problem in Arizona. Fortunately, my hat seemed to offend them more than my delicate hide. They mostly went after it. I headed up-stream until they quit circling around me and dive-bombing me. Then I collected my stuff, circled back to my truck well down-wind of them, and left. I wasn't finding any gold anyway. Still, prospecting is like fishing. Whether or not you catch anything really isn't the point. I was having fun, and was sad to have to leave early, but it seemed like a good idea. I spent the rest of the day just exploring the desert. |
| | |
| --- | --- |
| | After 4 days of exploring the Bradshaw Mountains, it was time to head over to my property in Eastern Arizona. I spent 5 days camping on my property. This is a brief video I shot near the end of my stay to show what my campsite is like. Camp is a little messy. I had unloaded everything from the truck in order to haul a load of firewood back to camp. So all my prospecting equipment and lots of other stuff I don't really need here is scattered around. It is a little primitive, but I really love every minute I get to spend on my property. |
| | |
| --- | --- |
| | I spent my last full day in Arizona cruising around the White Mountains. I explored lots of back roads and took tons of photos. Here is a small herd of pronghorn antelope I came across in the mountains once I got off the highway. They don't usually stand around and let me photograph them. They like to live up to their reputation as the fastest animals in North America and run off as soon as I reach for my camera. I got lucky this time. |
| | |
| --- | --- |
| | It was June 1st, but there was still a lot of snow on the ground up in the mountains. North-facing slopes and places shaded by trees still had a foot or more of snow on the ground. The high peaks above the tree line were all still covered with snow. It was a chilly day up in the mountains. |
| | |
| --- | --- |
| | Here I am high atop Green's Peak in the White Mountains looking down on everything, and across at the Apache Ski Resort on the mountain in the far distance. There is still an amazing amount of snow on the peaks for June 1st. |
| | |
| --- | --- |
| | Another view from atop Green's Peak, looking off into the far distance. The wind was blowing at gale force on top of that mountain, and it was bitter cold too. I shot a video up there, but the roar of the wind completely drowned out my narration. So the still photos will have to suffice. They don't really do it justice though. It is a really beautiful spot. |
| | |
| --- | --- |
| | Eventually it was time to pack up and start heading back East toward home, though not directly. My vacation wasn't over yet. I drove back into New Mexico and spent a couple of days in the Grants area. I did lots of exploring and prospecting. This is a photo of Mount Taylor, taken from high up on its slopes. I think the Mount Taylor area is every bit as beautiful as the San Francisco Peaks of the Flagstaff area, but hardly anyone seems to know about it, and almost nobody goes there. I had the mountain to myself. |
| | |
| --- | --- |
| | I poked around several old Uranium mines in the Grants area. The amateur geologist in me just couldn't resist. No, I did not go in the mine. It looked terribly dangerous. A few rotted timbers appeared to be all that was holding up the whole hillside. Also, there was probably a huge amount of Radon gas in the mine. So I stayed out. If you come across any old mines, you should stay out too! I found some nice samples of high-grade Uranium ore just laying on the ground outside the entrance to one mine. I collected some samples to add to my collection of geologic oddities. The yellow stuff on the rock is the Uranium ore. It is a mixture of the uranium minerals Carnotite and Tyuyamunite on Morrison Formation Sandstone. It really sets my Geiger Counter clicking. |
Eventually it was time to start the long drive home. This is always the worst part of my vacations. Two days of boring driving to get back to Florida. I let MapQuest plot my route on my vacations. Strangely, it seems to pick a new route every year. I don't know why. Maybe changing road conditions, or database updates cause it to choose one way one year, and a different way the next. I don't mind, because the different routes make the drive a little less boring and predictable. This time the rout went through Vicksburg Mississippi. I'd never been there before. I am something of a Civil War Buff. Vicksburg was the site of one of the pivotal battles of the Civil War. I should have made time in my schedule to stay and explore the area. Maybe next time. There was only time to grab a few photos and get back on the road.

This is an old Civil War era cannon on a bluff overlooking the Mississippi River. It is a big cannon. Those aren't kids standing beside it. Those are full grown men.
| | |
| --- | --- |
| | Another photo from Vicksburg. Here is the I20 Bridge across the Mississippi River. I had just driven across it from the Louisiana side. The Mississippi is one seriously large river. It is not even particularly wide here, but just look at the length of that bridge. Also, the flow is amazing. I guess I shouldn't be surprised since it drains half a continent. A lot of us tourists were standing there, slack-jawed, looking out at the river in amazement. The Mississippi does that to people who don't live with it every day. |
Photos and video from the February 2010 Orange Blossom Special Star Party
Here are some photos and video from the February 2010 Orange Blossom Special Star Party, held by the St. Petersburg Astronomy Club. The weather was quite rough this year. Very cold the whole time, and rainy part of the time. It's been the coldest Winter we've had in Florida since the 1950's. It's also been the rainiest winter in a long time. There were really only two good nights this year. It was still a good time though. I camped out in the cold and rain, hung with my buddies, did some astronomy, and loved every minute of it, and never felt better afterwards. Only after being back to work for a couple of weeks in a nice heated building did I get the flu. I'm sick as I am writing this, and wishing I'd never come back.

Click on the photos to see larger versions.
| | |
| --- | --- |
| | Here is a photo of the big DOB, fully assembled and sitting on its equatorial platform, late Wednesday afternoon. I arrived early Wednesday afternoon, and by late afternoon had everything set up and ready to go. My tent, where I lived for the duration, can just be seen on the left side of the photo. I had big RVs on three sides of me. I think this helped shelter me when the big wind storm came through on Friday, since my tent and screen room survived the storm unscathed. A lot of others were damaged or destroyed. Wednesday night was a pretty good night. We had some intermittent thin cirrus clouds and the seeing could have been better, but got in a lot of observing anyway. We wouldn't have another clear night until Saturday. |
| | |
| --- | --- |
| | Here is a video of me setting up the 17.5 inch Dobsonian telescope. It only takes 10 minutes to set it up. You can find out more about this telescope, including how I built it, on my telescopes page. |
| | |
| --- | --- |
| | During the day on Thursday there was lots of time to roam around and talk telescopes with the other attendees. |
| | |
| --- | --- |
| | Here my friend Merrill Wright wows the crowd as he talks about his astronomy trials and tribulations during the traditional telescope walkabout. The walkabout is an event I lead every year during the day. I lead a crowd of interested attendees around the field, stopping at different types of telescopes to talk about how they work and their various features. Whenever possible, I like to have the owners of the scopes on hand to talk about the scopes and their experiences with them, and the techniques they have developed for using them. It is great fun every year. |
| | |
| --- | --- |
| | An attendee contemplates the iffy sky Thursday afternoon as clouds begin moving in ahead of a storm front. Thursday night was completely clouded out. The rain started very early Friday am, and continued into Friday evening. At the end of the storm, a squall line came through with very high winds that did a lot of damage to tents and awnings on the open field. See the video below for damage footage. Friday night was clouded out too, but at least the rain and wind had stopped. |
| | |
| --- | --- |
| | Here is a video of some of the storm damage that happened on Friday. |
| | |
| --- | --- |
| | Late Saturday afternoon, he covers were coming off the telescopes and people were preparing for what would turn out to be a great night of observing. |
| | |
| --- | --- |
| | Here is a video I shot while walking around the field just before sunset on Saturday. People were getting all set up and ready to go in anticipation of the great night to come. |
| | |
| --- | --- |
| | A layer of frost covered the big telescope, the ground, and just about everything else in the morning. I stayed up observing until about 1:00 am. Ice was already forming on the scope by then. I finally had to call it quits because the cold was getting to my feet. My feet seemed to be the weak link in my cold weather dress. My new bomber hat kept my head nice and warm, and all the layers I was wearing kept my body warm, but my feet, even with two pairs of heavy socks on, let me down. It was a shame because it was the best night of observing I'd had in years. The sky was amazingly transparent and steady. I had the scope cranked up to 400 power for amazing views of Mars and Saturn, and then backed down to low power for hours of serious deep-sky observing before finally calling it a night. It was a great night. The perfect end to a great star party. |
Photos from our January 2010 vacation in Miami and the Everglades
For New Years, we decided to take a mini vacation and go to Miami and visit my girlfriend's family, then spend some time exploring the Everglades. Believe it or not, in spite of living in central Florida for most of my adult life, I haven't been to Miami since I was a young child and we there here on vacation from Indiana. The weather threw us a real curve-ball though. We had one of the worst cold-snaps in the last 30 years. So even though these photos look like they were taken in the tropics, it was freezing cold. We had snow and sleet in central Florida only a few days after these photos were taken. It was a really cold trip. The airboat ride (see below) was especially brutal due to the cold. We had a great time though, in spite of the weather.

Click on the photos to see larger versions.
| | |
| --- | --- |
| | I took this photo of the Miami Skyline at Matheson Hammock Park. My girlfriend wanted me to see it because it was a place she spent a lot of time with her family while she was growing up. It is a really nice park. I'd like to visit it again when the temperature isn't in the 40s and we don't have to be dressed like Eskimos. I'm quite proud of this photo. I like it a lot. |
| | |
| --- | --- |
| | One neat place we went on this trip was Coral Castle. I'd been hearing about this place since I was a child. I remember seeing the "In Search Of" episode that featured it as a kid. Coral Castle is always spoken of as a big mystery. How could a 5' 0", 100 lb, Latvian immigrant named Ed Leedskalnin build this huge structure and move the immense blocks of coral all by himself? They really hype up the mystery and imply that he knew "secrets" about using "magnetic energy" to manipulate the huge blocks of coral. This photo was taken in the inside courtyard of the castle and shows some of the strange coral furniture and decorations. The Coral Castle photos are a little fuzzy. I very cleverly left my camera in the motel that morning, so all these photos of Coral Castle were taken with my girlfriend's Blackberry. She had been having trouble with the camera. |
| | |
| --- | --- |
| | This photo shows the only enclosed living space in the castle. This two story tall tower had Ed's very small and Spartan living quarters on the upper floor, and his workshop below. After seeing how Ed lived, it's really no wonder why the love of his life refused to come live with him. I suspect the average prisoner in the federal pen has better living conditions, and probably does a lot less rock breaking. |
| | |
| --- | --- |
| | Here I am moving the 9 ton gate with only one finger! No, not really. Much is made of how well balanced this gate block is. I'll admit, it is well balanced. But that is not especially difficult to do. For Ed to move the block around in the first place, he would have had find its balance points. My guess that it pivots on a truck axle was confirmed by a guide. Not really a tough guess considering the number of car and truck parts Ed incorporated into the construction of the castle. |
| | |
| --- | --- |
| | Here I actually am moving the 9 ton gate. It took all my strength (and putting my considerable weight into it) to get the gate moving. Once the tremendous inertia of the 9 ton block of coral is overcome and it begins moving though, it is very easy to keep it moving. The balance is very good, and the truck axle bearings allow for smooth, nearly friction-free motion. |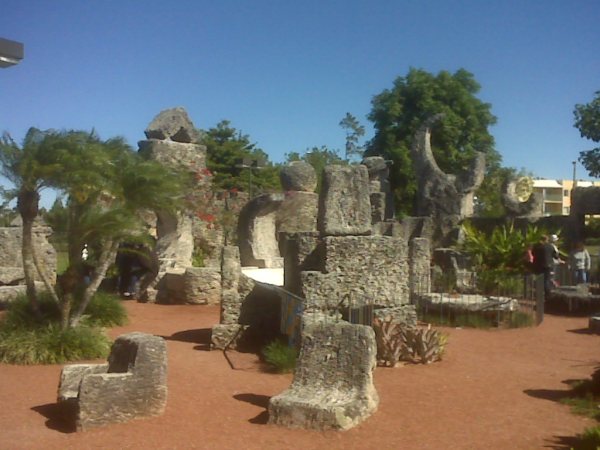 To me, there is little mystery about Coral Castle. I worked in construction for over 10 years. To my eye, it is a straight-forward construction project. It is impressive only in that it was all supposedly done by only one little man over a period of decades. But since nobody ever saw Ed Working on it, it can't be proved that he didn't have help, at least part of the time. Moving big blocks of stone isn't too difficult if you have the right equipment (chains, ropes, block and tackles, a truck, etc. in Ed's case) and the determination to actually do it. How the blocks were quarried is obvious once you get a close-up look at them, especially on the inside of the castle wall. Ed did a good job of making the outside of the walls that a passerby would see as precise as he possibly could, but the inside surfaces still show that the quarrying process was not nearly as precise or mysterious as the guides would like us to believe. The gaps between the blocks and they way they were filled in, and the shapes of the edges of the blocks all speak volumes about the actual quarrying and construction techniques that were used. I wish I could have gotten good photos of the joints for illustration, but the lighting was bad and the Blackberry wasn't cooperating. Also, most of the big blocks weren't moved very far. They were quarried on site, and some only moved a few feet to their final positions. Leverage and primitive tools would be enough to do the job. Also, the construction technique was not nearly as precise as I had been led to believe. There are few real mysteries there. Don't get me wrong, I'm not disappointed in Coral Castle. Not at all. I love getting to the bottom of mysteries and debunking myths. I had a great time. It is well worth the price of admission. The real mystery behind Coral Castle though is why Ed did it, not how.

| | |
| --- | --- |
| | After leaving Miami, we stayed in Everglades City for a while and spent some time exploring the Everglades. It was freezing cold, but nice and sunny, so alligators were hauling themselves out of the cold water and sunning themselves all over the place. We saw lots of gators on the banks of canals and in shallow ponds. I have lived in Florida (on and off) since I was 9 years old, but I think I saw more wild gators on this trip than all the rest of my life combined. Big ones too! I saw a couple monsters beside canals as we were driving, but was too slow with the camera. This one was in a canal beside the adventure company where we went to take an airboat ride. He doesn't look so big in this photo, but I'd guess he was 10-12 feet long easy. |
| | |
| --- | --- |
| | More big gators! These gators were in a wildlife park run by the adventure company we took the airboat ride with. There were dozens of monster gators in their park. |
| | |
| --- | --- |
| | What a monster! This was the biggest gator at the wildlife park. It is hard to estimate how big he is. 12-14 feet, maybe more? He had his own pool all to himself. I guess maybe he liked to snack on the "little gators" in the big pool. |
| | |
| --- | --- |
| | We took a ride through the Everglades in an airboat like this one. It was great. Lots of fun. The driver would crank up the speed to something insane, then do a sharp turn that sent the boat skidding sideways, sending up big rooster-tails of spray. It was a great thrill ride. It was educational too. The driver would slow to an idle and point out interesting features or lecture on the flora, fauna and history of the area. A couple of times he'd shut down the engine all together in an interesting spot so we could have a Q & A session. The only problem was the bitter cold that morning. The ride was really brutal at high speeds. The wind chill and cold spray left us quite frozen. |
| | |
| --- | --- |
| | Here is a video I shot during some of the high-speed runs in the air boat. The icy wind in my face had my eyes watering so badly that I couldn't see during parts of the trip. There isn't much to hear on the audio but the roar of the engine. They said it was about 90 Db, so it drowns out everything else. We are all wearing ear protection and the diver speaks through a very loud PA system to talk to us while the engine is running. |
| | |
| --- | --- |
| | We just had to stop and get a photo of the smallest Post Office in America at Ochopee. It serves a handful of people in a very out of the way rural area. |
| | |
| --- | --- |
| | One last photo, from deep in the heart of a cypress swamp, with the lengthening shadows of late afternoon. It was time to head back home. |
Photos from my September 2009 vacation in Colorado, New Mexico, and Arizona
Once again I made the long, cross-country drive to my property in rural Arizona. As usual, I stopped along the way to see he sights and spend time in new and interesting places.

I left a little earlier this year than I usually do for my fall vacation. I was planning on doing some camping in the high Rocky's of Southern Colorado and Northern New Mexico. I wanted to avoid any bad cold snaps and/or early snow storms.

I was determined to do some serious camping on this trip. I was thwarted in my attempt to camp during my spring vacation in Georgia by persistent rain. The rain dogged me on this trip too, but I camped anyway, and got wet and muddy a few times. The rain started on my drive out West. I hit rain in Louisiana, and drove through it all the way into Colorado. It was relentless. 1500 miles of hard driving in the pouring rain. Once I got to Colorado, it only got worse. A severe storm spun up as I arrived in Trinidad, CO. There were high winds, torrential horizontal rain and terrible lightning as I rolled into town. Visibility was about zero. I managed to find a motel and decided to stay there for the night, hoping the weather would clear by morning. I got soaked just running into the lobby of the motel to register. Fortunately, the rain did clear out overnight, and the next day I was able to set up camp at a nearby state park. The rain was not finished with me though.

I took over 350 photos on this long vacation trip. This is just a small sampling on them that I think illustrate where I went and what I did. Click on the photos to see larger versions.
| | |
| --- | --- |
| | I set up my tent in Lathrop State Park near Walsenburg, Co. The state park has a great view of the Spanish Peaks. The indians had a name for the Spanish Peaks that translates into English as "The Breasts of the World." It doesn't take much imagination to see that. Lathrop is a great park. Friendly staff, and I had the tent camping area pretty much to myself. My only complaint about Lathrop (and Colorado state parks in general) is that they really nickel and dime you to death for everything. They charge a fee to enter the park, then another on top of that to camp. There seems to be a fee for everything you could possibly want to do there. They even have coin-op showers, which isn't so bad, except they charge 50 cents for 4 minutes of water, but you have to let the water run for at least 10 minutes before it starts to get hot, otherwise it is icewater. |
People who know me know that I am interested in all the sciences. Geology has always been a passion of mine. On this trip, I really engaged in a lot of amateur geology. Here I have used my rock hammer to expose a section of the K-T Boundary in Long Canyon near Trinidad, CO. The K-T Boundary is the line marking the end of the age of the dinosaurs. It was caused when a huge asteroid slammed into the Earth 65 million years ago. The actual boundary is the light-colored layer just behind the pick end of my rock hammer. I collected several large sections of the boundary with some strata from above and below. They will be prized specimens in my collection.

I also collected coal from several exposed coal seams (burns great in campfires), investigated abandoned Uranium and Silver mines and studied the strata in various rock quarries and road cuts on this trip. I really got my geology geek on. It was a lot of fun, and I learned a lot.
I saw lots of wildlife on this trip. Skunks, eagles, hawks, chipmunks, prairie dogs and deer, even a rattlesnake. People always warn me about the rattlesnakes out West. This is the first time I've ever seen one. Florida is lousy with rattlesnakes. I've seen dozens here at home. It took 20+ years of vacationing in the West to see my first one there. Too bad I didn't have my camera handy at the time.

The deer were especially numerous. I lost track of the number of times I rounded a curve and found them standing in the middle of the road, or the times they darted across the road in front of me. They tested my reflexes and my brakes many times. These deer were just wondering through the campground at dusk and let me take their photo.
| | |
| --- | --- |
| | I spent a lot of time cruising the back roads in the Spanish Peaks area. There is so much to see. It is really beautiful country. This is a high mountain meadow near Cuchara Pass and the Spanish Peaks. |
| | |
| --- | --- |
| | I saw this tired old tractor, overgrown with weeds and wildflowers, parked in a barnyard and couldn't resist taking a photo of it. I call it "Toil No More." |
| | |
| --- | --- |
| | This photo was taken from high up on the flanks of West Spanish Peak. You can see the bald top of the mountain poking up through the trees in the foreground. I love the mountains, and get out of flat Florida every chance I can to go play in the mountains. |
| | |
| --- | --- |
| | Here is another photo of the Spanish Peaks, this time taken from the little town of La Veta, Co. La Veta is a neat little town. There are a lot of neat little towns and villages around the Spanish Peaks. |
| | |
| --- | --- |
| | My last morning on Colorado, I was awakened in my tent by a massive peal of thunder. I scrambled outside and broke camp in record time and just managed to pack everything into my truck before the rain started. I drove South into Northern New Mexico, heading for the next place I planned to camp, the rain dogging me all the way. I arrived at the Hopewell Lake campground high in the New Mexico mountains, in the rain, and with the temperature plunging into the low 40s at midday and the wind howling. I was afraid it was going to start snowing any minute. I checked my calendar to make sure it was still mid-September and still technically summer. But there's no arguing with Mother Nature. So I decided to head to an alternate campground I had researched at a much lower elevation. I stayed at Heron Lake State Park Just outside the "town" of Tierra Amarilla. Not really much of a town. If you need anything other than over-priced gas, you need to drive to Chama or Taos to get it. It was much warmer and the weather was a little drier. Here my tent is set up on the shore of Heron Lake. It is a beautiful park, and they don't nickel & dime you to death like in Colorado. I highly recommend it. |
| | |
| --- | --- |
| | Here is a view of the lake behind my tent. The lake is surrounded on several sides by huge cliffs. They are very impressive in the morning and evening light. I had prime lake-front property for only $10 per night. |
| | |
| --- | --- |
| | Here is a view of the lake from near the visitor center. Heron Lake is a no-wake lake. There were lots of boats on on the lake every day, but they were either fishermen using trolling motors, or sailboats. The sailboats were quite pretty to watch as they glided across the lake. |
| | |
| --- | --- |
| | The day after setting up camp at Heron Lake, I went back up into the mountains to Hopewell Lake, where I had originally planned to camp, to get a look at the place in the sun. It was beautiful with the aspens turning gold. I wish I could have camped there. In the afternoon though, the rain storms returned. In fact, it rained every afternoon I was in New Mexico. I'd retreat down out of the mountains as the afternoon thunderstorms built up and return to Heron Lake State Park. The afternoon thunderstorms usually expended their fury on the mountains and petered out before dropping more than a light sprinkle on the lowlands where the campground was located. Only one major rain storm hit the campground while I stayed there. |
| | |
| --- | --- |
| | I love aspen trees. I think aspen groves are about the neatest places on Earth. I am especially enamored with aspen trees when they start turning golden in the fall. |
| | |
| --- | --- |
| | Here is a view of the Brazos Cliffs not far to the Northeast of Heron Lake State Park. They are quite impressive, and can be seen for many miles in any direction. There is a neat little community of cabins up a winding road at the base of the cliffs. |
| | |
| --- | --- |
| | You never know what you will see around the bend in the road in Northern New Mexico. Here is a shot of some fantastic pink cliffs near Abiquiu New Mexico. New Mexico is truly the land of enchantment. |
| | |
| --- | --- |
| | As I made my way South and West toward my eventual destination of my property in Arizona, I spent some time exploring the amazing landscapes on the Navajo Reservation. I did some hiking and explored the back roads on the reservation. This particular feature is known as "Owl Eyes." If you look closely at the photo, (click for a larger version), there are the ruins of a 1000 year old indian pueblo building in the foreground of the shot. |
| | |
| --- | --- |
| | On my way out of New Mexico, I stopped at Red Rocks State Park, just to check out the place, since it was on my way. I was surprised to find a large prairie dog town in the park. There were quite a few prairie dogs cavorting around when I arrived. As soon as I got out of the truck with my camera though, they all disappeared down the holes into the town. One would pop up out of a hole, then duck back down before I could get a picture. Then one would pop up out of another hole and vanish just as quickly. It was like playing whack-a-mole with my camera. Eventually I managed to get a shot of one of the prairie dogs peeking up out of one of the many entrances to the town. |
After I finally made it to my remote Arizona property, I set up camp and spent some quality time there. One thing I had always wanted to experiment with is making adobe bricks with the soil on my property. I noticed one time after it rained that the mud in some areas of the property would dry and become as hard as rock. I got the idea that it might make good adobe bricks. This trip I finally tried it. I mixed up some mud using the soil, and added some straw gathered growing wild on the property. I used some actual bricks from my fire pit as molds for the adobe bricks. They seemed to harden up quite nicely. I was surprised at just how strong they were even after only a couple days of drying. Unfortunately, proper adobe bricks need to dry for weeks. I wasn't there long enough to see how strong the properly dried bricks would be. I stashed them under a juniper tree, hopefully out of the worst of the weather, and will see if they survive until I return next time.

It would be neat to be able to build on my property using raw materials from the property itself. It really appeals to the self-sufficiency streak that runs through me.
| | |
| --- | --- |
| | While driving down a dirt road a couple miles from my property, I saw this big fellow skittering across the road. I swerved to avoid running it over, and stopped to take a picture. I've seen a lot of tarantulas in the Southwest over the years, but this is probably one of the bigger ones. It stood there calmly and let me put my water bottle down next to it for scale and then posed for a photo. I shooed it off the road before I left so the next person wouldn't run it over. |
Photos from our July 2009 trip to Disney's Animal Kingdom Lodge
We stayed at Disney's Animal Kingdom Lodge for my birthday. It was the first time I had been to Disney World since I was a kid. Things have changed a lot there. I always just thought of it as a place for kids, but there is a lot for adults to do there too. The Animal Kingdom Lodge is a huge resort building that surrounds and is surrounded by an artificial African savanna that has herds of exotic African animals wondering around it. You can sit on the balcony of your room and watch all sorts of exotic animals doing their thing out on the savanna right outside your room. The animals can come very close to your balcony and you can get a good look at them and great photos. There are a couple of dozen exotic species at the park. I got good photos of only a few who got real close. Some animals never got close enough for good photos, but I took my binoculars, and we got good views of lots of animals that never came too close to us. We spent hours watching the animals with binoculars and just our eyeballs when they got close. Besides our balcony, the hotel has lots of other viewing areas that face out onto the savanna. When there were no animals near our room, we'd go look from the other areas. It was a great time.

Before we left, we took a marathon tour of some of the Disney Resorts. We rode by monorail and boats to see The Polynesian, The Grand Floridian, the Contemporary and the Fort Wilderness resorts. Neat places. I was impressed with all of them except the Contemporary which looks run-down, bland and dated compared to the others.

What recession? Disney was packed with people. The crowds in some areas were huge. The economy doesn't seem to be putting the pinch on Disney. And it is not a cheap destination.

It was a good time and a great birthday. We plan on going back again during the cooler months and when the kids are back in school when the park should be less crowded and it will be even more fun to be outside and explore the park. Click on the photos to see larger versions.
| | |
| --- | --- |
| | This is a photo of one of the giraffes that walked by our balcony. We counted as many as 5 giraffes in view at any one time. You see them on tv in nature shows, but they are a 100 times more magnificent when you see them for real and up close. |
| | |
| --- | --- |
| | Here is a group of four giraffes clustered around a feeding box high in a tree. Like all the animals on the savanna, the giraffes eat pretty much anything they can reach. However, the keepers put out treats especially for them in high boxes that the other animals can't reach. I don't know what it they are eating, but they really like it. The keepers called it "giraffe candy." |
| | |
| --- | --- |
| | Here a group of three zebras passed by our balcony as they munched their way across the savanna. The zebra were smaller than I expected, about pony size, I guess. Having never seen them except on tv, I had no real sense of scale for them. They are magnificent animals. Beautiful, and very entertaining to watch. |
| | |
| --- | --- |
| | We never heard the giraffes make a sound. The zebras though are quite vocal. They were snorting and making all sorts of horse-like sounds as they wandered around the savanna in small groups. |
A close-up photo of an African Crowned Crane. They are magnificent birds. There are a lot of exotic African birds on the savanna. Their wing feathers are clipped so they can't fly away, though they can get airborne enough to get onto low branches of trees. We saw several African vultures in trees, but too far away to get good photos.

We got close-up looks at several varieties of large African birds. Many manage to cross the low electic fence line that keeps the wildlife from getting too close to the lodge. They either flap over (despite having their wings clipped) or just walk right through it. The keepers said their feathers insulate them from the fence and they don't feel the electricity.
| | |
| --- | --- |
| | Later on a group of 4 ostriches came wondering by our balcony. They had been off in the distance, out of camera range for hours. they finally came near enough to get a few pictures. |
| | |
| --- | --- |
| | This big fellow is called a Blesbok, a type of antelope. The reason I have such a close up photo of him is because he likes to jump over the low electric fence that keeps the animals from approaching the the lodge too closely. The keepers don't seem to mind when this Blesbok jumps over the fence. He seems too totally focused on eating the tender grass on the other side to bother anyone. Other animals that jump over the fence are quickly herded back out onto the savanna by the keepers though. |
Photos from my May 2009 vacation in Georgia and North Carolina
I was in bad need of a vacation. I had just been through a really stressful period in my life, and things had been very intense at work. I needed to get away for a while. I only had a week though, so I decided to stay (relatively) close to home. I love the mountains of North Georgia and North Carolina. I decided to take a road trip to the area where Georgia, North Carolina and South Carolina all meet.

I had planned on doing a lot of camping on this trip. I took all my camping gear and located a couple of campgrounds in advance where I might like to stay. As the date of my vacation got closer though, the weather wasn't looking like it was going to be good for camping. It was turning out to be a very rainy Spring in that area of the country. Sure enough, the day I left, it rained on me all the way there. I stopped in the town of Clayton, GA and found an inexpensive motel to hole up in until the rain quit.

I wanted to camp, but camping in the rain and mud is no fun. The next day it rained too. And it rained the day after that. In fact, it rained almost every day I was there. Usually it would rain overnight and into the next morning with the afternoons semi-dry. A couple of days though, it rained on and off all day long. Eventually I gave up on the idea of camping and decided to just spend the whole vacation at the motel.

Aside from preventing me from camping, the rain wasn't too much of a hindrance to having fun on this vacation. It didn't rain all the time. I still managed to do most of the things I really wanted to do. I got out into the mountains, I did some hiking, I got to see and photograph some amazing vistas, I went to several auctions in rural Georgia and North Carolina and bought a lot of bargains, I explored and went places I hadn't been before. Most importantly though, I got to rest and relax and unwind. The Rabun Gap area between Clayton, GA and Franklin, NC is amazingly beautiful. I'll definitely be back again someday, hopefully when it's not raining.

Click on the photos to see larger versions.
| | |
| --- | --- |
| | This was the usual misty morning view. Rain clouds and mist rolling over the mountains on the edge of the Rabun Gap. It was so amazingly beautiful that I almost didn't mind the rain at all. |
| | |
| --- | --- |
| | Even with all the clouds and mist, it wasn't too hard to find amazing vistas to photograph. |
| | |
| --- | --- |
| | All the rain was good for the flowers. There were flowers everywhere. Everything seemed to be blooming. The air smelled like perfume. Even in town, a breeze blowing out of the mountains or woods would bring the heavenly scent of all the blooming flowers in the countryside. |
| | |
| --- | --- |
| | This is a photo of Tallulah Gorge in Tallulah State Park. It's impressive. It reminds me of Oak Creek Canyon in Arizona. There is a stairway to the bottom of the gorge. It's over 1000 steps to the bottom, and of course that many back up. I figured that while I just might manage to go down 1000 steps, getting back up might be a little problematic. so I contented myself with hiking around the rim of the gorge and taking photos from the top. |
| | |
| --- | --- |
| | All the rain really had the waterfalls flowing heavy. Every river and creek in the area was flowing heavy and all the waterfalls were really flowing. |
| | |
| --- | --- |
| | I saw dozens of waterfalls. I have never before seen such a dense concentration of waterfalls. They seemed to be everywhere I looked. There were short ones, tall ones, wide ones, narrow ones, thundering ones and trickling ones. I took tons of photos. There were so many though, that eventually I stopped photographing them unless they were exceptionally beautiful. This particular waterfall is in the campground I would have been camping at if it hadn't been so rainy. |
| | |
| --- | --- |
| | I visited the campground I had planned on staying at, before the rain cancelled my camping plans, just to see if it was as nice as it seemed on the Internet. It was amazingly beautiful, and totally empty due to the rain. I could have had my choice of any of the most prime camp-sites. This is a view away from the camping area and down at the day-use swimming and picnic area at Rabun Beach. Maybe next time the weather will be better. |
It didn't rain all the time. Not only did the rain let up occasionally, but a couple of times the sky even cleared out and the Sun came out. Dazed and stunned locals stared upward in amazement and wondered what the bright orange orb in the sky was. It had been so long since they had last seen the sun they had forgotten what it looked like. Having just recently arrived in their cloudy corner of the world from sunny Florida, I assured them that it was a perfectly harmless natural phenomenon, and they shouldn't be alarmed.

The Sun and clear air gave a whole different look to the land. It was even prettier, if that's possible.
| | |
| --- | --- |
| | Here a couple of happy horses frolic in the late afternoon sun and enjoy a break in the rainy weather. The Brown one was quite friendly and wondered right over to me. He let me pet him, but lost interest quickly when I pulled out my camera and tried to take a close-up picture, I think he had been hoping for a treat instead. |
I couldn't possibly take a trip to gold country and not try my hand at a little panning and sluicing. I had test panned a couple of creeks in the National Forest earlier, but didn't find any gold. On my last day before coming back home, I moved down to Dahlonega, GA and did a little sluicing on the Chestatee River. The water was high and swift from all the rain. I set up my sluice on the bank of the river and built a wing dam of rocks to divert some water through it. The current was strong and kept washing away my wing dam. I kept having to find bigger and heavier rocks to rebuild it.

The current was too strong for me to get out into the river and dig paydirt out of the nooks and crannies in the rock like I had hoped to. So I had to content myself with digging my paydirt out of the river bank. I only found a little gold, but at least I found some. I was starting to doubt my prospecting skills after coming up empty on the other creeks.
Photos from my December 2007 trip to Santa Barbara and Carpinteria California
This was not a vacation trip. The company I work for sent me and a couple of my co-workers out to Santa Barbara, CA on business on fairly short notice. It was a work trip with little time for fun and sight-seeing. In fact, I only managed to sneak away from the grind once for an hour or so before dawn (before I had to get to work) to look around and grab some pictures. I left my hotel and walked about a mile down bike and foot paths in the bitter cold and darkness to get to the Carpinteria seal rookery on the beach near the Carpinteria pier. I arrived just as the sky was beginning to brighten and there was just enough light for photos. I grabbed a few photos of the seals on the beach below the bluff, the channel islands out in the Pacific Ocean and the first rays of the sun lighting up the mountain peaks above town. Then, all to quickly, it was time to hustle back to the hotel to catch my ride into work. The rest of the trip was work and travel. I have to go back to this place someday when I can spend some time really exploring it.

Click on the photos to see larger versions.
| | |
| --- | --- |
| | This is a photo looking down on the seal rookery at Carpinteria, California. I am standing on a bluff maybe 100 feet above the water. I had to zoom my camera to the max to get these photos. The beach was closed to give the seals some sanctuary. There was no easy way to get down there anyway. It was a pretty sheer cliff in most places. |
| | |
| --- | --- |
| | It was a bitterly cold morning with a stiff and biting wind blowing in off the Pacific. I didn't bring along serious winter clothes on this trip since I didn't expect to be outside for more than a few minutes. Standing exposed on the edge of the bluff was rapidly chilling me to the bone. I loved every minute of it though. It was great to watch the seals cavorting around on the beach below. The sound of the surf and the wind in my ears drowned out most of their barking though. |
| | |
| --- | --- |
| | It was actually still quite dark when these photos were taken. I had to do a little post-processing to make them look this good. Mainly increasing the gamma. Most of the photos I took were pretty badly blurred because my camera was using a long exposure in the low light conditions. I didn't have a tripod or even a monopod with me to steady the camera. So most of the photos were hopelessly blurred. A few turned out decently sharp, but very dark. After bumping up the gamma though, they didn't look too bad. They actually look like they were shot on a cloudy day, rather than in pre-dawn near darkness. |
| | |
| --- | --- |
| | The seals were coming and going and milling around on the beach the whole time I was there. There was constant pushing and jockeying for position, as if one bit of beach was better and more desirable than another. Others were out in the remarkably clear water scouring the rocks for some breakfast. It was fun to watch. |
| | |
| --- | --- |
| | Here is a photo looking out toward the Channel Islands with the sky beginning to brighten. Due to the way the coastline curves at Carpinteria. I am actually facing more or less South when looking out over the Pacific Ocean. The sun is about to rise over the water on my left. I wasn't expecting to see the sun rise out of the Pacific. It's just a quirk of the shape of the coastline in this area. Someday I'd like to visit the Channel Islands. I hear they are magnificent. |
| | |
| --- | --- |
| | Here is a photo of the first rays of the sun lighting up the mountains above town. Beautiful. I'd really love to go off-roading and hiking up there. No time though. This is a business trip. It's almost time to go to work. I have to hustle back to the hotel and catch my ride. Oh well, maybe another time. |
Photos from our October 2007 trip to Tennessee and Georgia
For this vacation we decided to skip the long drive out West and spend some time vacationing a little closer to home. We decided to head up to Tennessee to do some camping. Then we moved down into Georgia for a couple of days before heading home.

We started out camping in Tellico Plains Tennessee. We cruised the Cherohala Skyway, visited the Lost Sea Cavern, saw some waterfalls, saw the fall colors and went panning for gold. Then we drove down into Georga and camped just outside the little town of Dahlonega. Dahlonega is a neat little town. We both liked it there. We did some sight-seeing, some shopping, too much eating, and of course panned for gold. The weather was nearly perfect for camping this trip. It was warm until the last two nights when a cold snap made it just a little chilly.

Click on the photos to see larger versions.
| | |
| --- | --- |
| | This is a view of the KOA campground we stayed at in Tellico Plains, TN. Here I am looking down on it from a low ridge. The campground is surrounded by hills and is bounded by the Tellico River on one side. It's a great campground. It was fairly full when we arrived on Saturday night, but by monday all the tent campers left, leaving just the RVers (mostly retired folks) and us in our little pop-up trailer. You can just see our little pop-up among all the huge RVs and Travel Trailers. Patti thinks it's tiny, but to an old tent camper like me it seems huge. |
| | |
| --- | --- |
| | Here is a view of the Tellico River, near Tellico Beach, not far from the campground. The river is very shallow and rocky along much of it's length. It is also down in a steep gorge, making it difficult to access in many areas. At Tellico Beach though, there are deep pools that allow for swimming and easy access to the water. |
| | |
| --- | --- |
| | Not far from the campground is Bald River Falls. This is an easy waterfall to get to. Basically you can drive right up to it. It's very pretty too, even though the water flow is apparently only about 1/6 of normal due to a drought in the area. |
| | |
| --- | --- |
| | Here I am panning for gold in the Tellico River. I had hoped to pan on Coker Creek and some of the other creeks in the area known for past gold production. Unfortunately, the drought had dried up all those creeks. You can't pan without water. So I gave it a try on the Tellico River. I only found a little bit of gold here. We didn't start getting large quantities of gold until we went to Georgia (see below). Visit my Gold Prospecting Page for more information on my gold panning hobby. |
| | |
| --- | --- |
| | Fall was taking its time arriving in Tellico Plains. We had hoped to see the leaves changing, but everything was still stubbornly green down in the lowlands. We spent one day cruising the Cherohala Skyway. It took us from the lowlands of Tellico Plains up into the highlands in the North Carolina mountains. Once we got above about 4000 feet, the leaves were changing, and we finally got our Fall colors fix. |
| | |
| --- | --- |
| | Here on one of the scenic vistas along the Cherohala Skyway, you can see a whole mountainside of trees changing into their fall colors. We had a nice picnic lunch at a road-side table high in the mountains. I think the Cherohala Skyway is every bit as pretty a drive as the Blue Ridge Parkway, but not nearly as well-known or as busy. |
| | |
| --- | --- |
| | This is a photo of another of the many scenic vistas along the Cherohala Skyway. Here we are headed back down out of the NC mountains and back to Tennessee. |
| | |
| --- | --- |
| | This is yet another photo of a scenic vista along the Cherohala Skyway. The mountains just seem to go on forever. |
| | |
| --- | --- |
| | We left Tennessee and drove south into Georgia. We set up camp in a campground just outside Dahlonega, Georgia. This is a photo of the old Courthouse building in the Center of downtown Dahlonega. The old courthouse is now the Dahlonega Gold Museum. Dahlonega is a neat town. Patti and I both liked it. We had a lot of fun there. It is an old gold mining town. It has a fantastic square in the center of town with the Gold Museum in the center and all kinds of neat shops and eateries surrounding it. We had a lot of fun exploring Dahlonega. We can't wait to go back. |
| | |
| --- | --- |
| | Unfortunately, we didn't have enough time while in Dahlonega to go prospecting out on the local streams. Too bad, since the Dahlonega area is a hot-bed of past and present gold mining activity. Next time we go there we will make time for prospecting. However, there are several gold mines in the area that will sell their ore to the public. We bought some and panned it out. Wow! This photo shows the results of only a couple of hours panning. That's a lot of gold. I was so happy with the amount of gold we were getting that I bought 3 more sacks of ore to bring home and pan out later. It felt a little bit like cheating though, to not have dug the stuff out of the ground myself. As more and more gold kept appearing in our pans though, I got over it. |
Photos from our May 2007 trip to New Mexico, Arizona and Nevada
On this trip out West, Patti was able to come with me. She only had a little over a week of vacation time though, so she had to fly back home half way through. On this trip, I wanted to show her my property in Arizona, and some of the other spectacular sights in the West. Patti had never been to most of the places we went. I on the other hand have been everywhere. So I got to play tour guide. It was great to see the wonder and awe on her face as she discovered the majestic beauty and of the Western landscapes. It brought back memories of my first time out West. After Patti flew home from Las Vegas, I drove back into Arizona and New Mexico and did a little gold panning before heading home.

This vacation was the first big outing for my new pop-up trailer and my first cross-country trip in my new truck. Both performed well. The truck is very comfortable to ride in all day and pulls the trailer like it isn't even there. It was a great vacation.

Click on the photos to see larger versions.
Patti hasn't travelled as extensively as I have. She was thrilled each time we crossed a state line. She wanted to get a picture of every welcome sign. I have to admit, it was a fun project. Counting Florida, where we started and ended, we visited 8 states on this trip.

Most of the signs are the big ones we passed on the Interstate Highways. I took my favorite back-road way into Arizona from New Mexico though to show Patti the beautiful high country along the AZ/NM border. So the Arizona welcome sign was just a little thing on the side of a lonely 2-lane mountain road.
| | |
| --- | --- |
| | We stopped for a while in New Mexico and visited City of Rocks State Park. City of Rocks is an amazing place. A thick layer of Volcanic rock has been carved by erosion into a huge maze of rocks that greatly resemble a crazy cityscape. We wondered around in it for a couple of hours taking pictures and generally marvelling at the sights. I'd been there several times before, but Patti had never seen anything like it. She was blown away by it. |
This is a photo of the view from Leopold Vista in New Mexico, looking out on the rugged Mogollon Mountains Wilderness. I love this spot. If I could, I'd build a house right here and spend the rest of my life enjoying the view and exploring the wilderness. I stop here every time I pass this way. I just have to.

Click the photo for a higher resolution view.
| | |
| --- | --- |
| | Here is a photo of the popup trailer set up on my remote Arizona property. On this trip we went out west a little earlier than I usually do. It was still Spring, and it was still quite cold at the elevation of my property. The popup did a good job of keeping the wind and rain off of us. The little propane heater I brought along struggled to keep the inside temperature livable at night though. To an old tent camper like me, it was no problem. It was like living in luxury. Patti froze though. She was a trooper and didn't complain (much), but I could tell it was rough on her. Fortunately we were only there for a couple of days before leaving the popup and heading for the heat of Las Vegas. |
| | |
| --- | --- |
| | Here is a photo of me setting up my home-built wind turbine to provide electric power for our stay on my remote off-grid property. This is the second time I have used it to power my stay on the property. It provides enough power for lighting and keeping a few small appliances running. It doesn't produce enough power to heat the pop-up camper though. Patti was also disappointed that it wouldn't run her blow-dryer. In the future, I will supplement the wind turbine with some home-built solar panels I am working on, to increase power production. |
| | |
| --- | --- |
| | We drove through Holbrook after we left my property. This is a picture of the famous Wigwam Motel. It is one of the few original 1950s era motels to survive along the remains of old Rt. 66. If you need a place to stay the night in Holbrook, give them a try. You'll get to sleep in a concrete teepee with a classic car parked out front. The whole place is drenched in equal parts schmaltz and nostalgia. |
| | |
| --- | --- |
| | On our way to Las Vegas, we stayed in Flagstaff and passed through Sedona and the Red Rock country. Patti had heard it was a fantastic place, but had never seen it. She was absolutely thrilled by the Sedona area. She also liked Flagstaff a lot, which is also one of my favorite towns. |
| | |
| --- | --- |
| | This is Hoover Dam as seen from the approach on the Arizona side. The water level is really low in Lake Mead behind the dam. Years ago when I was here last the lake level was almost to the top of the dam. The traffic across the top of the dam was really heavy and slow. I was glad to see they are building a bridge a little way downstream from the dam to take the highway traffic off the dam. |
| | |
| --- | --- |
| | Finally we made it to Las Vegas. Vegas at night is an amazing sight. We cruised the strip at night and took pictures. I'd been there before several times, but it was Patti's first time. She loved it and wants to go back again. |
We stayed at the Circus Circus. It is well named, because the place was a freeking circus. Wall to wall people, kids and noise, 24/7. We got a free room there (see below), otherwise I would have stayed somewhere quieter and less crowded and with fewer kids. The Tuscany, which is off the strip, smaller, less crowded and more mature would be my place of choice. The Tuscany also had the best food of anyplace we ate in Vegas, and at very reasonable prices.

We had to sit through a timeshare sales pitch in order to get our hotel room for free during our stay. The high pressure sales pitch unnerved Patti. I on the other hand thrive on that kind of thing. I strung them along and got every freebie out of them we could before telling them to take a hike. You can't walk through a hotel lobby, shopping center, or even down the street in Vegas without getting hit up a dozen times by people hawking timeshares. It's bloody annoying. Make 'em pay for bothering you is my philosophy.
| | |
| --- | --- |
| | We stayed in Vegas for 3 days. We did some gambling (Patti won, I lost), lounged by the pool, went sight-seeing and did some shopping. It was a great time. The only downer on the trip was when I backed my new truck into a post in a parking lot and put a dent in the bumper. Patti cried. I just blew it off. The first dent had to happen sooner or later. Virgin no more. |
Patti flew home from Vegas because she was out of vacation time. I started driving back East. I stopped in Prescott, AZ for a couple of days to do some prospecting. Then I drove back to my property and stayed there for a bit. Then I headed into New Mexico for a couple more days of prospecting and camping before finally heading home.

I met up with this mule deer in the mountains just outside Pinos Altos, New Mexico. It let me get close enough to get a couple of good pictures before trotting away into the trees.
Photos from my October 2006 trip to Arizona
Once more I hit the highway in October and went off in search of rest, relaxation, fun, scenery, cool weather and changing leaves in my new adopted home state of Arizona. Each time I make the long, 2 1/2 day drive out there it seems shorter and easier than last time. There were almost no traffic or construction delays on this trip, not even passing through Atlanta, which almost always delays me. It was a wonderful drive with great weather all the way there and back. There was some rain when I reached my destination in AZ, more on that below.

This year, I went to some new places and returned to some old favorites. I spent time in the Western, desert part of Arizona, seeing the cities of Kingman and Quartzsite for the first time and exploring the desert around them. I spent some time cruising what is left of old Rout 66 through Northern AZ. Lastly, I went back to one of my favorite towns, Prescott, and did some gold panning in the mountains there. As usual, my first order of business was heading out to my property and camping for a while. This year I was bedeviled by rain after arriving on my property to camp. I had to wait it out in a motel, but for only one night though. Things dried up quickly and soon I was happily camping, as usual.

Click on the photos to see larger versions.
| | |
| --- | --- |
| | This was the state of my camp site when I arrived this time. It had been raining hard, and kept on raining after I arrived. The whole 40 acres was a sea of mud. It was a regular quagmire. So I decided to wait out the weather in a motel in a nearby town. Fortunately, after only one day things began drying up nicely. I swear, you could almost watch the puddles shrink and dry up before your very eyes. Soon the ground was dry and hard again. |
| | |
| --- | --- |
| | After spending a night in the motel, I returned to my rapidly drying property and began setting up camp. Then, another rain shower blew through. I was afraid I was going to have to retreat back to the motel, but it ended quickly, and this rainbow formed when it was done. |
| | |
| --- | --- |
| | Here is my campsite after a day of drying out. You'd almost never even know it had rained. This year I bought a new tent. This is a four season tent which is better at standing up to the wind and stays warmer than my old three season tent. I bought it because I figured that it would be especially cold since I was camping later in the year than usual. I was right about that. The days were nice, but the nights were downright frigid. See below. |
| | |
| --- | --- |
| | It got below freezing just about every night while I was camping. In the mornings I awoke to an ice and frost covered wonderland. The first order of business each morning was getting a nice hot fire going to warm up over until the sun climbed high enough to actually start warming up the world. My new tent was worth every penny I paid for it. It kept me a lot warmer than my old tent would have, and shrugged off high winds that would have ripped the old one apart. |
| | |
| --- | --- |
| | As usual, I brought the big, 17.5 inch Dobsonian Telescope with me to use under the amazingly dark sky my property has. I had a lot of fun with it, but it was really cold at night. A couple of nights I had to abandon the scope and retreat to the shelter and warmth of my sleeping bag in the tent. Even so, I hunted down a lot of really faint objects. There were also an unusually high number of meteors to be seen each night. Several were really spectacular, including one that took several seconds to cross 2/3 of the sky and ended in a brilliant flash. Another was the brightest point meteor I have ever seen. A point meteor is a meteor that is coming right at you, so you see it as a point of light instead of a streak. I just happened to be looking at the constellation Delphinus when a new "star" suddenly appeared in the constellation. Over a period of a couple of seconds it grew in brightness until it rivaled the brightest stars in the sky, then quickly faded away to invisibility, all without moving a bit. |
| | |
| --- | --- |
| | On this trip I finally got to give my home-built wind turbine a good workout. I built it especially to extract power from the almost constant winds blowing in my part of Arizona. I had 120 volt AC power on my remote, off-grid property for the first time. It was great. I was able to use a lot of electrical appliances and gizmos that I couldn't on previous trips. |
| | |
| --- | --- |
| | I spent one full day just doing nothing but roaming around the White Mountains North of my property. This trip was a little later in the year than usual, so almost all the aspen trees had already dropped their leaves. It was still pretty up in the mountains though. I always love it there, any time of year. |
| | |
| --- | --- |
| | There had been a snowstorm in the mountains a few days earlier (the same storm that brought rain to my property). There was still snow on the ground in some places. I did some hiking and generally had a great time. |
| | |
| --- | --- |
| | I found a nice spot in a meadow and had a picnic lunch. Out of the wind and in the Sun, the temperature was quite pleasant, even though there were still patches of snow on the ground around me. It was a great day to be in the mountains. |
| | |
| --- | --- |
| | This year I went to a part of Arizona I had never seen before. I went to the Western part of the state and explored the desert around the towns of Kingman and Quartzsite. It's a very different world. This is the real desert. I'm glad I went so late in the year. It was nice and cool. Summer there is murder. I went there primarily to look for meteorites, which are often found in these desert areas. I didn't find any, but had a good time exploring the desert anyway. |
| | |
| --- | --- |
| | I've always found the desert (all deserts) to be beautiful, but harsh places. The kind of place it's nice to visit, but you wouldn't want to live there. I had a lot of fun hiking around the desert, even though I didn't find any meteorites. I'll be back here someday, but definitely only during the cooler months. |
| | |
| --- | --- |
| | Here I am looking down on lake Meade from high in the mountains of Northwestern Arizona. That's Nevada on the other side of the lake. I was within spitting distance of Las Vegas. I resisted the temptation to head on over there. This vacation was already going over budget, even without a visit to the city of "Lost Wages." Besides, I'd already been there several times before on previous vacations. |
| | |
| --- | --- |
| | I also spent some time cruising along the remains of old Rout 66. I passed through a lot of towns that the "Mother Road" had once sustained. When I40 was built and it bypassed all those little towns. Most of them died off and dissolved away into the desert. A few towns live on though, barely surviving by selling Rout 66 nostalgia to the few tourists who wander far enough off the interstate highway, or people, like me, who always like to take the long way wherever they are going. Here is a photo of the Roadkill Cafe on Rout 66 in Seligman, Arizona. |
| | |
| --- | --- |
| | Another little town on Rout 66 is Winslow, Arizona. Winslow has a double claim to fame. Not only does Rout 66 run through the middle of town, but also was immortalized in the Eagles song Take it Easy. The song refers to "Standin' on a corner in Winslow Arizona." The people of Winslow have built a little park based on that song. There is a bronze statue of a young man standing on the street corner (Rout 66 of course) holding a guitar. The mural on the wall behind him depicts imagery from the song, including "A girl, my Lord in a flatbed Ford, slowin' down to take a look at me." The mural is very well done. The girl in the truck looks like a reflection in an imaginary window in the wall, just exactly like a real window would reflect a truck on the street beside the statue. Everything on that wall, including the texture and the vines is part of the mural. It's really just a blank wall. |
| | |
| --- | --- |
| | The last thing I did before heading home was go to Prescott, Arizona and spend a couple of days in the mountains panning for gold in the streams there. I found some too! I'm not getting rich, but it sure is a lot of fun. This picture shows four flecks of gold in the bottom of my gold pan. There are a lot of smaller ones too that don't show up in photos. I found more gold on this trip than all my previous prospecting trips combined. I'll definitely be back to my secret little gold panning spot near Prescott again in the future. |
Click here to see photos from previous vacation trips.
Other places to visit:
[Mike's telescope workshop] [Mike's home-built jet engine page]

[Mike's home-built wind turbine page] [Mike's Linux for Windows Users page]