So what's new in my life?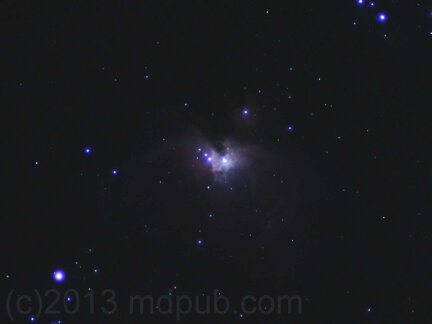 04/08/13
I got a few pretty good astrophotos at the new moon observing session last Saturday night. I used the same 500 mm f/5 telescope that I used to get shots of comet PanSTARRS last month. This time though I set it up on top of my equatorial platform so I could get some long exposure photos. I was amazed at how well my $3 yardsale telescope works with my Nikon D5100 camera to make nice deep-sky photos. With a little more practice, I might actually get good at this.

This first photo is of the Orion Nebula. This is a stack of 3 second exposures.

Click the photo for a larger view.

This photo is of the Sombrero Galaxy. All of these photos are composite photos made by stacking multiple exposures in Registax. I was shocked at how well these dim galaxies showed up in very short exposures. I upped the exposure time to 8 seconds for the dim galaxies.

Click the photo for a larger view.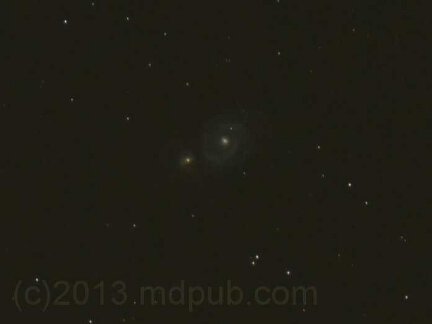 This photo is of M51. Even the individual 8 second exposures showed spiral structure in M51. Once I stacked a few of them, the detail really started to pop out.

04/06/13
Here is a video of my home-built vacuum forming setup in operation. Here I am making plastic molds out of the mold pins I machined on our Kolabatron home-made CNC router. A video of machining the mold pins can be found lower down on this page. The vacuum forming rig was put together very inexpensively out of essentially scrap material in only a few hours, but it works great. Anyone needing to get into vacuum forming should be able to duplicate my setup pretty easily. Check it out.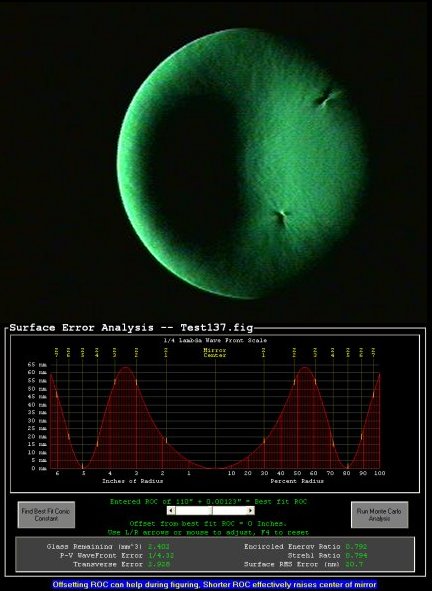 03/23/13
I have finally finished the figuring of my first home-made honeycomb back mirror. It took me quite a while. The fast focal ratio of f/4.5 and dealing with plate glass, and trying to prevent print-through of the honeycomb pattern on the back necessitated re-learning everything I thought I knew about figuring mirrors. I got nowhere with a full-size lap and had to use a variety of sub-diameter, light-weight laps to finally get the figure better than 1/4 wave of green light without any print-through.

It is not the smoothest mirror I have ever made, but this blank had some issues. I am making much better blanks these days. This is really just a a proof of concept mirror, to make sure these honeycomb-back, light-weight mirror blanks I am making can actually be figured without print-through problems. As you can see from the focogram, there is no trace of print-through. The two strange artifacts in the focogram are air bubbles just under the surface of the glass that broke through during grinding and polishing. I am making blanks with far fewer bubbles these days. I wanted to try to finish this mirror since it was a worst-case scenario.

Even though it isn't the prettiest mirror to come out of the SPAC Mirror Lab, I am very happy with it. It gives me confidence that the better quality mirror blanks I am making now, and the even better ones I will be making in the future, can be ground, polished and figured into excellent telescope mirrors. I also now know how to do it.

I get emails almost every day from people asking me if I will sell them one of my honeycomb mirror blanks. Unfortunately, I am not mass-producing these blanks at present. I still consider myself to be in the R&D phase of casting these mirror blanks. Once I feel that the process is perfected, and the quality of the blanks improves to my satisfaction, I may offer some for sale.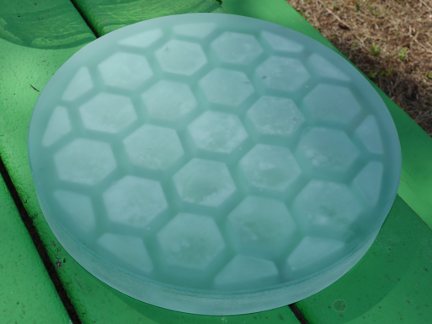 03/23/13
Here is a photo of the above honeycomb mirror taken during the grinding process. More photos of the casting, grinding, polishing and figuring processes involved in creating this mirror can be found further down on this page or more detailed info is here.

Click the photo for a larger view.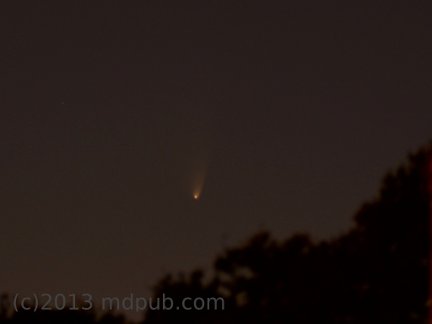 03/17/13
I got another photo of comet PanSTARRS last night. This time I caught it just outside the front door of the workshop I share with my brother. It didn't stay above the trees for long. The conditions were better than at the beach a few nights ago. There was a lot less haze and the comet was brighter, making for a better photo. Having trees in the foreground also improves the composition. There was nothing available for foreground at the beach. I used exactly the same setup as below, but the exposure was shorter, about 2 seconds, because it was brighter without all the haze.

Click the photo for a larger view.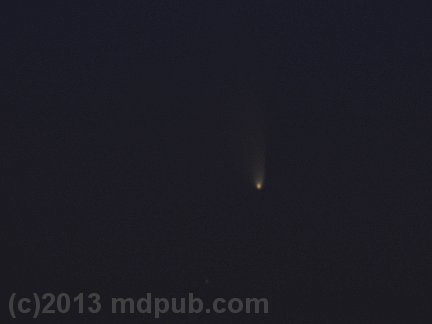 03/15/13
I got this shot of comet PanSTARRS last night on Madeira Beach at the old Snack Shack. There was quite a turn out of SPACers and the general public for the comet watch. I used my $3 yardsale find telescope, on my Bogen tripod, with my Nikon D5100 camera body at prime focus for a 3 second exposure. It was quite hazy on the western horizon and we never did manage to see the comet naked-eye. After finding it with binoculars, I trained my Cookie Jar telescope on it to give members of the public a view of it. Then I fired off a few shots with the camera.


03/05/13
Here is a video of The Kolabatron home-made CNC router my brother and I built cutting a hexagonal mold pin out of wood. The Kolabatron is really working well these days. I am really getting the hang of G-Code.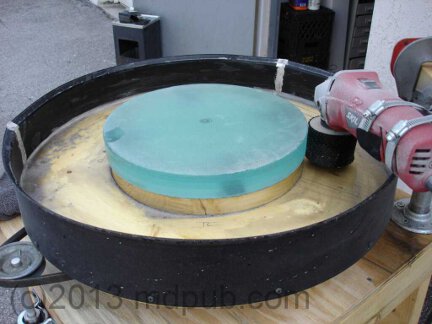 2/19/13
I've been casting my own telescope mirror blanks for several years now. I finally decided it was time to build a machine to help me grind the edges of the blanks true and round. This is my home-built edge grinding machine for grinding down my home-cast mirror blanks.

Click to see the whole project.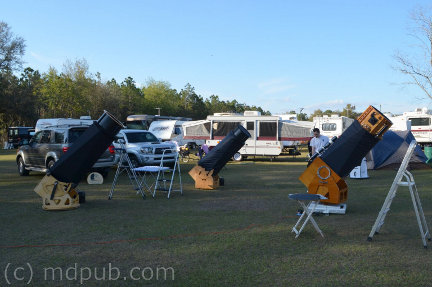 2/12/13
Just got back from the 2013 Orange Blossom Special Star Party. The weather was fantastic this year. Only a little rain at the beginning, then lots of clear skies and mild temps. We had 2 1/2 nights of excellent observing, good times, good people and good food. Here is a photo of "DOB Valley" where some of the largest scopes at the event clustered together. My 17.5 on its equatorial platform is on the right. Allen Maroney's 18 is on the left, and Ralph Craig's 16 is in the middle. This photo was taken just before sunset on the last night of the star party, which also turned out to be the best night of all, with few mosquitoes, hardly any dew, and very clear skies all night.

Click the photo for a larger view.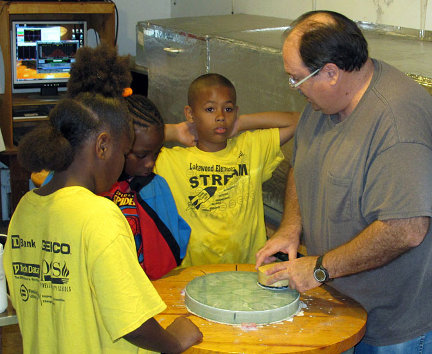 2/04/13
Here is a photo of myself demonstrating telescope mirror figuring to visiting students at the SPAC Mirror Lab. I am working on one of my home-cast honeycomb mirror blanks using sub-diameter laps. The mirror is in the final stages of figuring and nearly done.

Click the photo for a larger view.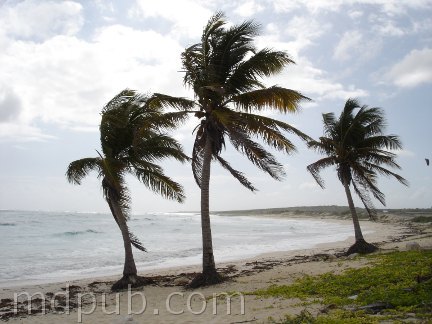 2/03/13
It took me a while, but here is a photo from our recent cruise to Cozumel, Mexico. Work has just been crazy since I got back, so there hasn't been any time to post photos from the cruise. We had a great time. It was a fantastic cruise. We sailed on the Royal Caribbean ship Jewel of the Seas out of Tampa to Cozumel Mexico. In Cozumel we hired a tour guide, who is an American living in Cozumel. She took us all over the island and showed us a lot of wonderful sights. She took us to lots of places that most tourists never see. This photo was taken on a beautiful beach on the East side of the island. We were the only tourists there. It was my first cruise. I thoroughly enjoyed it. I don't think it will be my last cruise.

Click the photo for a larger view.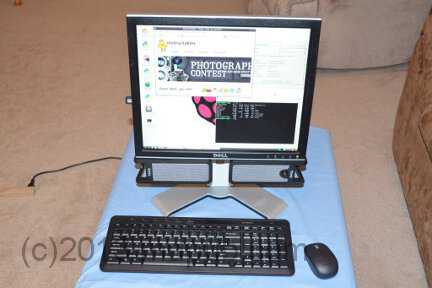 1/09/13
Here is my first completed project of the new year. It is a Raspberry Pie based all in one computer. It was easy and fun to build. It neatens up my Raspberry Pi computer, and makes experimenting with it a lot easier. It looks quite sleek and professional too, if I do say so myself. Check it out.

Click to go to the project.

12/28/12
The CNC router my brother and I have been building is essentially complete. We are now in the process of dialing in the settings on it, and learning how to use various CAD software packages. We have done some very successful test cuts with the machine. The machine has also acquired a name. My brother named it the Kolabatron, in honor of it being a collaboration between the two of us. I have big plans for this machine. It will be used for creating lots of things, and aid in completing lots of future projects, many of which will eventually be featured on this web site. Here is a short video of the machine in operation cutting some test patterns in hard foam. I give a little narration at the end.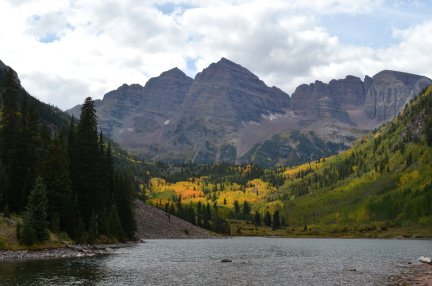 11/09/12
I have finally uploaded photos and a writeup of my September vacation to Arizona, Utah and Colorado to the vacation photos section of my web site. I have been very busy since I got back, and this job kept getting pushed onto the back burner. I love my Nikon D5100 camera. I took a lot of photos with it on this trip, (literally thousands), but have only posted a select few with verbose descriptions. This Photo is of the Maroon Bells near Aspen, Colorado.

Click the photo for a larger view.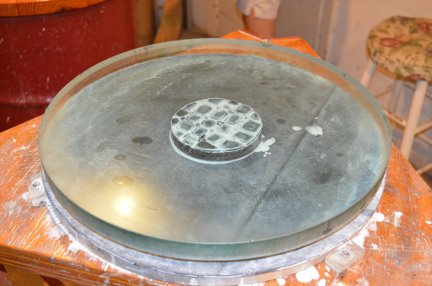 10/8/12
Here is a strange sight seen at the SPAC Mirror Lab. Paul was pressing a sub-diameter lap under his big 16 inch mirror.

Work on my own mirror has been slow. I have been away from the lab for a while. There have also been several false starts to the figuring that have resulted in me either digging a hole in the middle of the mirror, or turning down the edge badly. I may need to resort to sub-diameter laps to finish my figuring too.

Click the photo for a larger view.

9/18/12
I spent some time in Colorado on this last Western vacation. It was cloudy and rainy most of the time I was there. So I decided to take some time-lapse movies of the clouds. This is one of the movies. It was shot at Cache Creek Park, and compresses 33 minutes of weather into 50 seconds (40x real time). It shows clouds and fog forming and boiling over green mountains veined with golden aspen.
9/18/12
I'm back from my latest vacation to Arizona, with stops in Utah and Colorado. Pictures and a description of the trip will be posted to the Vacation Photos section of the web site soon. Here is a short video of humming birds at my feeder on my Arizona Property. I had a lot of them on this trip.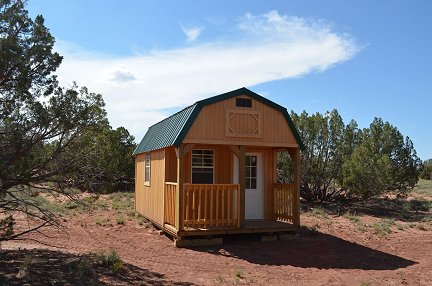 09/10/12
I finally have a cabin on my remote Arizona property. I love it! No more living in a tent when I am out here. No more hauling camping equipment all the way across the country. I've spent my first few nights in it and I simply love it. The cabin is totally prefabricated. It is on skids. They slid it off the back of the delivery truck, attached wheels on one side of it, picked up the other side with a mini forklift with big fat tires that could roll through the sand, and moved it into place. They put it within inches of the flags I had used to mark out the position of the cabin on an earlier vacation. Once in place they leveled it up and blocked it in place. The whole process took less than two hours. Not counting the time it took me to make an 18 foot wide opening in the fence to allow the truck through and then fix the fence again after the truck left, and before any cows could wander onto my property. I am very happy. Next comes an observatory.

Click the photo for a larger view.

07/18/12
All the rain we have had lately has prompted the sprouting of a (somewhat ragged) fairy ring of mushrooms in my front yard. For those not familiar with fairy rings, check out the Wikipedia article on fairy rings at http://en.wikipedia.org/wiki/Fairy_ring. The ring seems to be centered roughly on the corner of the planter to the right of the sidewalk. That explains why the grass in this area of the yard has been so anemic and yellow looking compared to the rest of the yard. Grass inside fairy rings often doesn't grow well because the mass of underground fungus has depleted the soil of nutrients. It looks like another, smaller ring may be popping up in the background, to the right of my bird feeders. It's too swampy back there right now to walk back and get a closer look. I don't want to ruin my shoes.

Click the photo for a larger view.

7/12/12
My home-cast 12.5 inch diameter, light-weight, honeycomb-back telescope mirror on the Robotic Foucault testing stand. The door to the Foucault testing tunnel is opened allowing ambient light to back-light the mirror, causing the honeycomb structure of the mirror to appear and show through. When the door is closed, the honeycomb structure completely disappears. No print-through problems. The mirror is quite oblate at this stage of polishing. Air currents stirred up by opening and closing the door are quite visible. A very neat little video. It was taken by my friend Allen with a hand-held video camera aimed at the Foucault tester monitor.
07/11/12
Today I have completed 48 orbits around the Sun.
06/06/12
The Venus transit was a total washout here in West Central Florida. I'm glad I got to see the one eight years ago. Too bad I couldn't arrange my vacation to be in Arizona for both the eclipse and the transit. Here is a newspaper article about the rained out event. It features a photo that includes me, and some of my astronomy buddies on Madeira Beach.
05/28/12
I have made another modification to my home-built wind turbine generator. I have added a professional-looking nose cone to it. It was a quick and easy modification that not only makes the turbine look better, I think it even works better, and generates more electricity. There are photos and a complete description of the modification near the bottom of the wind turbine page. Here is a brief video of the new and improved wind turbine in operation.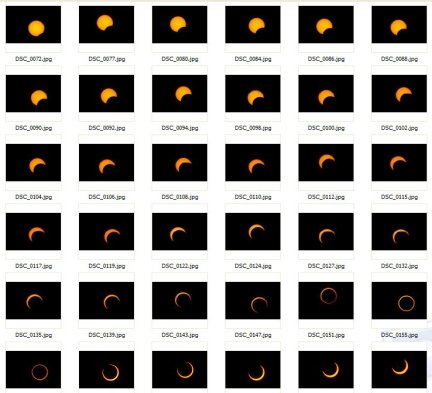 05/21/12
Here is a contact sheet of the photos I took of yesterday's annular eclipse. They were taken at Canyon De Chelly National Monument in Northeastern Arizona. I was right on the exact centerline of the eclipse and had about 4 minutes of the "Ring of Fire" effect at mid eclipse. I was set up in the Spider Rock overlook parking area. The camera was a Nikon D5100 with an 800mm lens and an Astrozap solar filter. The altitude was about 7000 feet and the sky was perfectly clear. The full size photos show sunspots. I'll post a few of those later. I have video too. I'll post it later also. I also have hundreds of great photos of Canyon De Chelly and the nearby Chuska mountains. The whole trip was an amazing experience. I have posted a few of the high resolution photos to the vacation photos section of the web site.

Click the photo for a larger view.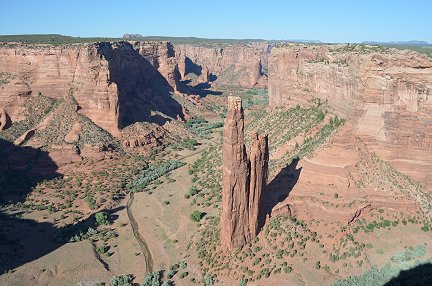 05/21/12
Here is a photo of Spider Rock at Canyon De Chelly National Monument. It is hard to grasp the scale of it from the photo. Spider Rock towers 750 feet above the canyon floor. If you look closely you can see the river bed and a jeep trail on the floor of the canyon. That helps add scale to the photo. The canyon is huge! This photo only covers a small section of it.

Believe it or not, I have never been to Canyon De Chelly before. I have always wanted to see it, but never managed to get there in all my trips to Arizona. With the centerline of the eclipse passing right over Canyon De Chelly, I made sure I got there this year. I have hundreds more photos of the area, and the nearby Chuska Mountains. I have posted some, with a write-up about this trip to the vacation photos section of the web site.

Click the photo for a larger view.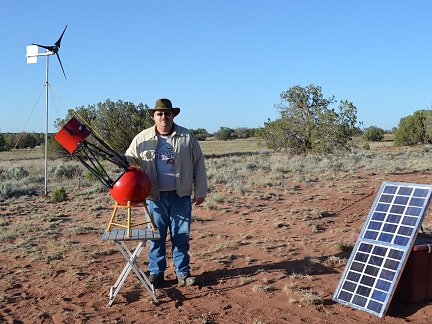 05/21/12
Here is a photo of me on my Arizona property with three of my creations. My home-built solar panel, my Cookie Jar telescope, and my home-made wind turbine in the background. I had a great time staying on my remote property. I had plenty of power for writing this and uploading photos, thanks to the wind turbine and solar panel. I had 100% clear nights for star gazing with my "little" Cookie Jar telescope. I brought it this time, rather than the big 17.5 inch DOB, just to travel a little lighter on this trip. This 8in f/4.5 scope provides amazing, wide-field views under my pristine sky. I stayed up late observing nearly every night. What a great vacation.

Click the photo for a larger view.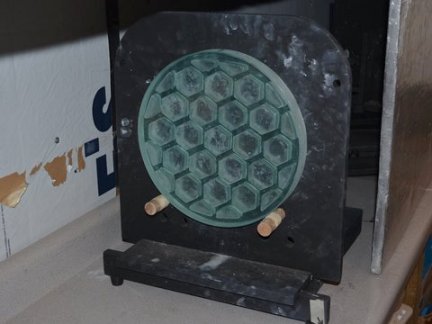 04/17/12
I have begun polishing my home-made, 12.5 inch, honeycomb-back telescope mirror. Here is the mirror on the SPAC Mirror Lab Robo Foucault Test stand after only one hour of polishing. The mirror looks nice and polished to the untrained eye, but it still has a very long way to go to have a good polish and be a good sphere, then it has to be figured into a parabola. We decided to do a Foucault test on it just for giggles, and to see if the ribs on the back of the mirror print through.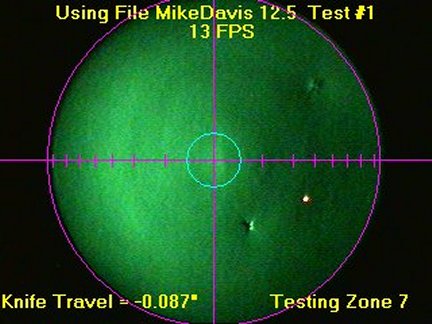 Here is the 1st focogram after only one hour of polishing. Its ugly at this early stage, but the good news is that the ribs on the back of the mirror are not printing through. Yahoo! That was the thing I was most worried about. I think I can actually figure this mirror. There are two blemishes caused by large sub-surface bubbles that are distorting the surface of the glass. It will be interesting to see what happens with them as I continue polishing and figuring.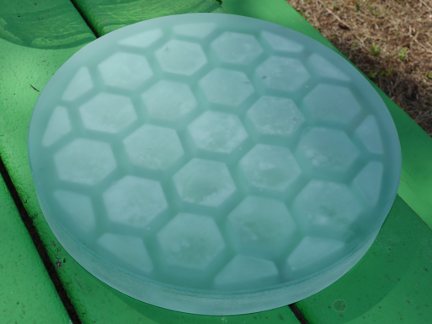 04/08/12
The fine grinding is finally done on my 12.5 inch diameter prototype honeycomb mirror that I cast myself. Now I get to start polishing. Soon I will know what sort of figure this mirror design will take. Stay tuned for future updates.

Click the photo for a larger view.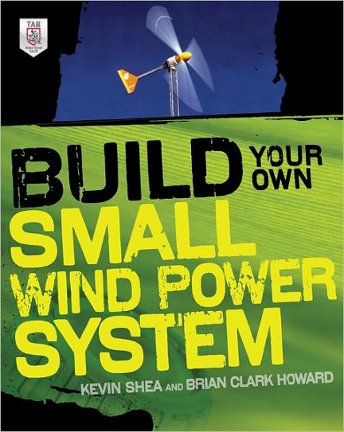 03/31/12
My home-built wind turbine system has received an extensive write-up in a new book on how to Build Your Own Small Wind Power System. The author contacted me months ago asking permission to include some of my photos and information from my wind turbine web site in an upcoming book. I get this sort of request a lot. Usually they will just publish a photo or two and write a short blurb about my system. I just received a complementary review copy of the finished book. This time the author devoted about four pages to describing what I am doing, and made several other mentions of me in the book, with nice links back to my web site. It is a great book too, and not just because I am in it. It is chock full of useful information for anyone who is thinking about getting into wind power.

Click the photo for more information.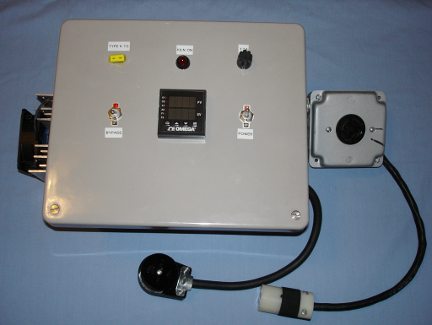 03/27/12
I have finally uploaded a write-up on how I built my 8-segment ramp/soak kiln controller project to my Misc. Projects page. I completed the controller about eight months ago, but have been too busy to post any information about it until now. Check it out.

Click the photo to see more.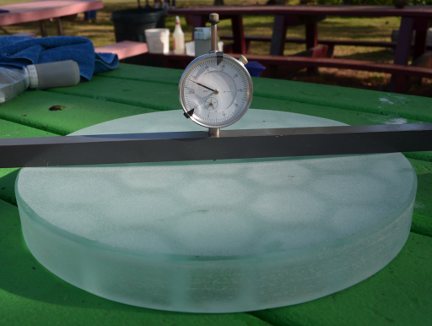 03/03/12
Rough grinding is complete for my 12.5 inch honeycomb-back telescope mirror that I cast myself. The rough grinding went pretty quickly and painlessly this time. I only have maybe 12 hours of actual work in the mirror so far. It's hard to believe, but the rough grinding has removed over a pound of glass. The mirror now weighs in at only only 8 pounds 15 ounces. Incredible! The curve is still 3 thousandths of an inch too shallow, but I can make that up with the finer grits as I clean up the surface finish. I did hit a couple of bubbles in the blank, as I feared would happen. So the mirror will have a few minor pock-marks on the surface. Grinding deeper to get past the bubbles isn't really an option since there are others further down. Time to move on to finer grits. I'll post more updates as the fine grinding progresses.

Click the photo for a larger view.

02/15/12
I have started the process of rough grinding my 12.5 inch honeycomb-back mirror blank. I am aiming for an f/4.5 mirror when it is finished. This is a mirror blank I cast myself in my kiln. It will be interesting to see how well it takes a figure and if or how much the back pattern prints through. It will probably be several months at least before I am finished with the grinding, polishing and figuring, depending on how much time I have to work on it. I will post updates as the mirror progresses.

Click the photo for a larger view.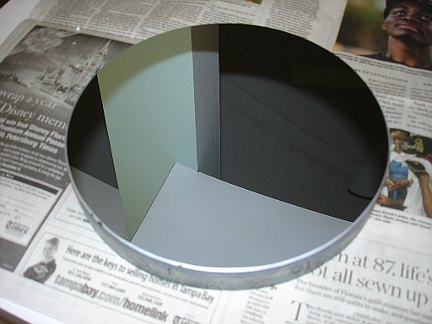 02/04/12
Here is my finished 10 inch mirror just back from aluminizing. It is a thing of beauty, if I do say so myself. This mirror was made from one of the mirror blanks I cast myself in my kiln. I ground and polished it myself too. The next time someone asks me if I made my own mirror, boy do I have a story to tell them.

Click the photo for a larger view.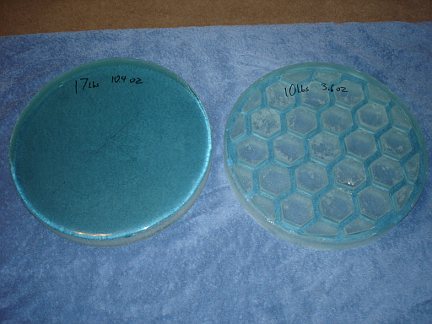 01/30/12 - Here is the below 12.5 inch diameter honeycomb-back mirror blank after final edge trimming. It is side-by-side with a solid 12.5 inch blank of the same 1.5 inch thickness that I also cast in my kiln. The honeycomb blank weighs 10 lbs 3.6 oz. The solid blank weighs 17 lbs 10.4 oz. The honeycomb mirror is 42% lighter. I think I might be able to get close to a 50% reduction in weight with just some slight tweaking of the design. I have added a write-up on how I made this blank in the Scopeworks section of the web site.

Click the photo for a larger view.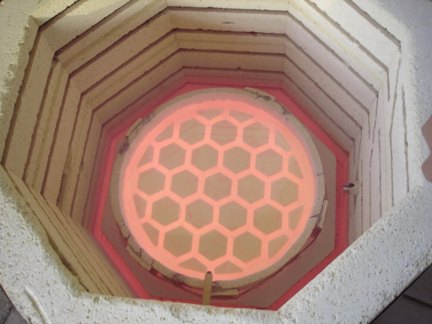 01/10/12 - This is my third try at making a light-weight, hexagonal-back or honeycomb mirror blank, still cooking in the kiln. It is 12.5 inches in diameter. I think I got it right this time. The mold is intact. Everything looks good at this stage. Next came three days of annealing and slow cool-down.

Click the photo for a larger view.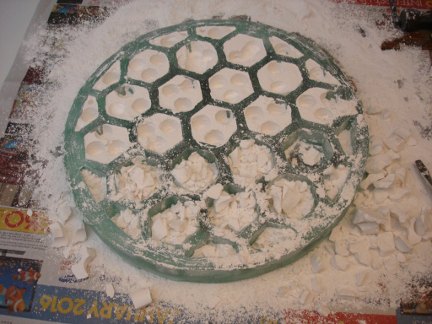 After the blank had finally cooled down to ambient, I took it out of the kiln, and removed the outer mold. Then it was time to start cleaning the plaster out of the hexagons and partial hexagons. A very messy and delicate job.

Click the photo for a larger view.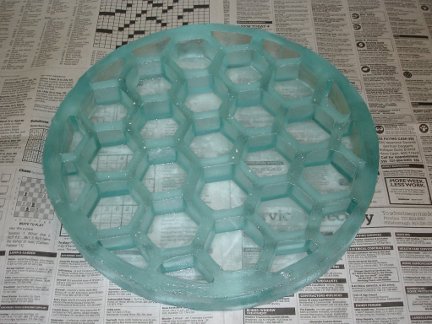 Here is the honeycomb back of the cleaned out mirror blank. The blank is a little over 12.5 inches in diameter and slightly irregular. I need to turn it round and get the diameter down to size on my grinder. The blank is 1.5 inches thick. The pockets are 1 inch deep. There is .5 inch of glass left on the front face for grinding a curve. It weighs only 10lbs, 9.5oz at this point. It will loose a little more weight on the grinder. It's not perfect. There are a few tiny air bubbles that may be close enough to the front surface to be encountered while grinding. Otherwise, I am very pleased with it.

Click the photo for a larger view.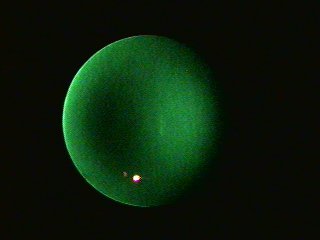 12/23/11 - The 10 inch mirror project is finally complete. I cast this mirror myself in my kiln. This photo is a focogram of the finished mirror. The mirror is very smooth and well polished. The shape in the focogram shows the classic losenge or red blood cell shape of a parabolic mirror. It has been a long eight month odyssey from kiln to figuring. Now it is finally off for aluminizing.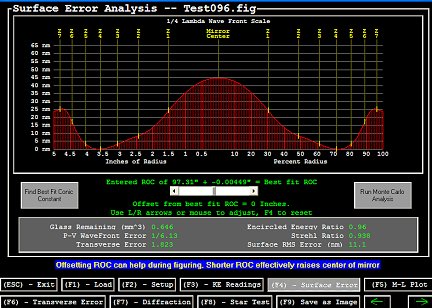 Here is an image of the finished mirror surface error analysis from the FigureXP program we use with our Robo-Foucault mirror tester. The wave front error is better than 1/6th wave (in green light), and the Strehl Ratio is 0.938. Not too shabby. I decided to call the mirror finished at this point, rather than try for an even more perfect figure and risk screwing it up. This is still better than many mass-produced mirrors. Besides, much of the remaining error in the mirror is in the center, and will be shaded by the secondary mirror anyway. So the mirror should perform even better than 1/6th wave.

Now all I have to do is build a telescope to mount it in. That is going to be the easy part though, compared to the 8 month odyssey of grinding, polishing and figuring the mirror. In fact, making this mirror was one of the hardest things I have ever done in my life. Strangely though, I can't wait to do it again. I have bigger and better blanks coming out of my kiln these days. I think I will be doing another mirror very soon.

Click the photo for a larger view.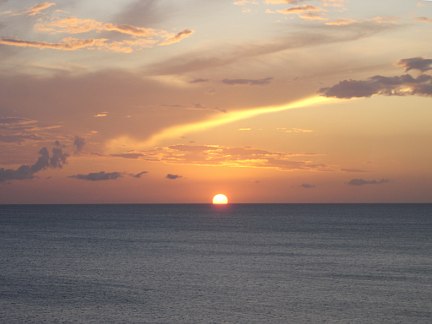 11/23/11 - Here is a photo I took about a month ago, but just now got around to posting. This sunset photo over the Gulf was taken from the balcony of our suite on the 12th floor of the Lido Beach Resort. We spent a long weekend there and had a great time.

Click the photo for a larger image.

10/3/11 - I have finally gotten around to posting photos and a description of my recent business trip to Santa Barbara California on my Travel and Vacation Photos page. Check it out.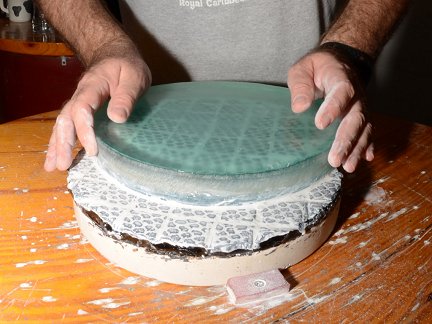 10/2/11 - Work has been keeping me very busy lately. There has been little time for my side projects. However, I have managed to do some figuring on my 10 inch mirror I am making from one of my home-cast mirror blanks. Here I am, pushing glass on my pitch lap, with cerium oxide stained fingers.

I have worked the mirror to within 1.75 waves (in green light) of a perfect parabola. I still need to make an almost order of magnitude improvement to get to the magic 1/4 wave diffraction limit. The process now gets slower and more delicate. There will be fewer rounds of figuring with various strokes to work specific areas of the mirror, immediately followed by Foucault tests to check progress. I hope to eventually exceed 1/4 wave with this mirror. Unfortunately I will probably be too busy to do any more work on it for a couple of weeks.

Click the photo for a larger image.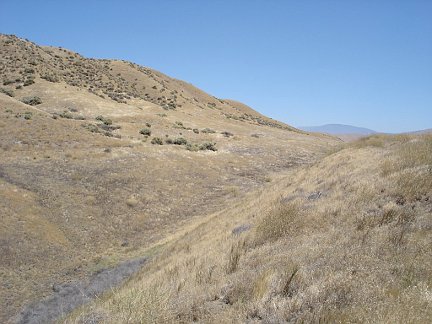 8/28/11 - Standing on the Faultline - I just got back from yet another business trip to California. This time though, I arrived on Saturday and the business didn't start until Monday. So I had the weekend to goof-off and explore. One place I went was the Carrizo Plain. One of the few places where the San Andreas Fault is very visible at the surface of the ground. This unassuming crease in the ground is the fault line. This will be ground zero for the "Big One" when it happens.

The North American Plate is on the left, and the Pacific Plate is on the right. Interestingly, I am roughly 60 miles inland here, but still standing on the Pacific Plate. All the material seaward of the fault line is material that had been riding on the Pacific Plate and has been accreted onto North America as the Pacific plate grinds past and subducts under the North American Plate. The material is mainly marine sediments that are folded and raised high above sea level by the collision. I'm a geology geek. Can you tell?

More photos and a description of this trip have been posted to my Travel and Vacation Photos page.

Click the photo for a larger image.