Welcome to Mike's World.
Hi, I'm Mike Davis. I like to build things. Here you will find links to,and in-depth
explanations of, all my interesting (I think) projects, hobbies, how-to's and pastimes.
So what's new in my life?
Click here to read newer posts.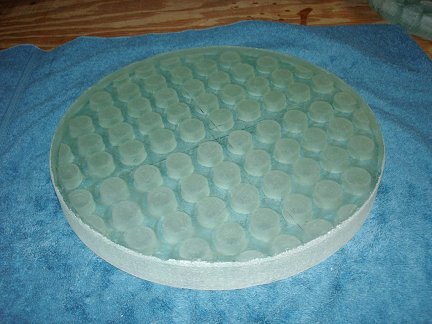 7/22/11 - Here is my second attempt at casting a large, light-weight mirror blank. It is again a 12.5 inch diameter, 1.5 inch thick blank that has been lightened by casting it over a plaster mold with many peaks sticking up, which created pockets in the back of the blank. This time everything went well in the kiln. The blank looks amazing after edging. It weighs just under 12 lbs. My next experiment will be with hexagonal shaped pockets to further lighten the mirror. I call this the Waffle-Back process, because the resulting mirror blank looks like a big waffle.

Click the photo for a larger image.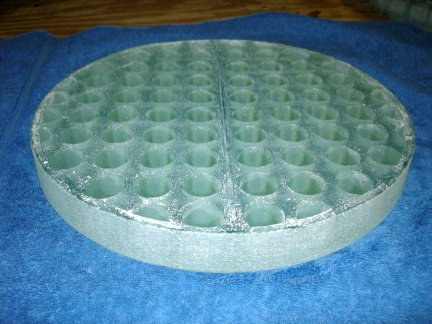 7/22/11 - Here is the back side of the 12.5 inch diameter light-weight mirror. The pockets are 1 inch in diameter and about 7/8 inch deep. There is a little over 1/2 inch of solid glass left on the front surface for grinding the curve. You can see more about how I cast light-weight mirror blanks on my Waffle-Back Mirror Blank page.

Click the photo for a larger image.

7/05/11 - I am selling stuff on Ebay again after a several month hiatus. I figured I better list a few things soon to maintain my Power Seller status, and clear out some junk that has accumulated. Check out my auctions if you are interested.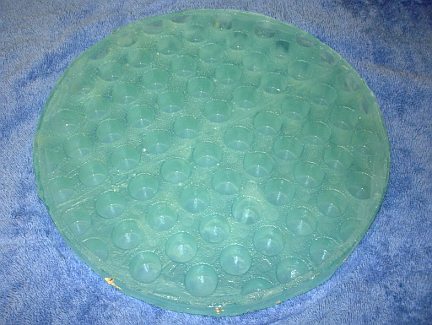 7/05/11 - Here is my first attempt at casting a large, light-weight mirror blank. It is a 12.5 inch diameter, 1.5 inch thick blank that has been lightened by casting it over a plaster mold with many peaks sticking up, which created pockets in the back of the blank. It isn't perfect. The dam around the edge of the mold broke and molten glass ran out ruining one side of the front surface. So the blank isn't usable. But it was a good learning experience. The next one will be better. You can see more about how I cast mirror blanks on my Laminated Glass Mirror Blank page. Information on this light-weight process will be added to the page soon.

The mirror blank looks like a big waffle. Click the photo for a larger image.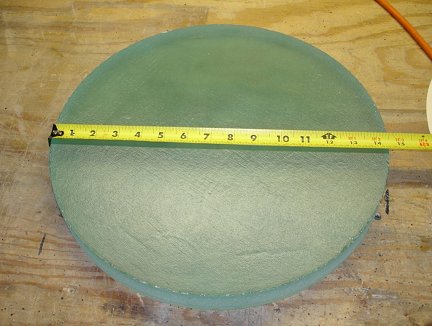 6/20/11 - I have just completed my first 14.5 inch diameter telescope mirror blank in my new, larger kiln. It is 1.5 inches thick and weighs 20 lbs, 10 oz. Check out my Laminated Glass Mirror Blank page (near the bottom of the page) to see how I made it.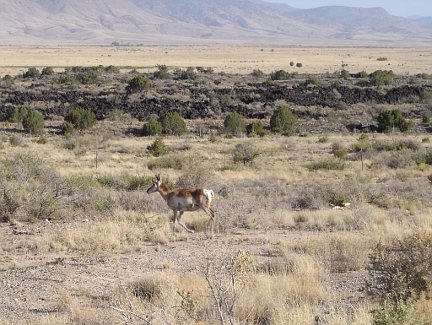 6/13/11 - I have posted a selection of photos from my recent vacation to Arizona, New Mexico and Colorado on my Travel and Vacation Photos page. Check them out.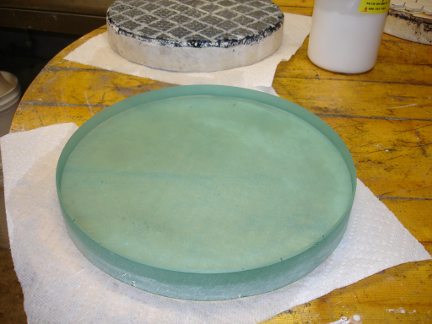 6/12/11 - I have finally moved on to polishing my 10in f/5 mirror. You can see the pitch polishing lap behind the mirror. After only about 1 hour total polishing time, the surface is starting to take on a nice shine. Working on the mirror for only a few hours, one day a week at the SPAC Mirror Lab, I probably still have a month and a half or so to go before the polishing and figuring is finished and the mirror is ready for aluminizing. I made the blank for this mirror myself in my kiln.

6/07/11 - While I was on my recent vacation, I once again spent time camping on my remote Arizona property. I got to test out modifications I have made to my home-built wind turbine. I have installed new blades that I bought on the internet. These blades are sold as replacements for the Air-X series commercially made wind turbines. They are more efficient than my home-made blades, and start up in lower wind speeds. I have also increased the tail area of the turbine since these new blades are both heavier and have more surface area than than my home-made blades. Check out the video for more information on the modifications.

The new and improved wind turbine really works great. It is now producing much more power, and working in lighter winds than before.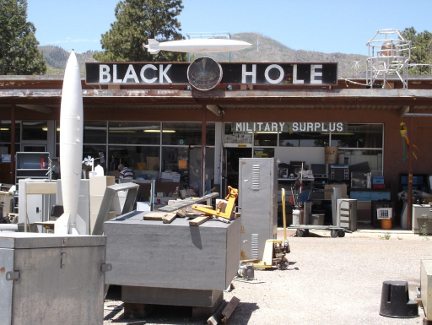 6/06/11 - I just got back from a great 2 week vacation in New Mexico, Arizona and Colorado. I went lots of neat places and did lots of great stuff. I'll post lots more photos soon. Here is one neat place I went. It is a true geek Mecca. It is The Black Hole in Los Alamos, NM. I've wanted to go there for years. They sell surplus material from the Los Alamos National Laboratory where the nuclear bomb was developed. They have acres of fascinating material from 60+ years of nuclear weapons development. I could spend days exploring this place. Unfortunately, I only had a few hours there. I bought some neat stuff and had a great time. I'll have to get back there again someday and explore it in depth.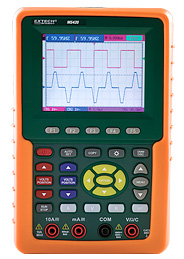 5/19/11 - The prize I won for my winning entry in the 555 Design Contest has finally arrived. Surprise! They upgraded me to the MS420: 20MHz 2-Channel Digital Oscilloscope from the monochrome 5 MHz model I actually won. Sweet! It is a Dual-channel Oscilloscope with 3.8" color LCD display. It also came in a really nice aluminum carrying/storage case and a ton of accessories. I love it.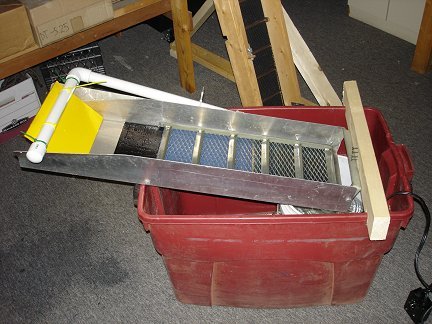 5/17/11 - Check out my new and improved sluice or highbanker. I acquired a commercially made sluice, and with some quick and easy modifications made it into a recirculating sluice. I can't wait to try it out on my next trip to the gold fields out West.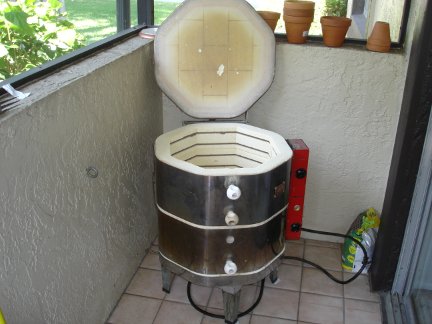 5/11/11 - I have acquired a larger kiln. It is a Skutt model 181 kiln. It is an older model, but it is in pretty good condition, and it works great. I found it on Craig's list. Some nice people only a couple of miles away were selling it, and lots of accessories too, at a very reasonable price. This kiln is built in three sections that stack on top of each other. I am only using two sections here, so the kiln isn't so deep and difficult to load and unload. I can't wait to try making larger mirror blanks in this kiln. I can do 12.5 and 14.5 diameter blanks in it easily, and should be able to make up to 16 inch blanks with some difficulty. Let the mirror madness begin.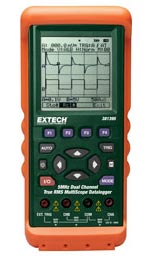 4/29/11 - The 555 Design Contest has finally started handing out prizes. I won an Extech Multiscope. It was the one prize I really wanted and could put to good use. Sweet! I can't wait for it to arrive.

4/20/11 - I just found out my 555 based solar charge controller won first place in the Utility category of The 555 Design Contest!!!!! I'm amazed after seeing the other entries. I figured I would be lucky to get honorable mention. Yahooooo!

4/17/11 - I have now completed grinding with 60, 80 and 120 grits. The mirror is coming along nicely. I'd post another photo, but the mirror looks pretty much the same as at the end of the initial rough grinding below. It won't start looking like a nice shiny mirror until I get to the finer grits.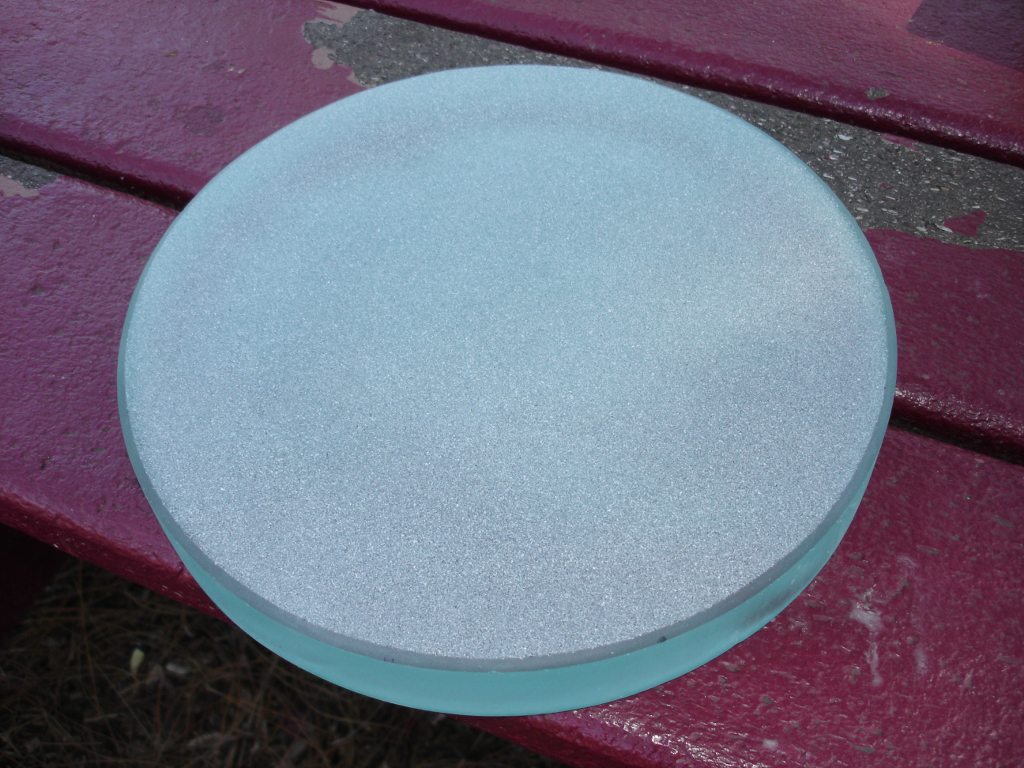 4/09/11 - After a marathon grinding session today, the rough grinding on my 10in f/5 mirror is finally done! Yay! I will now be moving on to fine grinding.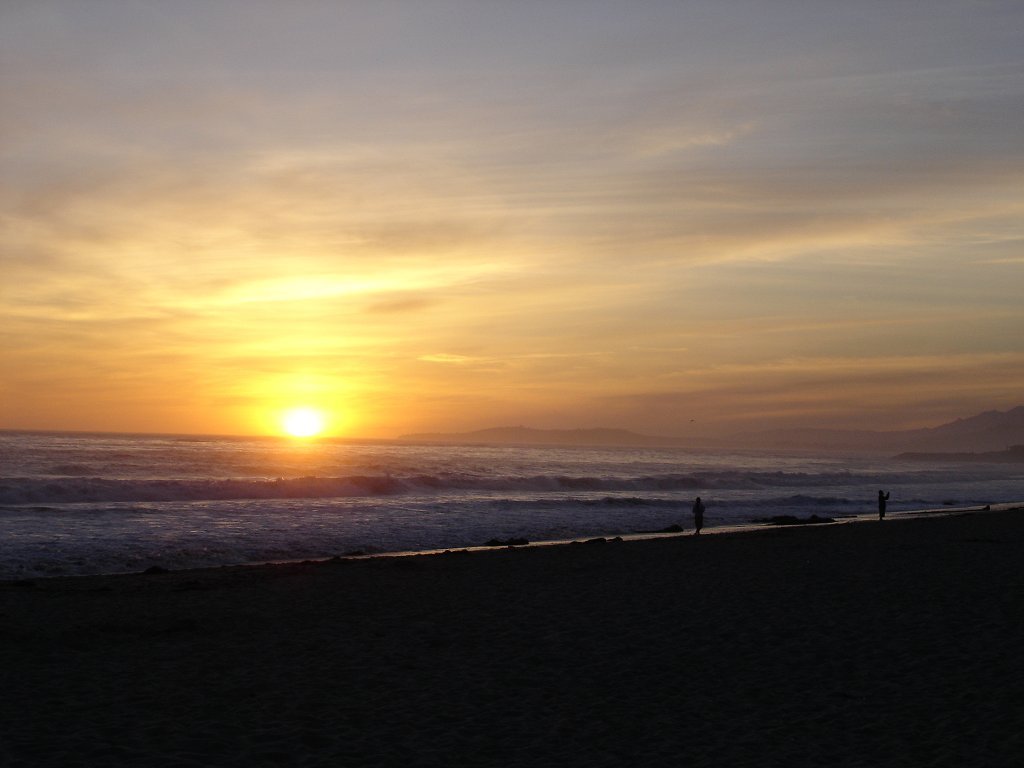 3/29/11 - I have posted some photos and a write-up of my recent business trip to Santa Barbara and Carpinteria California on my Travel and Vacation Photos page. I managed to do a little sight-seeing this time. Check it out.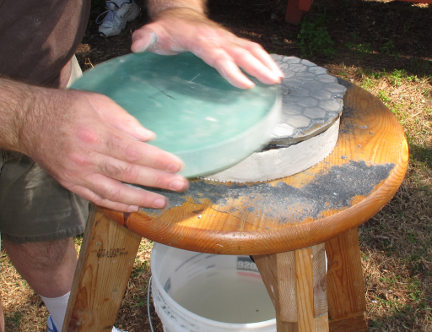 3/26/11 - I have started grinding one of my home-made 10in glass blanks. Here is an action shot of me, pushin' glass. Click for a larger view.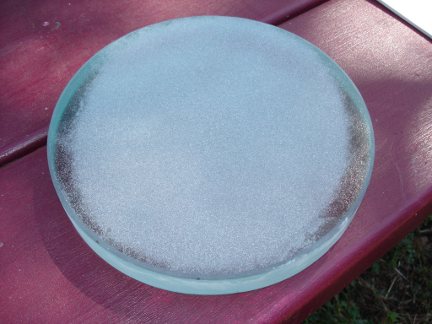 I am aiming for an f/5 mirror. This is the result at the end of the first day's work at the SPAC Mirror Lab. The blank has been beveled and the rough grinding is not quite half done. It is 0.054 inch deep in the center. It needs to get to 0.125 inch. At least one more day of hard, rough grinding will be necessary to get it there. Boy am I sore. Pushing glass is hard. It works muscles I haven't used much lately. Click the photo for a larger view. See more about how I make my own mirror blanks on my laminated fused glass telescope mirror blanks page.

3/18/11 - I just found out that my 555 based charge controller design entry has moved on the the second round of judging in two categories of the 555 Timer Design Contest. Wish me luck.

3/18/11 - I just got back very late last night from another business trip to Santa Barbara, CA. Unlike the last trip out there, this trip was a little less rushed and grueling. We actually managed to do a little sight-seeing. The place is amazingly beautiful. It's early spring and everything is green and blooming. Naturally I took lots of photos. I'll post some of them in the Travel and Vacation Photos section of the web site soon.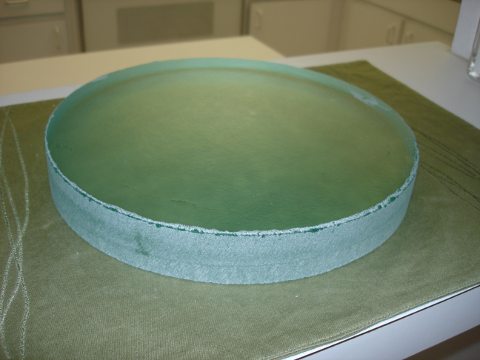 2/28/11 - I have Posted some updates to my laminated fused glass telescope mirror blanks page. I have greatly improved (dare I say perfected?) the process of making 10 inch blanks. I am now turning out good looking and full thickness 10 inch blanks.

2/23/11 - I have re-organized the web site a little bit, and added a Miscellaneous Projects section.

2/21/11 - I have just entered my new charge controller design into the 555 Timer Design Contest. Wish me luck.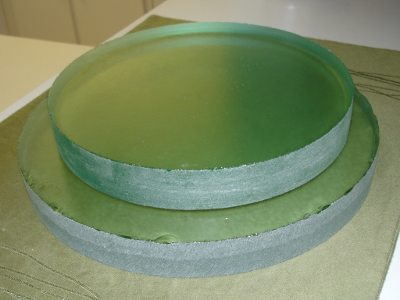 2/20/11 - I have just completed making my first 10 inch mirror blank. Here you can see it with one of my older 8 inch blanks sitting on top of it. It's not perfect. The 10 inch blank has a few rather serious chips. These are from the glass sticking to the mold. I had some other issues with the mold too. I am in the process of making a better mold before doing any more 10 inch blanks. Check out how I make these blanks on my laminated fused glass telescope mirror blanks page.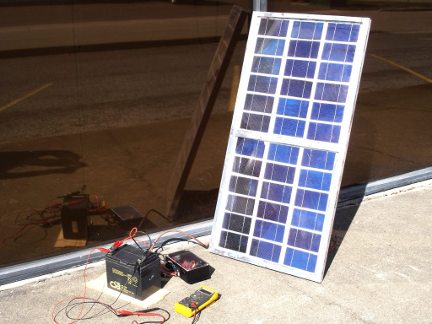 2/17/11 - I have just posted a re-design of my wind and solar charge controller. This is a project I have been working on for a while. I wanted to re-design it due to the huge volume of emails I get from people who are having problems trying to build a copy of the controller. I wanted to simplify the charge controller circuit, lower the part count, and use easier to find parts. I think I succeeded on all counts. Check it out.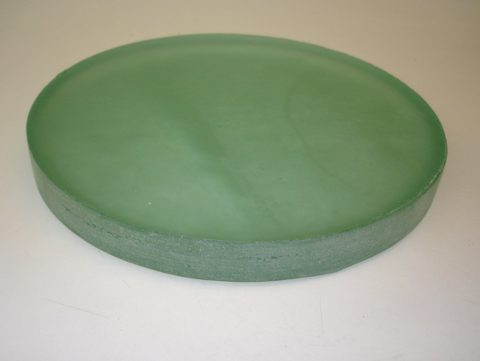 1/12/11 - I have finally posted my procedure for making laminated fused glass telescope mirror blanks, like this one, in the telescope building section of my web site. Check it out.

| | |
| --- | --- |
| | 1/12/11 - Here is a video I made that shows how I cut circles out of thick glass. I made a video a while back showing how to cut circles out of thin glass. When I tried to cut some thick glass though, my thin glass cutting technique didn't work. I had to learn how to cut circles all over again. So, for anyone who needs to cut circles out of thick glass, this is how it is done. |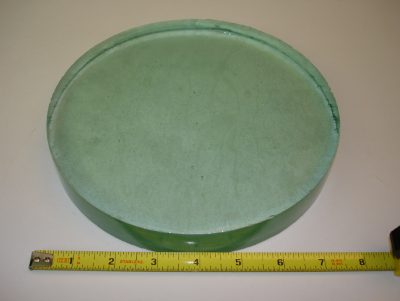 12/16/10 - This is by far my best yet telescope mirror blank. It is a nearly full thickness 8 inch diameter blank made by fusing together 4 disks of 1 1/8 thickness glass in my kiln. I then trued up the edge on a grinder and put it back in the kiln for a fire polish. It turned out beautiful. It has a few chips in the edge, which I hope to eliminate in future blanks. It also has some bubbles, but they are deep enough inside that the sagittal depth of even a fast mirror should not get half way to them. I am really starting to get the hang of this glass fusing business. The only big problem I am still having is with the annealing process. My kiln, even on it's lowest setting just runs way too hot, and cools down way too quickly when shut down, to do a proper annealing cycle on thick slabs of glass like this piece. It has a lot of internal stress, way too much for a telescope mirror. I am in the process of building a new temperature controller for the kiln that will allow me to run it at much lower temperatures for an anneal soak, and then ramp the temperature down very slowly to properly anneal the blanks.

12/15/10 - I have finally posted my recipe for dill pickles in the cooking section of my web site. They are good! Give the recipe a try.
| | |
| --- | --- |
| | 11/27/10 - Another test run of the gasifier. This was a test run to see if my recent modifications reduced the tar production. There does seem to be an improvement. I have posted a more complete explanation of the modifications on my biomass gasifier web page. |
11/24/10 - I have finally gotten around to posting photos from our October vacation to Georgia on my vacation photos page. It was a great trip. We really needed a vacation, and this one was perfect.
11/20/10 - I got in some more work on my biomass gasifier today. For those of you following this project, no, I haven't abandoned it. I've just been busy with other things. I spent today working on trying to plug any potential leaks that would allow tar to escape from the reaction tube without first passing through the hot combustion and reduction zones. I'll do another run in a week or two to see if the tar situation has improved any. I have been thinking a lot about further modifications and improvements I want to make. I am trying to decide whether to continue modifying my current unit, or start working on a new one and incorporate everything I have learned so far into it at the start, then use it as a basis for further experimentation. Decisions, decisions.
11/18/10 - I have posted updates to my homemade soap recipe. The results of several experiments with the recipe are in. I love my homemade soap. I am so used to it now, that it is hard to use any other soap.
11/18/10 - My recipe for dill pickles is really shaping up. The last batch was really good. I made another batch tonight with minor tweaking of the recipe. If they turn out as good as I hope, I'll post the recipe in the cooking section of my web site soon.
11/9/10 - I've been working on a recipe for dill pickles. I realized a while back that I eat a lot of dill pickles, so why not try to make my own, rather than buying them? The first batch was only OK. So I modified the recipe and tried again. I just tried one from my second batch. Much better. These are pretty good pickles. I'll post the recipe in the cooking section of my web site once I have it perfected.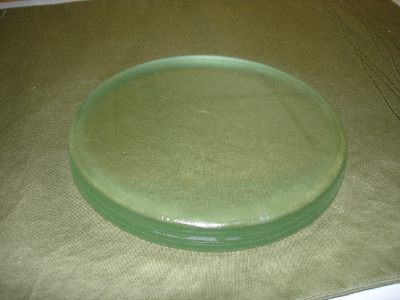 11/7/10 - This is my best yet attempt at making a telescope mirror blank. Just pulled it out of the kiln this morning after it had finally cooled down to only about 100 degrees (it was 1700 degrees last night). It is 6 inches in diameter and not quite 3/4 inches thick. I made it by fusing together a stack of glass disks in my kiln. It turned out very nice, with only a few tiny bubbles and almost no stress. This is starting to look promising.

11/7/10 - I have posted updates to my improvised generator web page page. I have also added a grilling tips section to my cooking web page.
11/7/10 - It's so great to finally get that hour back that the government stole from me back in the spring. I really needed that extra hour of sleep.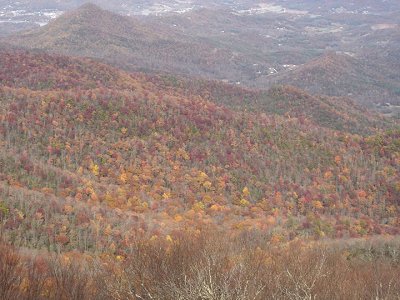 11/3/10 - Just got back from a vacation in Georgia. We rented a cabin on the river for a week in Dahlonega, GA. Had a great time. The weather was cool, the leaves were changing, the mountains were amazing. More pictures soon.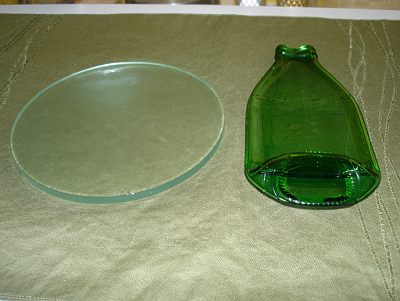 10/7/10 - More kiln fun. On the right is a San Pellegrino bottle I slumped in the kiln just for fun. I'll use it as a trivet in my kitchen. On the left is a more significant piece. It is three 6 inch diameter disks of glass fused together into a single thick disk of glass. This is my best yet attempt at making a telescope mirror blank. It has very few air bubbles in it compared to my earlier attempts. I learned a few glass fusing tips from some art glass web sites. By simply adjusting the firing schedule, I was able to minimize the air trapped between the glass layers. The disk is too thin to make a telescope mirror, but it was a good learning experience. I am slowly working up to bigger and better things.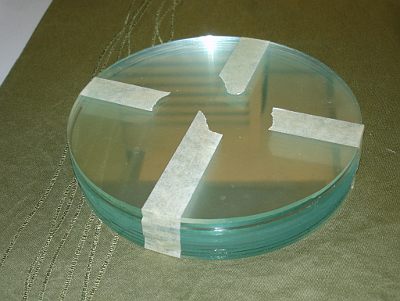 Here is a stack of six inch diameter glass disks I cut for experimenting with fusing. I am getting quite good at cutting circles out of glass. It was tricky learning at first, but now that I know the secret, I can cut perfect glass circles all day. I've now turned several large panes of glass into piles of circles. More glass fusing experiments are coming soon.

| | |
| --- | --- |
| | I got so good at cutting circles out of glass that I decided to film an instructional video on how to do it and put it up on YouTube. Check it out. |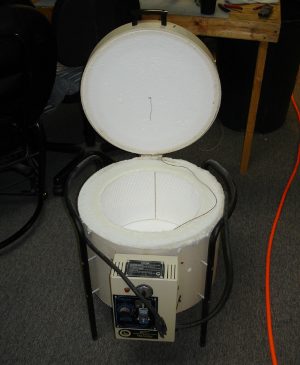 10/4/10 - Meet my new favorite toy. It is a Duncan kiln I picked up at a garage sale about a month ago really cheap. I got this kiln for only $95. It probably cost $2000 or more new, and I have seen used ones like this going for almost $1000. Sometimes I really luck out at garage sales. I am going to have a lot of fun experimenting with this kiln. I plan on doing some glass fusing, and metal melting experiments with it. The really great thing is that if I ever get tired of playing with the kiln, I can resell it at a huge profit.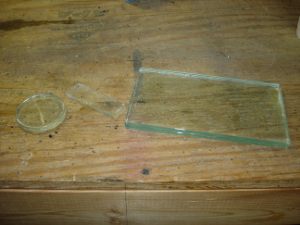 One of my first experiments with the kiln has been fusing glass. I had the idea of possibly making big telescope mirror blanks by fusing together multiple small pieces of glass. Here you see some of my first experiments. I fused a couple of glass disks together. I also fused a stack of microscope slides into a single slab of glass. I also fused a couple of thick rectangles of glass together into a solid slab.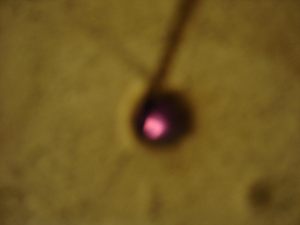 Here is a view through the vent hole of the kiln with it cranked up to 1450 F and fusing glass. Super cool! Well, super hot, really.

08/29/10 - I've been spending a lot of time in the workshop lately. I have updated both my improvised generator, and my biomass gasifier web pages with new information. photos and videos.
08/24/10 - My improvised generator now has its very own web site showing exactly how I built and tested the beast.
| | |
| --- | --- |
| | 08/22/10 - Here is the latest creation to come out of my top secret, mad scientist, laboratory. It is an improvised generator built from an old lawn edger and a permanent magnet DC motor. The inspiration behind this generator was to have a way to charge up my battery banks on days when the weather is cloudy and calm, when my solar panels and wind turbine aren't providing much energy. It was a really quick, easy and cheap project. I got the lawn edger for only $5 at a yard sale. The permanent magnet motor came from an auction for another $5. The total cost of the project was only a little over $20! So far I have the output of the generator up to 10 Amps at 12 Volts. Further tinkering may improve that. My eventual goal is to convert the generator to running on wood gas from my biomass gasifier project. Stay tuned for that. |
08/20/10 - I have made some changes to my home-made soap recipe and tutorial. I've been tinkering with the recipe, and have made some improvements.
07/21/10 - I have just uploaded my sausage hash recipe to the cooking section of the web site. Check it out if you need a quick and easy meal for dinner tonight.
07/13/10 - I have finally launched the web site dedicated to My Home-Built Biomass Gasifier. The web site tracks the project from initial plans, through several different versions, to present day. Future updates will be added as the project continues to progress.
07/12/10 - Yesterday was my birthday. I had a great day. It was fantastic, from beginning to end. The finishing touch on the day was dinner at La Trattoria Da Gaetano in Dunedin. Oh my God! It was probably the best meal I have ever eaten. There is no menu. Gaetano wheels a cart out and shows you all the cuts of meat, fish and other seafood he has available. He asks you what you like and suggests various options and combinations. You tell him exactly what you want and how you want it done. The result was amazing. I had the Filet mignon (medium rare) with gnocchi in gorgonzola cream sauce. The filet was fork tender and amazingly tasty, but the star of the meal was the gorgonzola cream sauce. I could have lapped up a bowl of it with a spoon like it was soup. The appetizers, salad and desert were also exemplary. The ambiance was great, the service was fantastic, and the food was to die for. We'll definitely be back, and I don't think we'll wait for another birthday to come along before we go.
| | |
| --- | --- |
| | 07/12/10 - Another week, another gasifier video. The gasifier is really working great. I did a timed run over the weekend to see how long it would take to use up a full load of wood pellets. It ran for about 50 minutes. Don't worry though, I won't make you sit through all of it. The video is only a little over 3 minutes long. |
| | |
| --- | --- |
| | 07/03/10 - Here is a video progress report on my prototype Biomass Gasifier. I've made a lot of changes, upgrades and improvements over the last couple of months. The gasifier is now working better than I ever hoped it would. Check out the really cool (hot?) video. |
07/01/10 - I have finally finished and uploaded my soap making recipe and tutorial. Check it out.
06/15/10 - I have just uploaded a bunch of photos, videos, and a long write-up describing my recent vacation to my vacation photos page. Check it out.
| | |
| --- | --- |
| | 06/08/10 - I just got back from another of my cross-country vacation adventures. I will post lots of photos and videos soon. Right now I am busy trying to get caught up with everything. In the mean time, here is a video of me panning and sluicing for gold in Arizona. I had a lot of fun on this trip! |

05/17/10 - The people at Fast Recipes just published an interview they did with me a while back. Check it out.

| | |
| --- | --- |
| | 05/09/10 - Here is a video of my prototype Biomass Gasifier running at night. Now you can really see the flare flame. It was almost invisible in the daylight runs. I am now calling it a biomass gasifier, rather than a wood gasifier because I'm not burning wood in it. At the moment I am burning hay pellets. The gasifier is producing good amounts of flammable gas, and much less tar, especially near the end of the video. All I need now is an engine to pipe this gas into. |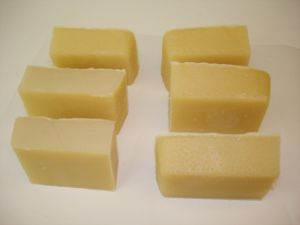 05/06/10 - I made another batch of soap today. I wanted to see if I could duplicate the great soap I made last time. If this batch turns out to be as good after curing as the last, I'll post the recipe.

| | |
| --- | --- |
| | 04/25/10 - Here is a video of the first major project built in my new workshop space. This is my mini wood gasifier. I finally got it working today. The video shows it producing flammable gas. Eventually I will use it to power a small engine. When I get a chance, I will create a page on this web site devoted to how I built it. Right now though, it is still a work in progress. |
| | Here is another short video showing the burning gas against a black background. The flame is almost invisible. Even though it was very cloudy when this video was shot, the flame is still pretty much totally washed out by the ambient light. I'll need to do another run after dark sometime to get a good video of the flame. |
04/07/10 - The second batch of my home-made soap is even better than the first. It has much more lather. The bars are also harder, and don't dissolve away as quickly in the shower. The soap seems to be just as mild and non-drying to my skin as the first batch. I am very happy with it. The next time I make soap I will document the process with photos and post the recipe.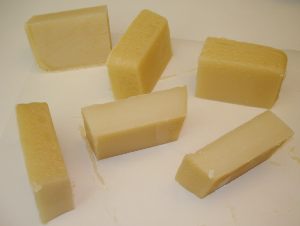 03/17/10 - I just finished my second batch of home-made soap. It went easier than the first batch, and looks to have turned out better as well. It isn't covered with white soda ash like the first batch. I made some changes to the recipe and process in an effort to get rid of the soda ash and increase the time I have to get the soap into the mold between "trace" and the time it seizes up. It looks good, but I still have to let it cure for a couple of weeks before I can use it. Then I'll know just how good it really is.

03/11/10 - Last Sunday my girlfriend and I spent a wonderful afternoon exploring the Florida Botanical Gardens. It was the one year anniversary of our first date. It was a rare (for this winter) warm and sunny day, so we decided to spend it outside and enjoy the weather. The gardens had really suffered some serious damage from the record-breaking cold temps this winter. The tropical fruits section was completely destroyed. Many other areas were damaged, but we still had a good time. I especially liked the herb garden. I'm thinking of starting a little (patio size) herb garden myself so I'll have fresh herbs and spices for my cooking. I may post a few pictures from the trip to the vacation photos page when I get a chance. We are planning on going back in the spring when everything is in bloom. The photos then should be spectacular.
03/11/10 - I have just uploaded a new variation on my white bread recipe to the cooking section of the web site. This is a better bread for making sandwiches. Check it out.
03/09/10 - I have just uploaded my chili recipe to the cooking section of the web site. Check it out. I think you'll like it.
03/09/10 - I have been using my homemade soap for a few days now. I have to say I am quite happy with it. As a novice soap maker, I was afraid I had messed it up and there would be either too much un-reacted fat in the soap, or that there would be too much un-reacted lye. I checked the pH of the soap with some pH test strips I bought just for this purpose, and it was at 9 after 2 weeks of curing, which is great. So un-reacted lye isn't a problem. After a couple of showers, the soap seems to work great. There isn't too much un-reacted fat in it. I don't come out of the shower feeling like a greased pig. I come out feeling nice and clean. The lather is less than what I am used to, but the soap seems to do the job. It gets me clean, it isn't overly drying, and I don't smell like a French wh*re like with the overly perfumed commercial soaps. Overall, I'm very happy with my home-made soap.
03/03/10 - I have just uploaded some photos and video from the February 2010 Orange Blossom Special Star Party to my travel and vacation photos page. Check it out.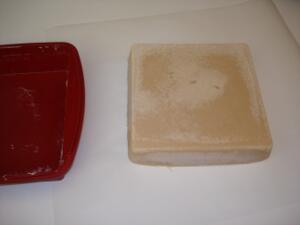 02/24/10 - I just finished my first ever batch of home-made soap. It was easier to make than I thought. It is my first batch, and things didn't exactly go like clockwork during the process. I'm sure it will go smoother as I gain experience. Here is the large block of soap turned out of the silicone cake pan I used as a mold.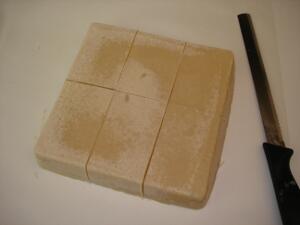 Here I have cut the still soft soap block into six big, man-sized bath bars of nearly half a pound each. I didn't include any coloring or fragrances in this initial batch. I just wanted to nail down a good, workable, soap recipe and manufacturing technique before getting fancy with it. Even though all the ingredients used were odorless, the finished soap has a distinctive "soapy" aroma that I remember from the soap my grandparents used when I was a child. I'll take that as a good sign that I did it right.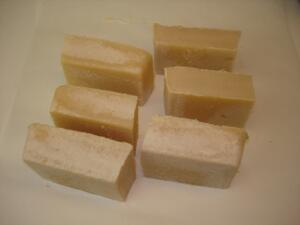 The soap needs to cure for a few weeks before I use it. Then I'll find out if I really did it right. I'll post the recipe and instructions once I have it perfected.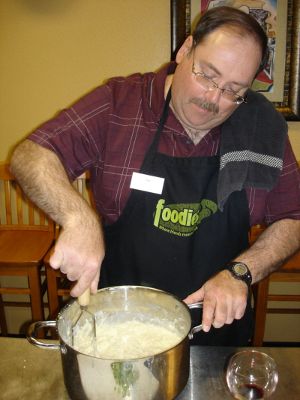 02/15/10 - We had a great Valentine's Day. I took the traditional route and gave flowers, a card, candy, and other things. My girlfriend though, came up with a really great and unique gift. I am the first to admit that I am hard to shop for. What do you get the geek that has almost everything, and wants to build the stuff he doesn't have himself? Even I have no idea what I really want. So shopping for me is tough. I can tell she put a lot of thought into it. She knows that cooking is a passion with me, so she signed us up for a cooking class. She kept it a big secret and a real mystery what we were going to do up until the moment we pulled up to the building. It was great fun. We had a really good time, and made a fantastic meal that we got to eat in the end.

| | |
| --- | --- |
| | 02/15/10 - I just got back from the 2010 Orange Blossom Star Party. Here is a video of the 17.5 inch DOB being set up at the Star Party. It takes less than 10 minutes to set up. |
| | |
| --- | --- |
| | 02/01/10 - Putting together a gold panning tutorial is something I've wanted to do for a long time. I get a lot of questions from people about how to pan for gold and which kind of gold pan to use. I finally got it done. Go to my gold panning and prospecting page to see more. |
| | |
| --- | --- |
| | 1/31/10 - I've been having a lot of fun making movies of all my toys in operation. Here is a video of my homemade recirculating sluice / highbanker in operation. Go to my sluice page to see more, including how I built it. |
| | |
| --- | --- |
| | 1/16/10 - Today I pulled out my old jet engine built from junkyard parts out of storage and gave it a run for the first time in years. It needed a few minor repairs and tweaks after sitting around in my garage for years gathering dust and spider webs. In the end though, it started up and ran. Playing with this old engine has given me lots of new ideas for modifications to it. Stay tuned for more. Go to junkyardjet.com to see more. |
1/05/10 - Just got back from a long weekend in Miami and the Everglades. Had a great time. The most fun was tearing around the Everglades at insane speeds in an air boat (see video below). I will post details and photos to my travel and vacation photos page when I get the time.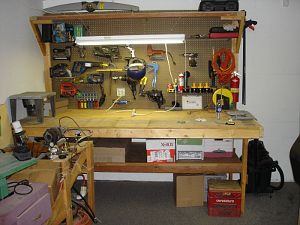 12/20/09 - Here are some pictures from my new workshop space I have rented. I am finally all moved in. This first picture is my workbench. Note how neat, clean and orderly it is. We'll see how long that lasts. I will probably rapidly degrade once I am hard at work on two or three projects at the same time. I seem to do my best work in a state of near chaos.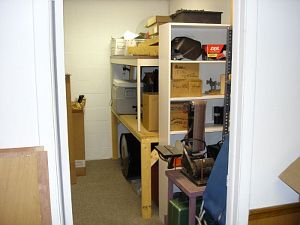 There is lots of storage space for all my junk raw materials and tools. My garage at home is now so neat and orderly since I have moved all this stuff into the workshop.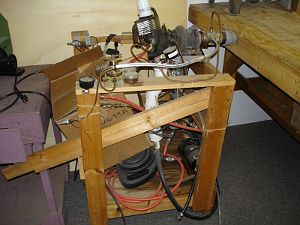 There is even room for my old home-built jet engine. It may roar to life again soon. I could never have fired it up at the condo where I live now. The neighbors would have come after me with torches and pitchforks. My workshop is in an industrial area, so noise isn't an issue. I look forward to tinkering with it again.

11/03/09 - I have finally rented some workshop space. Now I will have my very own hacker space to work on projects I've been itching to tackle for a long time. First, I have to transfer all my equipment, tools and supplies from my horribly over-loaded and under-sized garage into the new space, and get it organized. I have a long list of projects I want to work on. Most of them have been on hold for a long time because they are too noisy, smelly, dangerous, or just plain too big to do out of my condo's little garage. The projects will of course be posted here in the future. Stay tuned.
10/21/09 - I have just uploaded my sourdough bread recipe. I have been experimenting with using my own starter from a culture of wild yeast I have created myself
10/21/09 - I have just uploaded my second honey wheat bread recipe. I have been experimenting with the recipe and have come up with something even better than the first recipe.
10/16/09 - I just uploaded the page for my new home-built folding solar panel. I built a second, smaller, 15 Watt panel for when I don't need or want to haul out my bigger 60 Watt home-made solar panel.
10/06/09 - I just uploaded modifications to my my recipe for quick & easy meatloaf. I made meatloaf tonight and compared what I did, to the posted recipe, and found a few typos on the quantities of various ingredients.
10/06/09 - I just got back from a long (over 2 weeks) vacation in Colorado, New Mexico and Arizona. I've been back for about a week. Now that I am pretty much caught up at work, I have found time to upload some photos and do a write up of the trip over on the vacation photos section of the web site. Check it out. It was a great trip.
09/05/09 - I have just uploaded my recipe for quick & easy meatloaf in the cooking section of the web site. Check it out.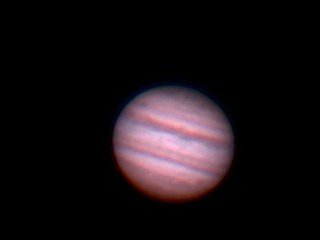 08/30/09 - Last night the St. Petersburg Astronomy Club held a public Jupiter watch at the Pinellas Science Center. I haven't been able to find my old modified astro-webcam since I moved a while back. So yesterday afternoon, before leaving to go to the Science Center, I tore apart an old IBM webcam I got at a yard sale for $1. I discarded the lens and mounted the imager in plastic tube that fits inside a telescope eyepiece holder. At the Observatory behind the Science Center I mounted the camera on the 16 inch telescope and had lots of fun imaging the moon and Jupiter. The atmospheric conditions (seeing) were pretty bad all night long. However, I managed to get a few half-way decent shots of Jupiter by recording video clips and stacking the images with Registax. I'll probably find my old webcam now that I have built a new one. See my astronomy pages for more webcam fun.

Update: Yep, I just found the old camera. Now I have 2.

08/17/09 - I have just uploaded the new main page for the cooking section of the web site, and added a couple of new recipes, including my recipe for quick & easy skillet cornbread. Check it out.
08/15/09 - I have just posted my guide to outfitting a kitchen on the cheap in the cooking section of the web site. Check it out. Soon there will be a landing page for all the cooking related stuff.
07/22/09 - I have just posted my recipe for Waffle House waffles in the rapidly growing cooking section of the web site. Check it out.
07/22/09 - I have been finding a little time lately to do some more work on my 3D printer project. It is a long way from finished. At present I only have two axes working. There will eventually be a third axes in the form of an elevator and a plastic extruder. Here is a video I shot a while back of testing the two axes by mounting a pen on on them and doing a little writing. Basically I have a pen plotter at this point. More will come in the future, including an entire web site devoted to this project. Check out the video.


07/15/09 - My car laptop tray build has been picked up by both hackaday and the make blog, and who knows who else. Visits to the site are through the roof. The hit counter is spinning like crazy. I wouldn't be surprised if this site goes down under the traffic load. Note to self: More car related hacks.
07/15/09 - Have just posted my recipe for tasty honey wheat bread, after getting positive feedback on the original white bread baking how-to. I think there will soon be an entire section of this site devoted to cooking.
07/13/09 - I've been doing a lot of cooking lately. I'm getting pretty good at it too, I've been told. Lately I've had a fascination with baking my own bread. I've finally gotten around to posting a how-to and recipe for baking your own bread, from a techie's perspective. check it out if you are cooking inclined. More recipes will follow in the future.
07/13/09 - Just got back from spending the weekend at Disney's Animal Kingdom Lodge. It was amazing. Photos will be posted on the travel and vacation photos page soon. What recession? Disney was packed, and it isn't a cheap place to visit.
07/07/09 - I have just about completed a laptop / notebook computer tray for my beloved Toyota Tacoma pickup truck. It was a quick and easy project that really went together well. This design may be able to be adapted to other makes/models of vehicles. Check it out.
07/05/09 - I haven't updated the web site in a while. There have been big changes in my life. I have a new place. I am living on my own again. There is a new lady in my life, and I have been promoted to a management position at the company where I work. They are really keeping me busy at work. Lots of extra responsibility came with the promotion. As (if) time permits, I will try to update the web site a little bit with some of my new projects, and some photos of some of my travels in the last year. Though I am so far behind, that I may never get caught up.
05/14/08 - Our vacation is approaching rapidly. 3 weeks in Arizona and Colorado, camping, prospecting and sight-seeing. I can't wait. I have decided I won't be taking the big 17.5in Dobsonian telescope on this trip. That will save a lot of weight, which will hopefully improve my gas milage on this 5000+ mile trip. Not taking the big DOB and all its support equipment and accessories will also free up a lot of space in the truck for prospecting equipment. Instead I will be taking the 8 inch Cookie Jar telescope. Spent some time over the last couple of days reworking the base of the telescope to make it more rugged. Will update the Cookie Jar web page with the changes when I get a chance.
05/12/08 - The new recirculating sluice is complete. I have posted a write-up about its design and construction here.
04/19/08 - I plan on doing a lot of gold prospecting and mining on this upcoming vacation. The recent high price of gold has prompted me to step up my gold mining endeavors. So I have decided to build myself a recirculating sluice or highbanker to take along. That way I will be able to process more material than I could by panning alone.
03/20/08 - The new charge controller is finished. Pictures and a description will be added soon to the Wind Turbine page.
03/04/08 - I have been busy rebuilding the charge controller that will regulate power coming from my wind turbine and solar panel. I am also assembling battery banks from some 12V sealed lead acid batteries my brother gave me. All this is in preparation for our next vacation in May-June. I want to set up the wind/solar power system on my remote Arizona property while we are out there.
01/03/08 - I have completed my first home-built solar panel, and it works. YAHOO! It will add greatly to my power production capacity on my remote Arizona land. A complete write-up on it can be found in the solar panel section.
12/31/07 - Spent most of the day rearranging the garage. We bought some shelves at an auction a couple of weeks ago with the idea of taming the storage problems in the garage. Well, it's finally done. The garage is a thing of beauty. My back is wrecked though.
12/25/07 - The big family Christmas party was at our house this year. We cooked and cleaned for two days to get ready for it. Boy did we have a house full of people. Everyone seems to have had a good time. They didn't eat half the food we made though. After it was over, the house was a wreck. Time to start cleaning again. Sigh.
12/14/07 - The company I work for sent me out to Santa Barbara, CA on business on fairly short notice. It was a big scramble to get ready with very little notice. It was a long and not very fun trip. There were long plane flights, long hours of work, bad food and lots of jet lag. It was definitely a work trip and not a vacation. One of the few bright spots on the trip was walking down to the seal rookery on the beach in Carpinteria before dawn. I got lots of photos of the seals on the beach and the sunrise illuminating the Channel Islands and the mountains above town. The Santa Barbara/Carpinteria area is very pretty. Too bad I didn't have the time to really explore and enjoy it. I will post all the photos on the travel and vacation photos page when I get a chance.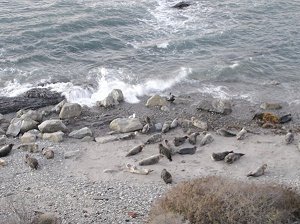 11/22/07 - Once again, we attended two different Thanksgiving feasts. One for my family and one for hers. This is getting to be a high-calorie habit. There's no way around it I guess. We don't want to offend anyone by not showing, and unless we rent a banquet hall somewhere, nobody has room for all of us. Oh well, at least we have a long weekend to digest it all.
10/13/07 - Just got back from our vacation to Tennessee and Georgia. There is a big write-up about it and lots of pictures (of course) on the vacation photo page.
10/04/07 - Getting ready for vacation. This year we are heading up to Tennessee and Georgia for a while instead of going out West. I'll post more when we get back.
09/20/07 - Haven't posted much lately. I've been really busy at work and with our Ebay side business. Next month we are taking a vacation, and boy do we both need one.
06/07/07 - The place is starting to look and feel like home. We have most of the house set up nicely. The garage/workshop and office are still works in progress, but they are coming along. They are a little more organized and functional every day. My only real complaint about the house is the lack of storage space. I really miss the 3 walk-in closets I had in my old place. We only have 1 walk-in closet in this house, and is has to be shared. The garage, even though twice as big as in my old place, has to hold all my workshop tools and equipment, plus all the overflow of two other people, and our business. We are going to need some efficient storage solutions to get the garage whipped into shape. On the whole though, I am liking the new place. The house is new with all the modern conveniences anyone could want, the neighborhood is quiet and peaceful and close to everything. Here is a picture of the house. Click on it for a larger version.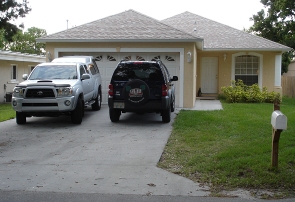 05/28/07 - We are pretty much moved in. All the stuff from Patti's place, and most of the stuff from my place is here. We moved most of it in only 24 hours. Four full loads in a big moving truck. Two from her place and two from mine. Boy are we sore. We haven't worked that hard in years. It's going to take a while to unpack all the boxes and get everything set up the way we want it.
05/24/07 - Got the keys to the new house today. Tomorrow we start moving.
05/19/07 - Had a huge yard sale to try to pare down the amount of stuff I will have to move to the new house. It's amazing how much junk you can accumulate when you live in the same place for 13 years. I sold a ton of stuff, but it hardly made a dent in the pile.
05/11/07 - Patti and I have found a house we like. She started looking as soon as she flew home from Vegas. I joined the hunt as soon as I got back from driving home. It took us a surprisingly short time to find a house we both liked. We will be moving in at the end of the month.
05/07/07 - Just got back from vacation. We drove to my property in Arizona. We camped out there for a while in my new popup trailer. Then we took the scenic rout to Las Vegas via Sedona. Spent half a week in Vegas. Patti flew home from Vegas, since she only had a little over a week of vacation time. I took my time driving back, stopping and staying in several old mining towns in Arizona and New Mexico to indulge in my hobby of prospecting and gold panning. Didn't find much gold this time though. I still had a lot of fun. Had no problems towing the popup, other than really lousy gas milage while towing it. The popup is very comfortable.
04/15/07 - All the maintenance issues with the popup have been taken care of. It's ready for the road. I just finished replacing all the wheel bearings. I was just going to repack them, but once I got the hubs off and had a good look at them, they were pretty much shot. New bearings are cheap, and now I don't have to worry about them on the long trip.
03/26/07 - Patti and I have decided to move in together. Neither of our places is really big enough, and we both want to move into better diggs in better neighborhoods anyway. So we will begin house hunting when we get back from our trip to Arizona and Las Vegas.
03/25/07 - Found a set of very rare blue depression glass plates at a yard sale for $5. They had no idea what they had. I grabbed them and bought them. Then I resold them on Ebay for $238. I love the antique business! Antique glass seems to be becoming my specialty. I can spot it a mile away.
03/18/07 - The new popup has a few issues. It is in generally good shape, but I am going to need to rewire it and redo the wheel bearings before taking it out on the road. I also want to put new tires on it, since it's first outing with me will be a cross-country trek to Arizona and back. So I've got some work to do the next few weekends before we take off for Arizona in late April. I also need to practice backing up with the trailer. I've never towed anything before. Backing is tricky.
03/11/07 - I bought a popup camper. Ironically, it is a Starcraft Meteorite. Is that appropriate for an astronomer or what? I didn't even notice the name until I was ready to buy it. It was just another in a long line if used campers I'd looked at. It is used but in pretty good shape. This should make camping a little easier for us. I think I may still occasionally nip off into the wilderness with only a tent though.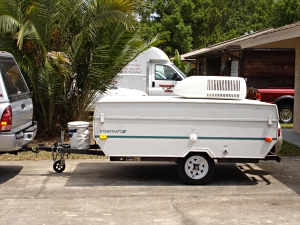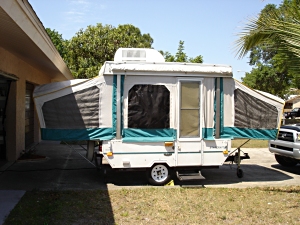 02/18/07 - Just got back from the 13th annual Orange Blossom Special Star Party. Whew, it was rough this year. The weather was murder. Rain, cold, ice, more rain, wind that destroyed my tent. It was a challenging camping trip. After putting up with all the hardship from the weather, we only got in about 1 1/2 decent nights of observing. Still, the OBS has always been more of a social event than a hard-core observing event. So we had fun anyway.
02/02/07 - Got a wicked case of the flu. It was bad. I see why so many people die of the flu every year.
01/16/07 - I've made my first $1000 selling stuff on Ebay. I've pretty much sold off most of my old junk. Patti and I are now going to a lot of yard sales, estate sales and auctions, buying things to resell. I am rapidly becoming an expert on some kinds of antiques. It's a lot of fun. I could see this becoming a second career.
01/02/07 - Well, we made it through the holidays and into the new year. Maybe things will return to something resembling normality now.
12/26/06 - We've been to three Christmas parties, two Christmas dinners and several gift exchanges. I'm exhausted, and way over-fed. We've still got New Year's to look forward to. I can't wait until life gets back to normal in January.
12/22/06 - Got the topper installed on my truck. It didn't take as long as they thought for it to arrive. It's great. Also got a bug deflector installed at the same time.

12/09/06 - Ordered the topper for my truck. They said it might take as long as three weeks because of the proximity to the holidays. I can't wait.
12/06/06 - My Christmas shopping is officially done. This has got to be the earliest I have ever finished it.
12/03/06 - I finally started selling off my excess junk on Ebay. My girlfriend, who has been selling on Ebay for years, is amazed at how quick my stuff is selling. I have high hopes of making large sums of money and reclaiming lots of space in my closets and garage. You can visit my auctions (if any are running) here: My Auctions.
12/02/06 - Built a long ramp to allow me to get my big 17.5 inch Dobsonian telescope up into the bed of my new truck. That bed is really up there. It takes a long ramp and a lot of muscle to get the scope up there. I didn't know how good I had it with the van.
11/25/06 - I Bought a new truck. I got a brand new 2006 Toyota Tacoma 4X4 pickup truck. I love it. I've been wanting one for a long time. While everyone else was in the malls shopping on Black Friday, I hit the car lot and bought myself an early Christmas present. I got a really great deal on it since it was one of the last new 2006's. Click the photo for more information.

11/24/06 - Attended two different Thanksgiving dinners (one at my family and one at her's). Groan, is it possible to be poisoned by too much turkey?
11/18/06 - Patti and I went with a group of fellow astronomers out to the Alafia River State Park to watch the Leonid Meteor Shower. The meteors were scarce and it was bloody cold, but we still had a good time anyway.